Delivering hope during a pandemic
Ryerson MBA student Brandon Arkinson is helping Toronto's most vulnerable stay safe
October 06, 2020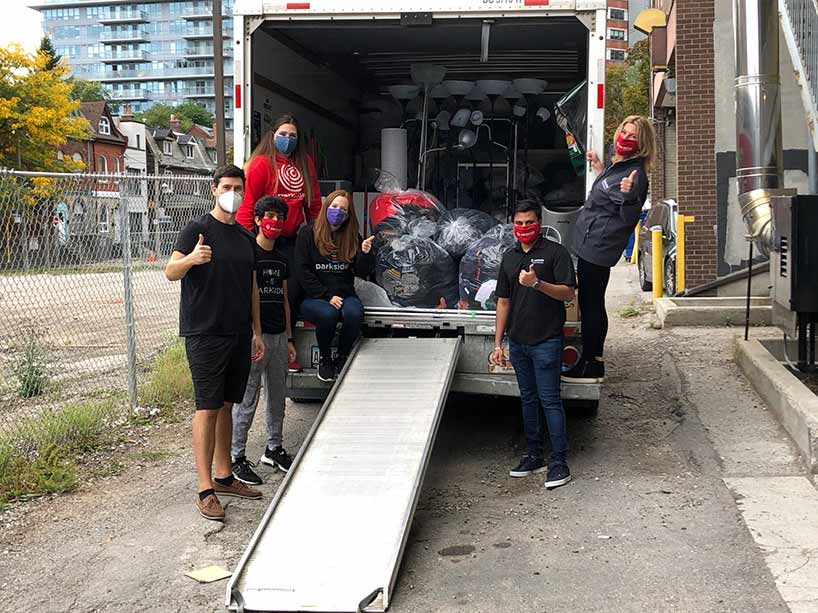 When Premier Doug Ford ordered the closure of all non-essential businesses on March 23, 2020 to slow the spread of COVID-19, Ryerson MBA student Brandon Arkinson's first thought turned to Moving Hope, external link, the not-for-profit he founded to help people who are homeless.
"Living downtown we saw the desperation of the homeless community who were left behind," says Arkinson. "We decided rather than shut down, we would lean in." Arkinson and his team of some 50 volunteers put together hygiene kits and distributed them every night to the growing number of people sleeping in encampments and on the street.
Since then, it's been a non-stop push to secure and distribute food, clothing and hygiene supplies through direct outreach and via a number of other not-for-profits supporting Toronto's most vulnerable. Arkinson has also been working with corporate partners such as Toronto Hydro and the Women's Network at Rogers to build capacity in anticipation of a second wave and potential shutdown.
Arkinson started Moving Hope more than seven years ago, as an undergraduate student in Ryerson's Disability Studies program. Growing up in the town of Grimsby in Ontario's scenic Niagara region, he had never seen people who were homeless. In Toronto, he regularly saw people sleeping rough on the sidewalk as he walked home from the Library. He also took notice of the clothing left behind by students when they returned home at the end of the year.
"It was wild to me that we had a resource that was being thrown away when literally down the street there were homeless shelters that could use it. I wanted to find that simple solution that could be the missing link to bring everything together."
Moving Hope has gone on to help thousands of the city's most vulnerable and it's poised to do the same for people who are homeless across Canada. Arkinson is in talks with other MBA students looking to replicate Moving Hope in their cities.
The pandemic has upped the urgency for initiatives such as Moving Hope. It has also changed Arkinson's career plans. "My vision was to work for the UN in New York to make the world a better place," he says. "Now, I think I can make more of an impact here."
Moving Hope supports the outreach of a number of local not-for-profits. These include: The Native Women's Resource Centre, Seaton House, The Sherbourne Health Centre, Nishnawbe Homes, Covenant House, The Scott Mission, Yonge Street Mission, Street Haven at the Crossroads, and Anishnawbe Health Toronto. To donate time or money to Moving Hope visit the non-profit's website, external link.