What's open on campus this September?
While the majority of classes and support services will be delivered online this fall, some services will also be available on campus for students who need them
September 01, 2020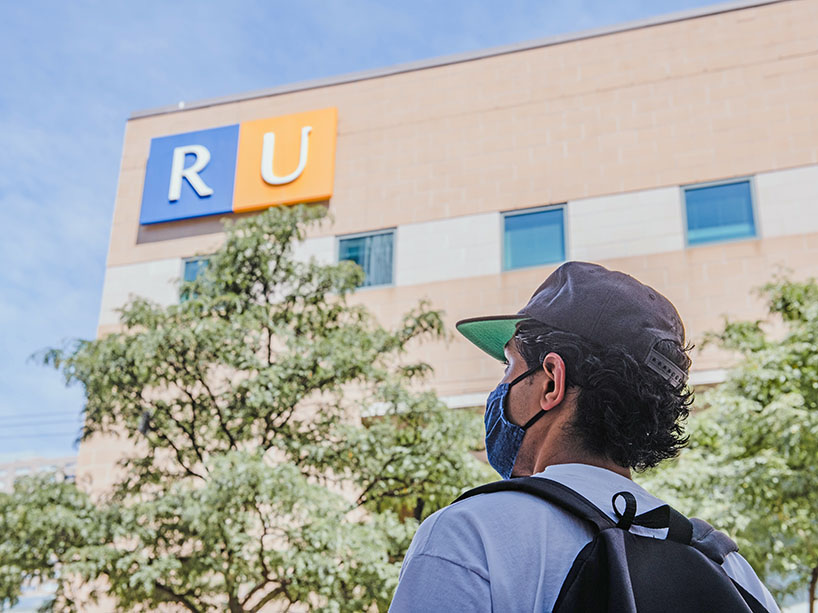 Protecting and caring for one another has never been more important.
For the safety of the community, Ryerson recommends that students don't come to campus unless absolutely necessary for pre-approved activities such as classes, appointments at the Library, the Student Learning Centre or the Mattamy Athletic Centre. This fall, Ryerson students will have access to these and other specific buildings on campus with health restrictions in place.
Students will need to wear a mask or face covering to enter all campus buildings, in accordance with Ryerson's Mask Policy and maintain two metres of physical distance from others at all times. Students are asked to also respect directional pathways and occupancy limits in elevators and washrooms.
Campus Store

The physical Campus Store location remains temporarily closed. Students can, however, order fall 2020 course materials, apparel and giftware online. Students are encouraged to learn more about their shipping and delivery process as well as review their updated refund and exchange policies. Students should place orders as early as possible to ensure they have materials in time for class.
Library
The Library will provide on-campus access to their wifi network, computers and study space for individual use starting September 8th. These services are available 8 a.m. to 8 p.m. Monday to Friday and must be booked online. In-person research appointments are also available for specialized spaces and services including the Library Collaboratory, Archives and Special Collections, and the Isaac Olowolafe Digital Media Experience (DME) Lab.
The Library will continue to offer virtual services this fall including:
Virtual services are available Monday to Thursday from 8 a.m. to 10 p.m., Friday 8 a.m. to 5 p.m. as well as Saturday and Sunday 12 p.m. to 6 p.m.
The Library is providing a new contactless print pickup service for those who need access to print-only items, as well as laptop and wifi hotspot loans. It will also be launching its First Year Transition Program, which will connect new students with their subject librarians. Students can get the latest by following @ryersonlibrary (external link) on Twitter and @ryersonulibrary (external link) on Instagram.
Mattamy Athletic Centre (MAC)
The MAC is open for individual workouts. Ryerson students have priority access to the fitness facilities and need to reserve a workout time online for up to 90-minute sessions – there's a limit of one reservation per day per student. Plans are under consideration to also reopen the RAC this fall, provided it's safe to do so. Students are encouraged to read the new safety protocols at the MAC if it is their first time back. Follow Ryerson Recreation (external link) on social @RURecreation (external link) for the latest news.
OneCard Office
All incoming students are required to apply for their OneCard online. New students who require a OneCard for the fall 2020 semester may pick theirs up on the first floor of the SLC from now until September 18. Please check distribution times prior to coming to campus and be sure to follow procedures established by the OneCard Office.
Reasons students may require a OneCard include: accessing physical resources at the Library, study space at the SLC or buildings on campus for in-person classes. Students should also be prepared to show their OneCard when picking up their masks. Students do not need their OneCards for online classes, tests and exams. As an exception to the exam policy, if a student does not have a OneCard, government-issued ID can be used.
Replacement OneCards for current students are only available for those required to be on campus during the fall 2020 semester. Please follow the instructions for replacing your OneCard to arrange to pick up your replacement card from POD 52A.
Faculty and staff who require a new or replacement OneCard will be assessed on a case-by-case basis.
Pitman Dining Hall
Dine-in and take-out meal service will be available at Pitman Dining Hall seven days a week for students living in residence. Food Services has made several changes to keep guests and staff safe while accommodating diverse dietary considerations. Meal plan holders must swipe their OneCard to enter.
All other dining halls and campus eateries will be closed until further notice. As Ryerson continues to plan for a gradual reopening of campus, more Food Services locations may be reopened at a future date. Read more about fall 2020 service changes for food on campus.
Housing and Residence
The Daphne Cockwell Complex, International Learning Centre and Pitman Hall are open with reduced capacity to maintain the health and safety of students. Buildings are open for access to residents and staff only. Students interested in living in residence can find information on the Housing and Residence site.
Ryerson Image Centre (RIC)
The RIC reopens (external link) at noon, September 16. Students, staff and faculty will be able to enjoy free admission to three new exhibitions (external link) , including Scotiabank Photography Award: Stephen Waddell, Mohamed Bourouissa: Horse Day and Ethan Murphy: Front & Back. The number of guests allowed into each gallery space will be limited to ensure everyone's safety and enjoyment. Gallery hours are Wednesday to Saturday, 12 to 6 p.m. Tours are available by appointment on Tuesday.
Student Learning Centre (SLC)
The SLC will reopen with reduced capacity starting September 8 from 8 a.m. to 8 p.m. for students who need a quiet, distraction-free space and a reliable internet connection. You will soon be able to make an online reservation for a study carrel and enter the building using your OneCard. Group study rooms will remain closed, as the intent with the selective re-opening is to prioritize students who don't have a suitable environment to study elsewhere. Follow the SLC on Instagram @ryersonslc (external link) for the latest information on the re-opening.