Ryerson celebrates Indigenous identity with artwork installation
Photography by rising star Nadya Kwandibens is on display at the Ryerson Library entrance
September 01, 2020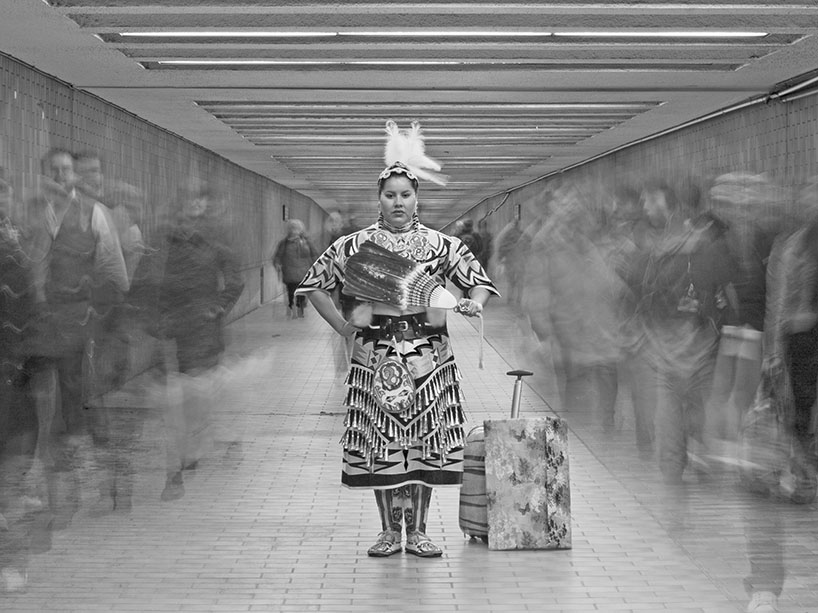 The Ryerson University Library has unveiled a large-scale public artwork by photographer Nadya Kwandibens, external link to commemorate the university's engagement with the annual Native American Indigenous Studies Association (NAISA), external link conference. The 10 x 15.7-foot portrait is on display over the west entrance to the Library as part of the university's commitment to increase Indigenous visibility and celebration on campus, to educate the community about Indigenous issues and to inspire meaningful conversations.
Captured in 2010, the portrait is part of Kwandibens' Concrete Indians series, which reflects on contemporary Indigenous identity. Collaborating with subjects who volunteer their participation, she explores what urbanization means for Indigenous peoples across Turtle Island and how living in urban areas can affect one's cultural identity.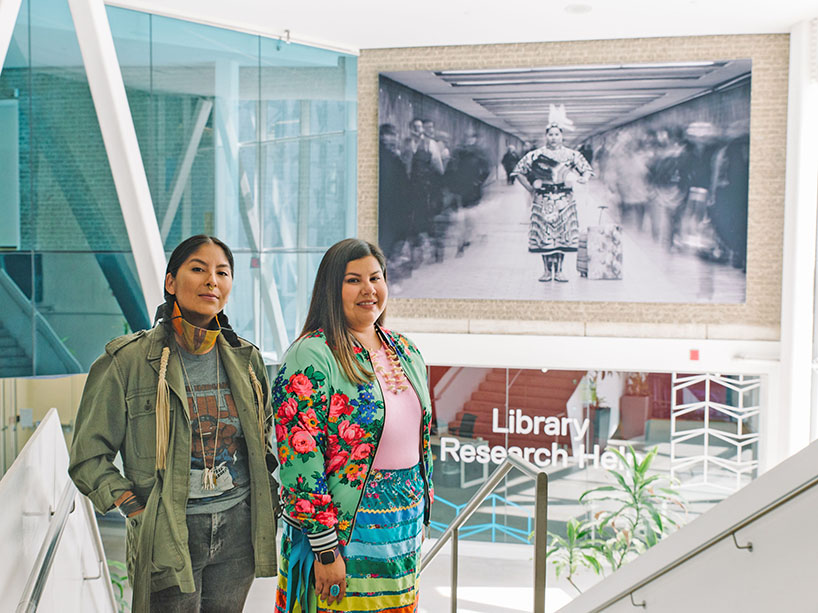 'Tkaronto' Indigenous experience
"The woman photographed, Tee Lyn Duke, is a member of an Anishinaabe dance troupe who rides Toronto's public transit to rehearsals and often wears her regalia en route," said Kwandibens. "Photographed during rush hour at Spadina Station, this portrait speaks directly to the 'Tkaronto' Indigenous experience: Duke stands still amongst waves of people, and the movement around her conveys a sense of existing in an entirely different world that is both past and future, as if to say, 'Despite all attempts at erasing who we are, here we still stand.' It means so much to have this piece on Ryerson's campus to remind younger generations that Indigenous peoples have been here since time immemorial."
Kwandibens has been a professional photographer for 14 years. During the early stages of her career, she set a deliberate intention to portray Indigenous peoples in a positive light. Documenting instances of Indigenous resurgence, resistance and intelligence, Kwandibens acknowledges the huge responsibility that comes with sharing these stories, and uses the black-and-white aesthetic, specifically in this series, to challenge the simplistic one-dimensionality of the medium.
Many portraits within Kwandibens' Concrete Indians series are of Indigenous people in traditional regalia at major intersections and neighbourhoods in cities throughout Canada. Several convey a sense of unity amongst Indigenous people, while others are personal expressions of decoloniality; all are assertions of the strength of Indigenous culture through resurgent acts of resistance and of reclamation of Indigenous space(s).
The installation is part of the Library's larger commitment to bring Indigenous culture to Ryerson's campus.
"Nadya Kwandibens' exceptional art work honours Indigenous communities and the art of storytelling through photography. We hope it inspires all those who view it to learn more about Canada's rich Indigenous history," said Carol Shepstone, chief librarian.
In support of Indigenous knowledge
Though the May 2020 NAISA conference was cancelled due to COVID-19, Ryerson's contribution was a collaborative effort that underscores the university's shared commitment to furthering recommendations from its PDF file2018 Truth and Reconciliation Report.
NAISA is an interdisciplinary, international membership-based organization of scholars working in the fields of Native American and Indigenous Studies. It has become the premiere professional organization for scholars, graduate students, independent researchers and community members interested in all aspects of Indigenous Studies.
"We regret that the 2020 NAISA Tkaronto Conference was unable to take place as planned, but Ryerson remains committed to supporting NAISA's educational goals, and the promotion of artists as important contributors to Indigenous knowledge and pedagogy," said Riley Kucheran, associate director, Saagajiwe Centre for Indigenous Communication & Design, and NAISA Tkaronto core planning committee member. "This portrait will remain an important commemoration of the 2020 Conference, and the relations it developed between Indigenous scholars and the host Toronto institutions."
Though Ryerson is planning for a predominantly remote fall semester, the university looks forward to a gradual return to campus at the appropriate time, and hopes the community enjoys the Library's newest addition to this high-traffic space. To upcoming Indigenous artists who hope to have their work commissioned, Kwandibens offers one piece of sound advice, "Stay true to your gifts and vision. Just keep doing what you love."