Ryerson professors named to Royal Society of Canada
Blake Fitzpatrick and Eliza Chandler recognized with prestigious honours
September 10, 2020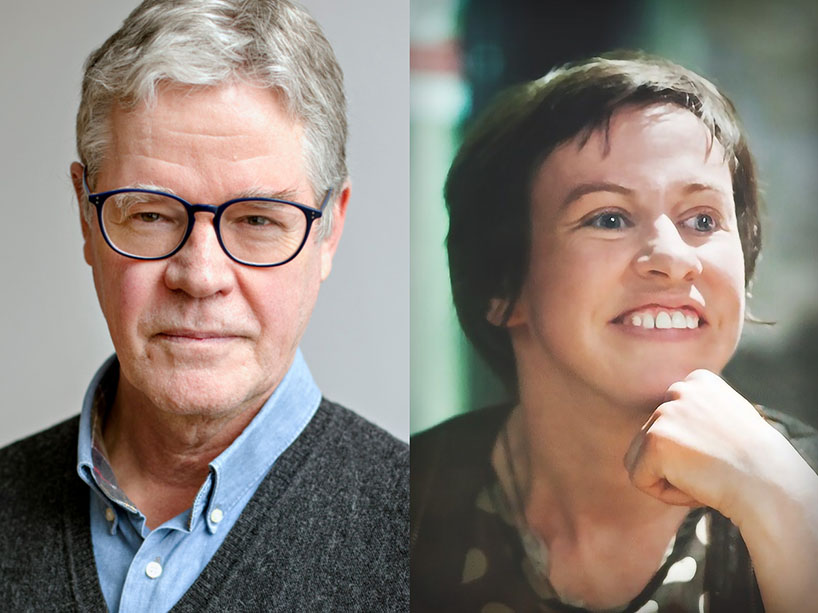 Today two Ryerson University professors have been selected for prestigious honours by the Royal Society of Canada (RSC). One has been elected a Fellow of the Royal Society of Canada (RSC) and another has been named a Member the RSC's College of New Scholars, Artists and Scientists. The Royal Society of Canada recognizes the country's leading and emerging scholars, artists and researchers.
School of Image Arts professor Blake Fitzpatrick has been elected as a Fellow of the RSC's Academy of Arts and Humanities. A hybrid scholar-practitioner, professor Fitzpatrick's research interests examine the dynamic relationship between place and history through a documentary lens. Examples of his long-term projects include Freedom Rocks: The Everyday Life of the Berlin Wall, a collaborative project which documented the post-wall life of fragments from the Berlin Wall, and an examination of the impacts of radium and uranium processing in Port Hope, Ont. Co-director of Ryerson's Documentary Media Research Centre, his work spans exhibitions, curations and writings.
Professor Eliza Chandler from the School of Disability Studies will join the College of New Scholars, Artists and Scientists, which recognizes emerging leadership across disciplines. Since arriving at Ryerson, Chandler has sought to bring together disability studies and disability arts to elevate the work of disability artists by creating partnerships and collaborations such as through her Social Sciences and Humanities Research Council-funded partnership project, Bodies in Translation: Activist Art, Technology and Access to Life. She has also worked to organize events like 2019's Cripping the Arts Symposium and has served as the founding artistic director of the Tangled Art Gallery, the first gallery in Canada dedicated to showcasing disability art.
"We're thrilled that professor Fitzpatrick and professor Chandler are being recognized for their achievements," said Steven N. Liss, Ryerson's vice-president, research and innovation. "Through their work, each has addressed and built awareness of important societal issues through creative endeavours, collaborations and the preservation and examination of history. Their membership in the Royal Society of Canada will offer additional opportunities for them to continue their contributions, encouraging dialogue and knowledge advancement. Congratulations to them both."
Professor Fitzpatrick joins Ryerson's previously elected Fellows, including other Academy of Arts and Humanities inductees professors Robert Burley, Lorraine Janzen Kooistra, Ruth Panofsky, Marta Braun, R. Bruce Elder and Irene Gammel; as well as Academy of Science professor emeritus Bin Wu and dean emeritus Maurice Yeates; and Academy of Social Sciences professors Martin Antony and Candice Monson. Professor Chandler joins other Ryerson Members of the College of New Scholars, Artists and Scientists: professors Catherine Beauchemin, Anatoliy Gruzd, Sepali Guruge, Trevor Hart, Ali Mazalek and Catherine Middleton.
Professor Fitzpatrick is one of 87 new Fellows elected to the Academies of Arts and Humanities, Social Sciences and Science. Professor Chandler is one of 50 new Members of the College of New Scholars, Artists and Scientists. This year's ceremony will be held November 27 in an adapted format to ensure participation from the all of the inductees.
View the PDF filecomplete list of newly elected fellows at the Royal Society of Canada.