Ryerson announces internationalization partnership with global company Navitas
Ten-year agreement will broaden international education at Ryerson
August 25, 2020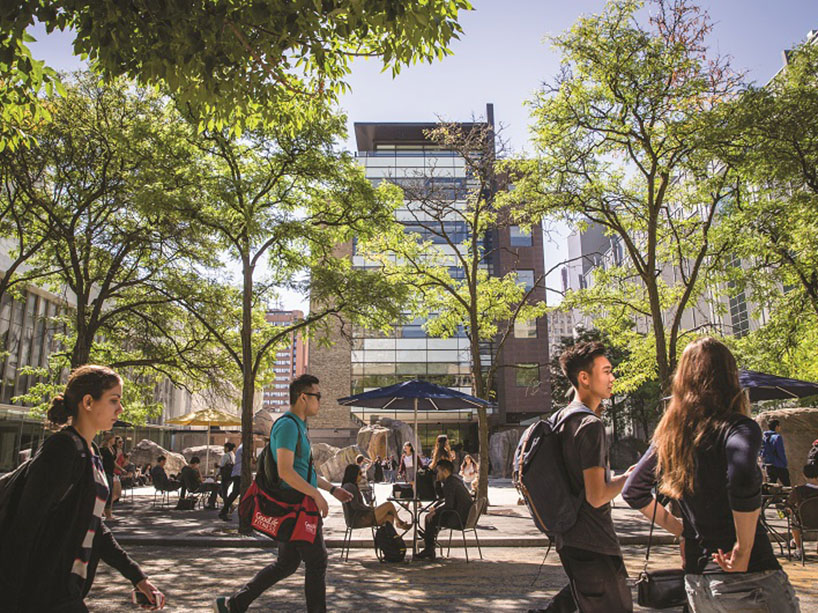 Ryerson has secured a long-term strategic partnership with Navitas, external link, a global higher education organization, that will broaden international education on campus and expand learning opportunities for international students.
"This partnership with Navitas marks the beginning of an exciting new chapter for Ryerson that will better position the university to broaden its global perspectives, and enrich the learning experiences for international and domestic students alike," said president Mohamed Lachemi.
"Together we will prepare all Ryerson students for success after graduation by building cross-cultural competencies inside and outside of the classroom, while also providing more opportunities for faculty and staff to build their own skill sets, to expand their connections, and to create new collaborations around the world."

The partnership will help Ryerson grow and diversify its international student population; improve international students' academic outcomes; broaden the university's international programs and services; and enhance its global reach and reputation.
The cornerstone of this partnership is the introduction of a pathway program for international students designed to ease the transition to a Canadian university environment and to prepare them for academic success. To be known as Ryerson University International College (RUIC), external link, the program will comprise academic course content, study skills development, and wraparound social and academic support systems.
Highly personalized to the unique needs of international learners, RUIC will provide students from around the world a unique opportunity to demonstrate their ability to succeed in Ryerson's rigorous academic environment. Students who complete the RUIC first-year program successfully will be eligible to continue their degree studies in second year at Ryerson University. The university will retain control of all aspects of the RUIC academic program.
International expansion
RUIC will extend the Ryerson brand into key countries worldwide through Navitas' extensive network of marketing staff in over 30 global offices. Over the 10-year partnership, Navitas will leverage its international network and track record of academic success to bolster Ryerson's ambitions as outlined in its Internationalization Strategy and new 2020-25 Academic Plan.
Navitas has more than 25 years of experience establishing successful pathway programs in countries including Canada, the United States, the United Kingdom, Australia and New Zealand, and was the first to launch such a program in North America with Simon Fraser University in 2006. Navitas has also partnered with the University of Manitoba since 2007. Combined, these two programs welcomed more than 3,000 new international students from 90 countries last year and achieved an average progression rate of over 91 per cent.
"Canada remains a preferred destination for international students because of its high quality post-secondary institutions, welcoming environment and strong commitment to global education. Ryerson University embodies these values," said Brian J.R. Stevenson, president and CEO of Navitas North America.
"With the launch of Ryerson University International College, even more students from around the globe will have the opportunity to pursue their higher-education goals at a leading Canadian university. We look forward to supporting students as they commence their studies at RUIC in the coming months and welcoming them to Toronto once borders safely re-open."
For more information, visit: www.ryersonuic.ca/, external link.