Ryerson's National Institute on Ageing pushes for change in care of seniors
7,000 COVID-19 deaths in Canadian long-term care facilities highlights urgency of NIA mission
July 14, 2020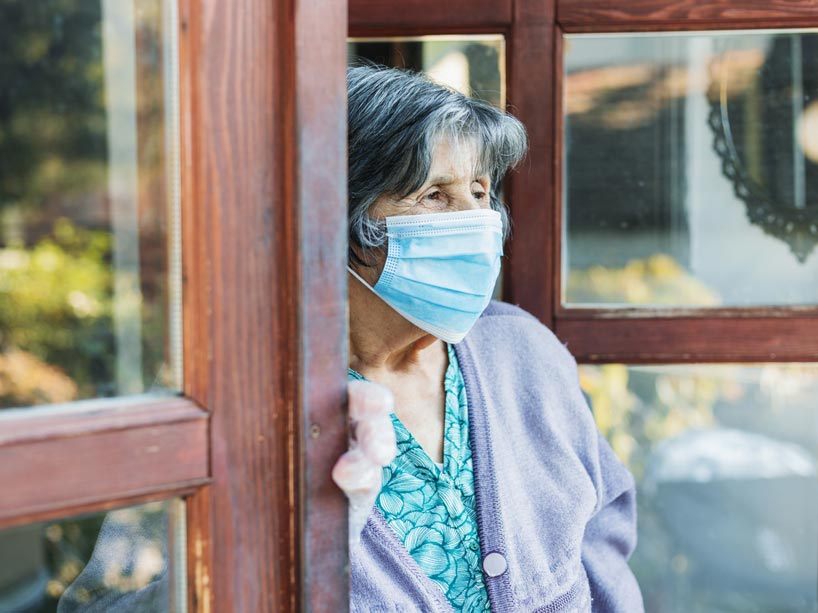 Even before COVID-19, Michael Nicin and his colleagues at Ryerson's National Institute on Ageing have been sounding the alarm on the urgent need for change in Canada's long-term care (LTC) systems. Few governments have paid attention – until now.
Established five years ago and based out of the Ted Rogers School of Management, the NIA is Canada's only academic think-tank focused on all aspects of aging.
Last year, it launched its three-part Future of Long-Term Care policy series of reports. The first two reports, released last fall, surveyed the current status of LTC in Canada and the projected costs of maintaining the status quo. They showed that even without major reforms, LTC costs will triple by 2050.
Before the third report could be released, which will focus on essential reforms put forward by the NIA, the COVID-19 pandemic hit – tragically exposing systemic challenges that put older Canadians at risk.
7,000 deaths in long-term care
COVID-19 quickly spread through nursing and retirement homes from coast to coast. Within just a few months, approximately 7,000 people in long-term care facilities in Canada died from the virus, bringing the urgency of the NIA's mission to light.
"The impact of COVID-19 has been tragic – and it's revealed the systemic vulnerabilities of our long-term care facilities," said Nicin, executive director of the organization.
In fact, based on its research, the (PDF file) NIA reported (external link) that more than 80% of all COVID-19 deaths in the country occurred in long-term care facilities and retirement homes (as of 9 p.m. ET on May 25, 2020).
"That's by far the highest among OECD nations," Nicin said, explaining that the data stems from an LTC COVID-19 tracking map spearheaded by Dr. Samir Sinha, co-chair of the NIA and director of Health Policy Research.
"The silver lining is that long-term care has now become a Canada-wide issue. It's affected so many people – not only those who have died, but their friends and family who are now grieving loved ones. It's woken up every level of government to the reality that they can't float on this issue the way we have for several decades," he said.
'We've spent so long twiddling our thumbs on the fact that we're aging'
While what has happened in recent months has been devastating, for Nicin and his team, it hasn't been shocking.
With a goal of enhancing "successful aging" and to make Canada the "best place to grow old," the NIA has been studying the realities of aging in Canada, from health care to financial security to social well-being – and much of that has involved researching long-term care facilities.
Their findings show that the "best place to grow old" is far from Canada's current reality.
'We've spent so long twiddling our thumbs on the fact that we're aging," he said. "Our job is to help governments and industry catch up to the new demographic reality."
Long-term care excluded from universal health care
Nicin says the root of the problem lies in the fact that Canada's universal health-care system does not account for long-term care support.
"Canada's health-care system was built 50 years ago, when the average age was 27," he said. "The average person at that time died at around the age of 70. Today, our average age is 42, and we're living to our late 80s."
"Health care at the time was approached from the mindset of a younger population, so the focus was on access to hospitals and doctors. As a result, long-term care was not enshrined in the Canada Health Act," he explained.
Since then, Canada has developed a "patchwork system," where models of care and funding vary widely across the country.
"We did not prepare for an older population," Nicin said, noting that the magnitude of such omission was highlighted in the 2016 census which showed Canada has more people over the age of 65 than under the age of 15, for the first time in history.
Systemic challenges
He says a few examples of systemic challenges with Canada's current model of long-term care include:
Ward rooms with 4 people, which makes the spread of infection difficult to control
An over reliance on nursing homes, rather than more care provided at home and in-community, where it can be less expensive to provide care in a more desirable location
Canada-wide underpayment of Personal Support Workers (PSWs) in long-term care facilities, with most only offered part-time hours. This is problematic for two key reasons:


It results in many PSWs working in multiple LTC homes, which can contribute to further spread of disease among a vulnerable population
During COVID-19, PSWs could no longer work in multiple locations. This not only led to a significant drop in pay, it also led to a shortage of PSWs (for which there was already a shortage), and therefore, major gaps in care
To transform the current system, the NIA is working on new models of care to propose to Canadian governments.
There are signs people are listening
In May, Nicin and Dr. Sinha were invited as witnesses before Parliament's HUMA Committee on Long-Term Care, where they urged the federal government to provide national leadership and support to the provinces in improving LTC across Canada, reducing reliance on nursing homes, supporting more care at home, and properly recognizing the value of PSWs.
More recently, Prime Minister Justin Trudeau referenced the CIHI report, which highlighted the NIA's tracking of COVID-19 deaths in Canadian long-term care facilities.
"It prompted Trudeau to come out to say the federal government would have to have greater involvement in long-term care," Nicin said.
Throughout the COVID-19 pandemic, the NIA has also been advising governments on best practices and guidance on how to stem the spread of COVID-19 and protect residents in LTC.
In the media, too, the NIA is making a mark. Since March 2020, the think-tank has been mentioned in the Wall Street Journal, CNN and the Economist, along with several opinion pieces in the Globe and Mail and the Toronto Star, among others.
What's its current, most pressing message?
Nicin says Canadians and various levels of government need to look at how Canada can create the breadth of services and treatments that can support people as they age.
"Whether it's home care, community-based programs, or nursing homes, or a combination of those – to accommodate a full-range of needs, from those who need 24-hour care versus those who just need a few hours a day to age at home," Nicin said.
He says the NIA's multipronged approach makes it well-positioned to help governments address the range of concerns currently facing Canada's seniors, from financial and retirement issues to social isolation.
They are now working on the final report in their series, which will look at how the system must be reformed.
"We just need the federal government to show leadership and for the provinces to come on board," he said.
The NIA is supported by Ryerson and a number of valued inaugural partners, including lead support from RBC Wealth Management. The NIA's Slaight Policy Series on Ageing was launched recently with support from the Slaight Family Foundation. Gary Slaight and Emmanuaelle Gattuso also provided support enabling the NIA to build its COVID-19 tracker and work through the early stages of the outbreak. Last year, the NIA hosted a series on long-term care sponsored by the Canadian Medical Association, Canadian Institute of Actuaries, AdvantAge Ontario, Home Instead, and Essity. The NIA operates on a partnership model, working across private and public sectors to explore the challenges and opportunities of an aging population.
Related