Ryerson grad @Bomanizer becomes overnight TikTok sensation
After being featured in a Netflix Pride event and signing with a celebrity casting agency in L.A., 'anything is possible' for Boman Martinez-Reid
July 28, 2020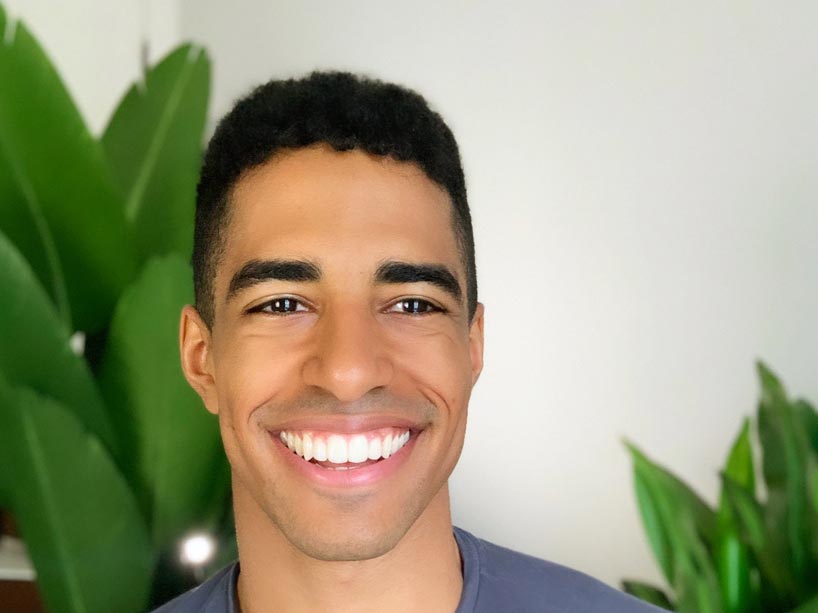 What's more incredible about Ryerson grad Boman Martinez-Reid attracting 1.3 million followers and 20.9 million likes on TikTok, nearly 100,000 followers on Instagram, appearing on Entertainment Tonight and signing with CAA – the same L.A. casting agency as Ariana Grande and Brad Pitt?
Perhaps the fact that until last December, the 22-year-old Toronto resident didn't even have a TikTok account and wasn't sure what he would do after graduation.
"Now, here's this agency saying, 'We think you're amazing and you can do anything you want.' It's crazy," said the spring 2020 graduate of Ryerson's RTA Media Production program at FCAD (Faculty of Communication and Design).
Known to millions of TikTok fans as @Bomanizer, external link, Martinez-Reid spends much of his day planning, shooting and editing videos for TikTok, one of the fastest growing social media platforms, where millions of kids, teens and 20-somethings record and share videos of themselves lip-synching, dancing, singing and doing comedy. (He's also been posting these videos to his Instagram account of the same name, external link).
Much of his inspiration comes from the reality TV shows he grew up watching, such as Dance Moms and the Real Housewives. His parodies often involve dramatic overreactions, external link and feature his sister, step-sister, close friends, and occasionally, his mom.
With an engaging on-camera presence, and such polished, professional content, it's hard to believe that several months ago, none of it existed.
What happened between December 2019 and now? For Martinez-Reid, it's a bit of a perfect storm.
@Bomanizer is born
First, a little nudging from his friends convinced him to join TikTok.
"TikTok wasn't really cool until about September or October of last year. At first, I was kind of like, 'I don't know, this is weird,'" he said.
By December, he'd changed his mind – and @Bomanizer was born.
It's a good thing because Martinez-Reid has the tools for the trade: he's an actor (he had a lead role in Ryerson Musical Theatre Company's production Big Fish this past spring); he's creative and has production experience (even producing music videos and a reality TV show in high school); and thanks to his studies at Ryerson, he learned lighting, sound and motion graphics, along with gaining the ability to quickly turn content around.
"TikTok kind of bridged everything together," he said.
As his audience began to grow, suddenly, the pandemic hit – giving Martinez-Reid a whole new experience to draw from.
"Quarantine happened, and I made this video about my friend coughing, external link, and it got 12 million views in just a few days. It started everything," he said.
While his rise to TikTok stardom came suddenly, it wasn't always easy.
"I loved what I was making, and I loved making people laugh, but there was pressure too, because I was also sad. Like, I'm stuck in my house with my parents, the Ryerson show just got cut short (due to the pandemic). I was mourning my life at the same time," he said.
He soon adapted to the "new norm" and began focusing on high-quality content creation.
"For a lot of people, TikTok involves setting up a camera and doing a dance or saying something funny," he said.
"The quarantine motivated me to make good funny videos that were well made," he noted. "Now, there's a certain bar I feel I have to reach."
Creating a one-minute video can sometimes take two days.
"It might take two hours to film everything, but then I might have to get shots of me with my sister or my friend, then there are the confessionals of me in the chair, so then you have all that footage to edit," he said, explaining that other production elements could include a mini version of Martinez-Reid popping up on a screen, or flying across the screen in a helicopter.
"If I'm parodying reality TV, I want it to feel like it," he said.
Joins idols in Netflix Pride event
As for what's next, like many grads trying to navigate life in the pandemic, Martinez-Reid isn't entirely sure. Opportunities have been popping up – such as starring in the June 30 virtual Netflix Pride event.
The all-star lineup included Laverne Cox, the Queer Eye's Fab Five, Dolly Parton, Chaka Khan, Goldie Hawn and more.
Being among many of his idols had Martinez-Reid starstruck.
"We had this Zoom call beforehand, and I thought it would just be the producer and I. But I opened my laptop to see Monet X Change from RuPaul's Drag Race staring at me – who knew who I was! It was crazy!" he said, explaining that one year ago, the same queen had reached out to touch his hand at a Toronto Pride event.
"I was just like, 'Oh my God!' It really freaked me out," he said.
Advice: 'You are enough'
The TikTok star says the recent success has helped give him the strength and confidence to continue being his true self, which is something he hopes for other grads too.
"It's so easy, especially on social media, to compare ourselves to everyone else all the time. But as my mom always said to me, 'You are enough'," he said.
Whatever path he chooses, it seems that while much of the world has shut down, a world of opportunity is opening for Martinez-Reid.
"My agency has made it clear that anything is possible, and that they'll help me do it," he said. "It's been life-changing."


Related