What employment will look like in 2030
New Brookfield Institute report projects which occupations will see growth, which will see decline and what skills will be most crucial
May 29, 2020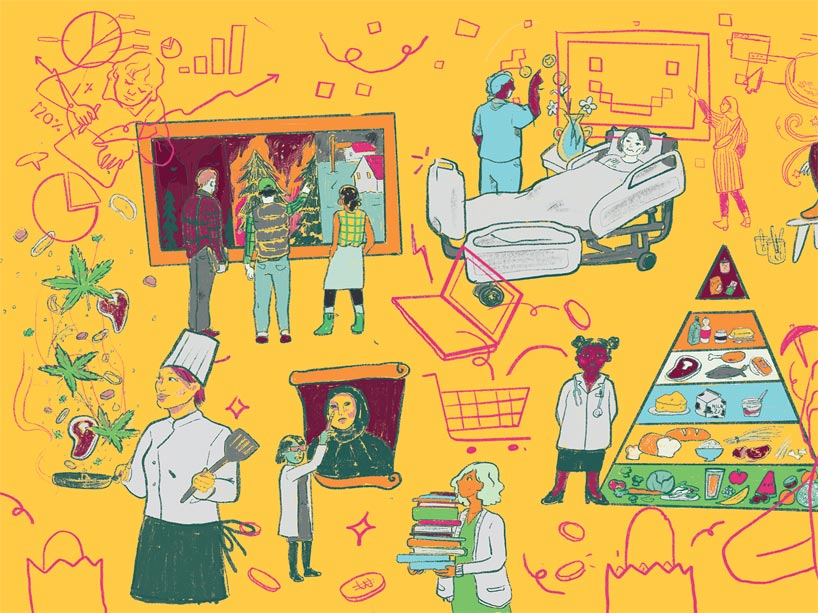 As Canada and the world grapple with how to recover from the COVID-19 crisis, the need to design policies that will effectively support workers and businesses into the future is more pressing than ever. On Friday, Ryerson's Brookfield Institute for Innovation + Entrepreneurship (BII+E) launched the Forecast of Canadian Occupational Growth (FCOG), which uses a unique combination of strategic foresight, expert insight and machine learning to project how Canada's labour market may change by 2030.
The shifts ahead
The forecast projects that 19 per cent of all Canadian workers are in occupations that will grow between now and 2030—notably ones that are highly technical, service oriented or related to healthcare. Ahead by a Decade: Employment in 2030, external link explores the uneven implications of the forecast for different industries, geographies and demographic groups, highlighting who may be most vulnerable. It also reveals the specific skills that will likely be foundational to the future job market, helping workers to navigate potential disruptions over the next 10 years, ranging from technological change to resource scarcity and an aging population.
"The Brookfield Institute's forecast offers a new approach for thinking about how Canada's employment landscape could change in the next 10 years. It complements existing resources, such as the Canadian Occupational Projection System (COPS), by considering the potential for a wide range of trends to shape the future of work in ways that could depart from the past," says Sarah Doyle, director of policy and research at the Brookfield Institute.
"Tools like this one can help us plan effectively for the future and help us lay the foundations for a more inclusive economy. This may be even more valuable now, as Canada seeks to help workers and businesses navigate and recover from the COVID-19 crisis."

The report's key findings
Ahead by a Decade shares some notable findings that can help prepare Canada's workforce to be more resilient—especially in such unprecedented times.
Key findings include:
19 per cent of Canadian workers are in occupations projected to grow; 15 per cent are in occupations projected to decline; and 66 per cent are in occupations projected to remain stable in employment share.
Graphic designers and illustrators, chefs, specialist physicians, registered nurses and registered psychiatric nurses and technical sales specialists in wholesale trade are all jobs that are projected to see growth by 2030.
On the other hand, occupations in manufacturing and utilities are generally projected to decrease in the next decade.
There are five foundational skills and abilities that are likely to be important across Canada's labour market in 2030: instruction, persuasion, service orientation, brainstorming and memorization.
Men are projected to experience both job risk and greater opportunity. They are more likely to be in both declining and growing occupations.
Women may experience fewer risks to their occupations in the future, but also less opportunity. While fewer women are working in jobs projected to decline, those who are in these jobs may be more vulnerable to change because they are paid significantly less than their male counterparts.
Workers with higher levels of education, as well as those with higher incomes, are significantly more likely to be in occupations projected to grow.
First-generation immigrants are more likely to work in jobs projected to grow, compared to the workforce average. While visible minority workers are on average also more likely to hold jobs in occupations projected to grow, certain groups may face more risk.
Ahead by a Decade is the culmination of BII+E's Employment in 2030, external link initiative and follows the first two reports in the series: Turn and Face the Strange, external link and Signs of the Times, external link. The project was carried out in partnership with Nesta and is also supported by Element AI and regional convening partners, including the Canada West Foundation in Alberta, SFU Public Square in BC, the Newfoundland and Labrador Workforce Innovation Centre at CNA, Percolab in Quebec, and Yukon University. The project was made possible in part thanks to over $1 million in funding from the Government of Canada's Sectoral Initiative Program and the Max Bell Foundation.