The real work of anti-Black racism
Executive Director Darrell Bowden addresses community members at Pride kick-off with calls to action
June 04, 2020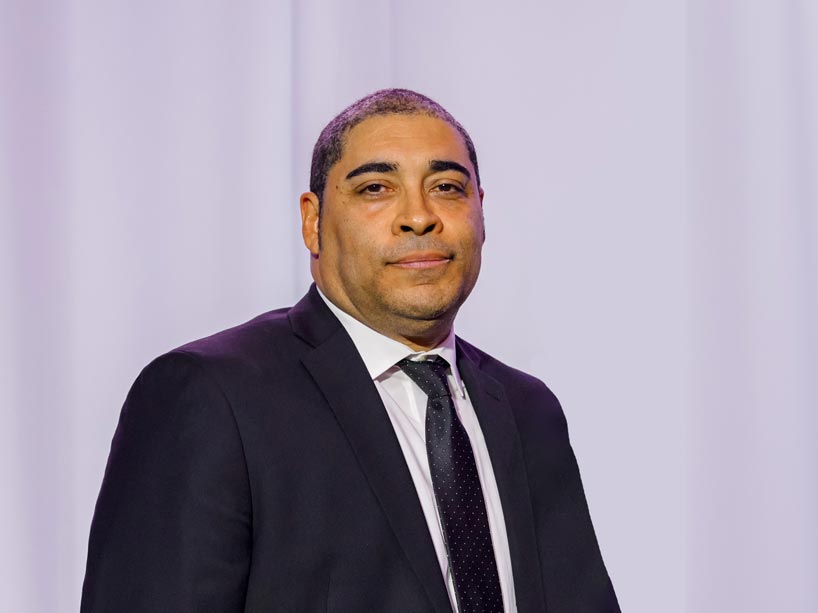 For those who missed the Virtual Pride Kick-Off, Darrell Bowden, executive director in the Office of the Vice-President, Equity and Community Inclusion (OVPECI), gave a powerful speech about how white and non-Black community members can show up for our Black colleagues, friends and communities.
In his own words, Darrell's speech from the Virtual Pride Kick-Off:
I self-identify as a Black, Mi'kmaq, gay, cis-gendered, male who is the father of two young black boys and the second youngest of 11. I use the pronouns he/him/his. I was born in rural Nova Scotia and more specifically, New Glasgow. That town has the distinction of saying it is home to the Roseland Theatre, the place where Viola Desmond was thrown out, in November 1946, because she was Black while watching a movie.
This past week, I was bombarded with distressing news, images and video content that portrayed and told the story of the ongoing, perpetual, horrifying dehumanization of Black people on city streets across this country and around the world. Sadly, this is not new, it's another instance in a long history of oppression, white supremacy, colonization and the legacy of slavery in Canada, in which people, institutions and society demonstrate that Black lives are not valued. More importantly, it was news of Black people who have died as a result of some interaction with police.
In light of what is going on, I am going to do my best to use the next few minutes to explain to you why we cannot get to the liberation of the 2SLGBTQ+ community without Black liberation. I am not here to provide you with a silver bullet that will make this all better. I am not here to comfort you or make you feel better about the loss of Black lives. I am struggling with those feelings myself.
What I am here to do is provide you with some important history and context, and leave you with some calls to action that you as an individual can take. My hope is that you come away empowered to be part of the collective movement to fight anti-Black racism, either in the queer community or any other community in which you belong, including here at Ryerson University.
With regards to what Ryerson University is doing as an institution to fight anti-Black racism, last year the OVPECI began work on the Anti-Black Racism Campus Climate Review.
While Ryerson has come a long way to becoming a more inclusive environment, anti-Black racism remains embedded in Canadian institutions and individuals and we know that Ryerson is not immune. The university will be releasing the Anti-Black Racism Campus Climate Review Report later this year.
With that said, I'll start with a short history of Pride.
The origin of Pride was a riot
Pride is held annually in June in recognition of the 1969 Stonewall riots in New York City. The riots were demonstrations in response to a violent police raid that took place on June 28, 1969, at the Stonewall Inn. The majority of people at Stonewall were either drag queens or gay men of color. The riots galvanized a generation of activists and were a catalyst for the gay rights movement. We were saying: "Enough is enough."
So that's the first lesson... The history of Pride was a riot, a demonstration of protest against police brutality.
Next, you should know that the Stonewall riots were led by a Black transgender woman. Marsha P. Johnson was a Black and gay-rights activist and self-identified drag queen. Johnson was a key figure in the Stonewall riots, and yet very few people knew who she was. I'm willing to wager that there is a good number of you here today who don't know her either. She was largely pushed out of the history of the gay rights movement.
Toronto's Pride celebration is also in response to police violence resulting from the 1981 bathhouse raids in which 286 men were arrested. Like Stonewall, the criminalizing of queer and trans sexuality was met by resistance, protest and activism for change. Across Canada, racialized and non-racialized 2SLGBTQ+ folks organized in the face of hostility and violence for justice and their rights.
Unfortunately, the displays of colourful rainbows and parties often overshadow these origins of Pride. This follows the unfortunate reality in which history is whitewashed and that the roles that Black and racialized trans women have played in the gay rights movement is often minimized and erased.
Now I'll fast forward to 2016 for some more history of Pride and its intersection with the Black Lives Matter Toronto movement.
In 2016, Black Lives Matter was a co-host of the Toronto Pride parade. After numerous calls for change to increase representation of racialized people from Black Lives Matter Toronto went unheard, they disrupted the Pride parade from within. They did so to call attention to a neglect on the part of Pride Toronto and presented a list of demands that included:
the diversification of who Pride Toronto hires;
an increase in accessibility measures; and
the ban of police floats and of police marching in uniform and with weapons.
Black Lives Matter Toronto asked to be afforded the opportunity to be their full queer selves at Pride. They were asking for their safety from police that represent a clear and present danger to many queer, Black, Indigenous and people of colour, including poor queers, sex workers and people with disabilities.
With these two important pieces of history and context under your belt, I'd like to focus on where you come in.
The real work begins with self
Where you come in is by taking action. Action that is required so that you can be part of the collective movement to combat and eliminate anti-Black racism in this country and beyond.
Posting on your social media feeds that you are supportive of justice for Regis Korchinski-Paquet, of justice for George Floyd, of justice for all the Black lives that have been taken can be helpful as a first step. However, the real work goes beyond that. The real work is not just about voicing your support, donating money if you can, and continuing life as usual.
The real work is in your self-study to increase your knowledge about white supremacy. It is to learn that the society we live in (Canada, not just the United States) was founded in the disenfranchisement, colonization and exploitation of Black, Indigenous and racialized people.
The real work is to unlearn the beliefs, biases and "truths" you have been taught in the context of our society that were built on systems of power and oppression that seeks to benefit white people and fuels racism for all others.
The real work is questioning, analyzing and unlearning your own biases, beliefs and misconceptions about Black, Indigenous and racialized people.
The real work is "calling in" your friends and family members with compassion when they express racist attitudes and beliefs. More than likely, they won't be all that obvious or overt, they may be subtle, coded and shrouded in Canadian politeness.
The real work is understanding, analyzing and being critical of the assumptions you have based on the privileges you hold (including but not limited to white privilege, light-skinned privilege, able-bodied privilege, socio-economic privilege, etc.).
The real work is learning about your own ethnocultural background and how that relates to anti-Blackness in Canadian society. Just because you are a racialized person does not mean you are not immune to anti-Black, anti-Indigenous and racist attitudes. It means that you are going to have to work harder to challenge the power and influence of white supremacy that leads to internalized oppression and lateral violence.
The real work is giving up some of the power you have in order to make space in your communities, neighbourhoods, departments, teams and groups for Black, Indigenous and racialized people.
The real work is developing relationships with Black, Indigenous and racialized people from the start, and committing to actions that will centre, amplify and include those voices from the beginning.
The real work is in you attending an event and/or walking in solidarity with Black Lives Matter Toronto. How many of you have ever done so? 51 years ago Ms. Johnson started a riot against police brutality and today we gather to support that action; you cannot support that if you're not supporting the riots of this week!
The Positive Space Community Network at Ryerson and its leadership have demonstrated that they are willing to take accountability, willing to do the work of undoing past patterns of exclusion and are willing to "show up." I am here as a testament to the fact that they are willing to move from a safe space to a brave space in which the discomfort of learning is biting and sharp (or as I recently heard this described) that we must be ready for the bee stings. The learning edge of how the normalized, mainstream gay rights movement has excluded those living on low incomes, people with disabilities, racialized/people of color, the elderly, women, transgender people, drag queens, bisexuals, those living in rural areas and so on. The learning edge is required now to make a change towards greater inclusion.
Finding hope in the movement
In conclusion, if you are here to celebrate Pride and the inclusion of 2SLGBTQ+ individuals, it must come with the acceptance and acknowledgement that we live in a racist society, and that unless you are intentional, deliberate and specific about inclusion, you will very likely be excluding whole groups of the queer community who are not seen, not heard and not centred, much like Marsha P. Johnson, has not been.
Our Vice-President, Equity and Inclusion, Denise O'Neil Green often sums it up with a simple and succinct statement: "Inclusion begins at home!"
I mourn the lives of Regis Korchinski-Paquet, Breonna Taylor, Ahmaud Arbery, George Floyd, Andrew Loku, Ian Price - members of the Black community who have died as a result of interactions with police. I want to make it clear that these situations occur on both sides of the border, not just in the United States but here in Canada as well.
What I am hopeful about is that we are also witnessing a new movement afoot, one in which people at the intersections of background, colour, religion, age, sexual orientation, gender identity and expressions are coming together and taking to the streets in protest to say: "Enough is enough." Seeing all of you here today is also a step in the right direction - it is showing that the Ryerson community remains vigilant in supporting difference in all aspects of our campus. This event will be further strengthened when we can move forward by calling one another in with compassion and empathy. I am hopeful that the names that I just mentioned will not just be hashtags, battle cries and names on cardboard signs. I am hopeful that the fight against anti-Black racism can start with each of you, in what will be a lifelong journey towards greater and collective racial literacy.
Thank you to the Positive Space committee for making space for me, today.
We have lots more to do; let's keep up the good work. I wish you all a safe and happy Pride!

Darrell Bowden
Executive Director
Office of the Vice-President, Equity and Community Inclusion