Anti-racism work begins with self-education
The Office of the Vice-President, Equity and Community Inclusion offers educational resources to increase your racial literacy
June 12, 2020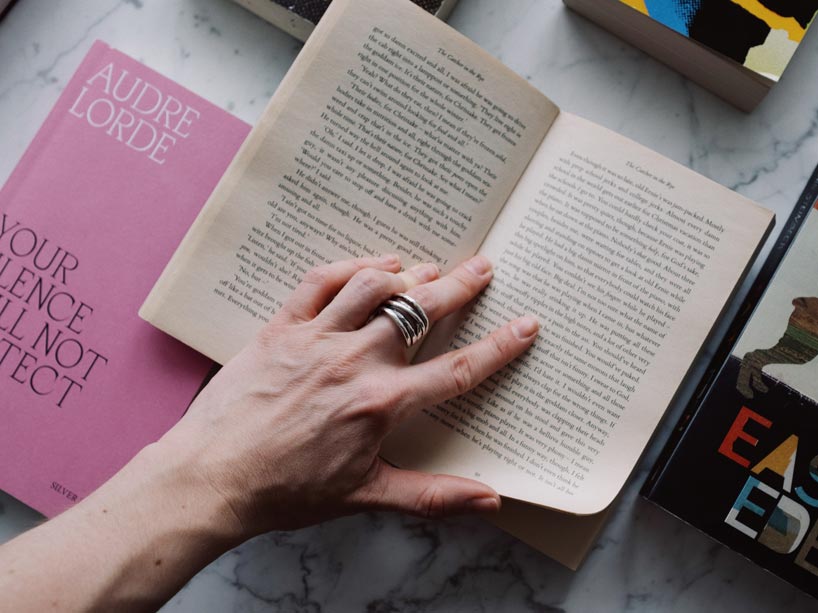 For almost three weeks now, protests have been taking place here in Toronto, across Canada, the U.S. and worldwide in response to systemic anti-Black racism and cases of police brutality.
Protests have taken place before but the vibe feels different this time. More people are waking up to realities that are not new to Black people as well as Indigenous and other racialized communities.
The fight against anti-Black racism must be a collective effort for all Canadians, regardless of their skin colour. It's important to remember that anti-Black racism is fueled and backed by white supremacy, which impacts all of us, not just Black people.
"While many people don't believe they are racist, research demonstrates that they unfortunately continue to sustain racist environments and reproduce racist outcomes," says Vice-President of Equity and Community Inclusion Denise O'Neil Green. "They may unconsciously or consciously uphold practices that benefit white people and disadvantage racialized people."
Green emphasizes that an important first step for white people is learning about white supremacy, colonization and its legacy, which serves as a foundation to understand what it means to be white in Canada.
"For non-Black racialized people, their understanding of how their ethnocultural background relates to anti-Blackness is just as critical," Green said. "Just because you are racialized does not mean you are immune to anti-Black, anti-Indigenous and racist attitudes. It actually means that you are going to have to work harder to challenge the power and influence of white supremacy that leads to internalized oppression and lateral violence.
"As I always say, inclusion begins at home."
Green recognizes that in the midst of what is happening, many mainstream messages have ironically centred on the needs of white and non-Black allies, and the unlearning and relearning they must take on in order to work in solidarity against anti-Black racism.
On Friday, Green will be participating in the Alumni Relations' Top 5 webinar, Resistance, Resilience and Support for Ryerson's Black Community to address the development of a Black community toolkit at Ryerson and beyond. She will discuss how Black people can maintain resistance against white supremacy, foster resilience and strive forward in a hopeful way. This session will centre self-identified Black people who may be students, faculty, staff, alumni and community members. White and non-Black racialized people working in solidarity with Black communities are also welcome to attend in the spirit of learning and reflection.
Educational resources
The Office of the Vice-President, Equity and Community Inclusion has compiled some educational resources, with insights from Green on each, that can help community members increase their racial literacy and feel empowered to be part of the collective effort to fight white supremacy and anti-Black racism:
"White Privilege vs. White Supremacy" with Desmond Cole at Ryerson's White Privilege Conference (start at 47:45)
"Desmond Cole unpacks the difference between white privilege and white supremacy. He is a meticulous journalist who is rooted in a distinctly Toronto-centric framework. He does not let us off the hook and his perspective is important for anyone looking to become more civically engaged and increase their racial literacy."
"Seeing the Racial Water: A conversation with Robin DiAngelo" at Ryerson's Dine and Discourse Lecture
"Robin DiAngelo joined me for a conversation as part of the Dine and Discourse series to talk about her work on 'white fragility' which has influenced the international dialogue on race. DiAngelo explains how race shapes the lives of white people, what makes racism so hard for white people to acknowledge and common white racial patterns that prevent us from moving towards greater racial equity. She provides a foundation for white people to develop white racial literacy."
"Rethinking White Privilege in the Age of White Supremacy and Ethnic Nationalism" with John A. Powell at Ryerson's White Privilege Conference (start at 28:20)
"John Powell guides people through the problem of "othering", which he believes is one of the most significant problems of the 21st century. He breaks down how much of the current socio-political context causes divisions rather than bridges between groups. He also provides calls to action, with concrete strategies to practice and implement immediately."
"My Road to Healing as a Residential School Warrior" with Shirley Cheechoo at Ryerson's White Privilege Conference (start at 41:40)
"One cannot understand racism in Canada without understanding colonization and white supremacy. This work requires an understanding of a system that was founded in the disenfranchisement, colonization and exploitation of Indigenous people. Shirley Cheechoo joined us at the White Privilege Conference Global Toronto to tell us about her lifelong journey to healing after being brought in and out of the residential school system. She also shares how she uses artistic expression to guide others on their own journeys of healing."
"Of White and Hearing Privilege" with Jane K. Fernandes at Ryerson's White Privilege Conference (start at 19:00)
"Jane Fernandes shares her experience of being an outsider in both the hearing and deaf world. She challenges the Deaf community to take responsibility for the racism and white privilege that does not stop existing just because other oppressions affect them. She demonstrates the dangerous ramifications of having a single lens on oppression and the importance of honoring and challenging all oppression systems simultaneously."
eLearning | Call it out: racism, racial discrimination and human rights (external link) by the Ontario Human Rights Commission
"This 30-minute, interactive course from the Ontario Human Rights Commission is an excellent foundation for anyone who wants to learn more about race, racial discrimination and the human rights protections under Ontario's Human Rights Code. It provides historical context and guides people through how to prevent and address racial discrimination."
Book | How to Be an Antiracist by Ibram X. Kendi (external link)
"Ibram X. Kendi offers a compelling argument for why there is no neutral ground between being a racist and an anti-racist. He lays out a hopeful future in which all people can be actively contributing to and building anti-racist societies. Kendi is also the author of Antiracist Baby, a board book for parents and children to identify and uncover racism."
Book | The New Jim Crow: Mass Incarceration in the Age of Colorblindness (external link) by Michelle Alexander
"This book addresses the long-lasting legacy of slavery in the United States against the backdrop of President Obama's election. Michelle Alexander draws the connection between the Jim Crow South and contemporary mass incarceration."
Book | Policing Black Lives: State Violence in Canada from Slavery to the Present (external link) by Robyn Maynard
"Robyn Maynard provides a powerful and comprehensive study of the destructive force of anti-Black racism that began centuries ago and persists today in this country. She provides an important history lesson, starting with slavery and moving to modern prisons, classrooms and city streets to uncover the issue. This resource is for anyone wanting to learn more about what it means to be Black in Canada."
Children's books | Meet Viola Desmond (external link) by Elizabeth MacLeod or The ABC's of Viola Desmond (external link) by the Delmore "Buddy" Daye Learning Institute
"We need to get comfortable talking to children about race. Talking about race is not going to make them racist but rather increase their racial literacy. Viola Desmond's story is an important part of Canadian history. Her resolve to fight the baseless charges against her was grounded in her conviction that Black Nova Scotians and Canadians alike should no longer accept racial discrimination as the status quo."