Volunteers from School of Fashion sew 4,000 face masks for hospitals
Ryerson professors Danielle Martin and Sandra Tullio-Pow 'really proud' of student effort
May 19, 2020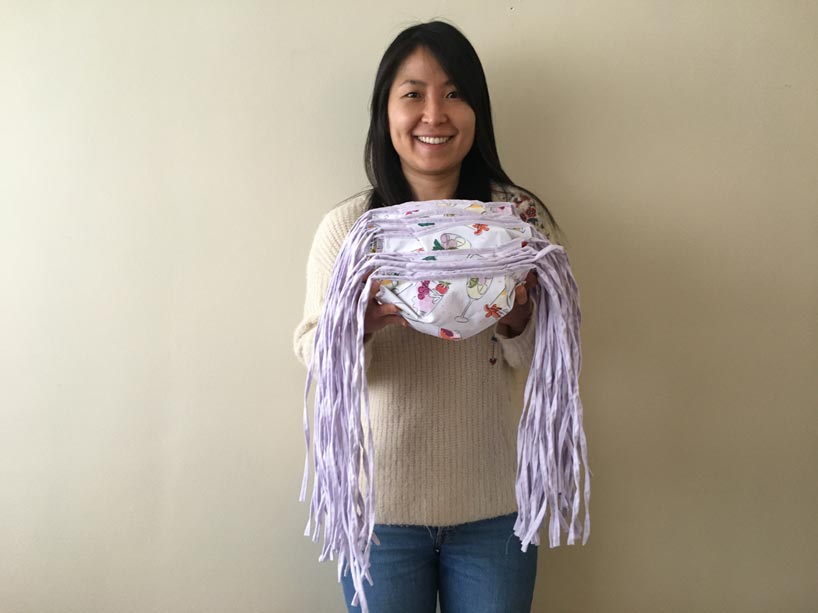 On March 23, when Ryerson School of Fashion professors Danielle Martin and Sandra Tullio-Pow heard that two Toronto hospitals were in need of face masks, they immediately wanted to help.
"I just felt that since we have some expertise, we should get involved in this urgent need," Martin said.
So, they began reaching out to students, staff, professors and alumni to see what they could do.
Thanks to their efforts, today, more than 60 volunteers – mostly students – are sewing 4,000 face masks for St. Michael's Hospital and Michael Garron Hospital.
"I was feeling such an urge to help, it's amazing it all came together," Martin said, explaining that volunteers will make roughly 25 masks per week, totaling 1,000 each week, for four weeks. "It's a way for our community to be active and contribute to a grander quest."
Research leads to custom design
Knowing exactly how to help in the beginning, however, wasn't quite so clear. Martin and Tullio-Pow began pouring over research about face mask design and what types of fabric were most effective to protect against a virus.
"We had to work creatively with what we had at home, with the goal of creating the safest mask possible," Martin said.
They also found tips and suggestions posted by various Facebook groups from people all over the world who were also making masks to fight COVID-19.
"We had seen from a group in France, they had stopped sewing the centre seam masks," Martin said, explaining that there was concern about droplets passing through the centre stitching.
The two researchers created a series of prototypes, consulted with health-care workers, and finally landed on a custom design featuring pleats added to the sides and at the top.
"The mask was draped in a way that creates volume for the nose and mouth to breathe easily, but is also adjusted for a better fit along the bridge of the nose," Martin explained.
The mask is made using two layers of a tea towel made of 100 per cent cotton.
"Research shows that this material is the most efficient textile fabric that has been studied for face mask purposes," Martin said.

'I was blown away'
With a winning concept in place, Martin then reached out to her niece who is a designer at Simons, the Quebec department store, to see if they could donate material.
CEO Peter Simons immediately wanted to help, and a few weeks later, 1,400 tea towels arrived.
Also helping bring the project to life is Paloma Blanca, a bridalwear company that pitched in by preparing a pattern marker to cut the 4,000 masks in their facility. Toronto retailer Freda's also stepped up with material to create the ties.
Next, Martin and Tullio-Pow emailed the School of Fashion community looking for volunteers – and within two hours, more than 60 people – mostly students – had replied.
"I was blown away by how quickly our list filled up," said Tullio-Pow. "We even had folks that did not know how to sew who wanted to help, so they're driving and delivering masks."
"I was so grateful," Martin said. "Right away, we had enough volunteers for the first 1,000 masks."
Volunteering to help was an obvious 'yes'
One of those volunteers is Hyejin "Hiddy" Lee.
The master of arts in fashion student had already been sewing masks for her friends and elderly neighbours, so volunteering to help the cause was an obvious "yes".
"I wanted to do something good. It just makes me happy," she said, noting that with an industrial sewing machine at home, and several masks under her belt, it now takes her about 25 minutes to sew each mask.
Lee is also one of the volunteer drivers ensuring material and masks are brought to volunteer homes.
"I lay the package at their front door, go back to my car to call them, then make sure they come out and receive it," she said, outlining the physical distancing protocol taken.
She says the volunteer sewers are in touch every day on a Facebook group. They share their tips and progress, ask questions and encourage each other.
A few comments include:
"I'm really proud of all the sewers taking on this challenge," wrote Freda Ranter, owner of Freda's retail store, which is providing the ties for the masks, on April 25.
A student on April 26 wrote, "I'm a little slow but I'm getting there! First 15 masks complete," to which Danielle Martin replied, This is great! We will all make it together!".
With material for more than 2,200 face masks already distributed to the volunteer sewers as of May 1, Martin says they should be able to deliver the 4,000 completed face masks by the end of the month.
Donated masks will be worn by patients throughout hospitals, helping relieve the demand for surgical and N95 respirator masks needed by those working directly with COVID-19 patients.
"I'm really proud of what we're achieving," Martin said.


Related: