Second City brings laughter to FCAD's creative arts workshop series
Communities Create helps Canadians connect, create and share during pandemic
May 28, 2020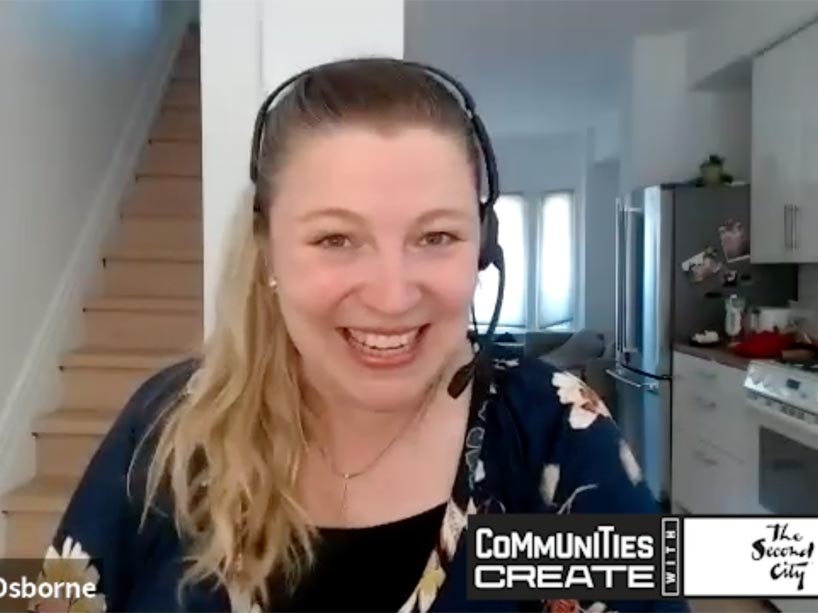 "Argyle socks happen to be my favourite socks." Make sense? If the answer is no, don't worry, it's not really supposed to.
The sentence was created on-the-fly by participants in a recent online improv session with Second City, external link – hosted by The Creative Innovation Studio at FCAD at Ryerson.
The event was part of a larger initiative called Communities Create, external link, a series of eight free, virtual, interactive arts-based workshops hosted by The Creative Innovation Studio, along with media and arts organizations across Canada.
The project launched on May 4 and is in response to the Covid-19 pandemic, aimed at giving people across Canada an opportunity to come together and express themselves creatively.
"We're all going through something right now, whether it's grief, anxiety, loneliness or Covid-19 itself," said Ramona Pringle, director of the Creative Innovation Studio. "I just thought, how we communicate and engage right now is really important."
'Makes you feel less alone'
Workshop leader Julie Dumais Osborne, artistic director of Second City's Toronto Training Centre, says she was pleased to hear about the initiative since the creative industry has been significantly impacted by the lockdown.
"It's devastating. For those of us in performing arts, I mean - we get into rooms together for a live exchange – and that's just not possible," said Dumais Osborne (theatre - acting '00).
Communities Create helps, she said, by giving people a chance to come together, create, collaborate and express how they're feeling.
"It can make you feel a lot less alone in this," she said.
Live in the moment
In the Second City session, the third event of the series, Dumais Osborne and colleague Kevin Frank took participants through a series of improv exercises that also offered life lessons.
For instance, in one activity, participants took turns exchanging dialogue using the last word of the previous person's sentence.
"The underlying idea is to stay present. You can't script or plan ahead. You need to listen to your partner since you don't know where their sentence is going to end. It forces that moment of pause," she said.
Dumais Osborne said it's an important exercise given the way many people are feeling right now.
"It can be paralyzing to worry about things we can't control. But if we can break it down to each granular moment, and respond to what's in front of us right now, it can make things seem a little less daunting," she said.
Dumais Osborne also hopes the exercises remind people of the power of humour.
"The release of laughter at times of heightened stress is human. We need to find those outlets, those release valves, where you can breathe out and release. It's essential in helping us navigate this," she said.
She also hopes people take time for it.
"Don't feel guilty indulging in a chance to laugh. One of the healthiest ways of coping is to give yourself that relief," she said.
Photography, digital storytelling, singing and more…
In addition to Second City, other participating organizations include TIFF, the Toronto Public Library, Ontario Creates, the National Film Board of Canada and more.
Workshop leaders receive a microgrant, provided by the partner organization.
"It's a great way for us to support artists, and it's also great for participants. It's not just watching a tutorial online – it can be interactive," Pringle said.
Those who participate can learn tricks of the trade in photography, singing, digital storytelling, scriptwriting, comedy and more.
Anyone can join – from students to creative professionals to retirees looking to learn new skills. Participants can watch anonymously, or join the session live on video.
"There's something really nice about coming together and creating things. It's not like all the Zoom calls we're having – it's energizing," Pringle said.
After each workshop, attendees are encouraged to share what they've created online using the hashtag #communitiescreate.
Pringle says the content produced will help create a time capsule of people's experiences during this trying time. She also adds that a psychologist is on hand during the events to offer support to anyone who may need it.
Communities Create workshops take place every Monday at noon EST. Each session is 45-90 minutes. For more information, please visit communitiescreate.ca, external link.

Related
Volunteers from School of Fashion sew 4,000 face masks for hospitals
FCAD students showcase resilience, creativity as year-end events go virtual