Ryerson Special Constables approved by Toronto Police Services Board
Message from the Executive Director, Community Safety and Security
May 21, 2020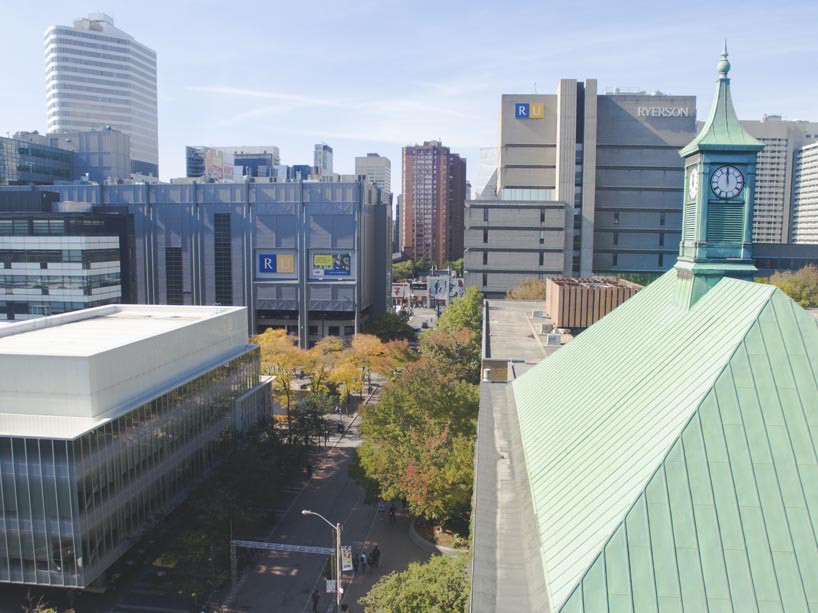 Ryerson University is part of a vibrant and diverse downtown environment including students, faculty, staff and hundreds of daily visitors. The safety and security of the Ryerson University community continues to be one of our top priorities -- we want our campus to remain an inclusive, people friendly and safe environment for all community members.

On Thursday, May 21, 2020, the Toronto Police Services (TPS) Board approved Ryerson University's proposal for designated Ryerson employees to have special constable status. This will change the department's service-delivery to a hybrid model.
Enhancements to our existing model
Input from a range of stakeholders has shown that the current Community Safety and Security service-delivery model requires enhancements to address the ever-changing needs of our downtown campus.
Currently, our security guards are contracted by GardaWorld, and provide 24/7 coverage of the campus and respond to front-line calls. In addition to basic CPR training, they have advanced medical knowledge, including Emergency Medical Responder (EMR) training. However, they are limited in how they can respond to increasingly common security incidents on campus, including incidents involving assault, assault with a weapon, vandalism and theft, as well as the enforcement of smoking by-laws.
Special constables are not police officers. Special constables will be Ryerson employees with training in Ryerson's values. They will be expected to uphold policies of the university and are subject to the provincial legislation. The university will now begin careful planning to move to a new hybrid model that will include existing security crew members, community engagement specialists and special constables. The new model is expected to be in place by late 2021.
Responding to community input
In the spring of 2019, DiversiPro, external link's Hamlin Grange, external link led open consultations with students, faculty and staff concerning safety and wellbeing on campus. Together, they explored options for alternative community safety service-delivery models. As a diversity and inclusion strategist, Hamlin assists organizations to work towards greater inclusion of the stakeholders they serve. All Ryerson community members were invited to these consultations, providing the important opportunity to participate, express concerns and share feedback during the consultation process.
This series of consultations in 2019 led by Hamlin Grange built on information we have been gathering since 2016 from a variety of sources, including:
Results from the National College Health Assessment Survey for students from 2016 and 2019.
Focus group consultations including students, faculty, and staff in 2017.
Extensive Ryerson University security incident data.
Feedback in the form of emails and letters from members of the community.
We learned from the data and consultations that there are safety concerns amongst many community members, with some individuals citing that they change their behaviours and routes on and around campus in order to feel safe.
An inclusive security model: Recognizing the diverse experiences of our campus community
Ryerson is deeply committed to its core values of equity, diversity and inclusion. The university recognizes that each individual's lived experience informs their perspectives of safety on campus. While some feel more secure with increased presence of uniformed personnel, others feel differently. Community Safety and Security will be taking into account both of these realities to ensure that the implementation of the service-delivery model is inclusive and accountable to the community.
A key priority for Ryerson is that the special constables reflect the diversity of its students and employees. In order to achieve this goal, we're developing comprehensive diversity outreach strategies as part of the recruitment and selection process. All security and special constable personnel will be required to undertake ongoing robust assessments, training and development on topics such as unconscious bias, anti-racism, anti-oppression and diversity, equity and inclusion. Moreover, they need to have an awareness of their impact on community members and a strong knowledge of de-escalation tactics.
Our approach will continue to evolve and be informed by other work being done at the university, including any recommendations that will be put forward in the anti-Black racism campus climate review.
Oversight, accountability and a commitment to continued conversations
Special constables will be required to adhere to professional standards that are reflective of Ryerson values and meet public expectations of professionalism and consistency of service. To ensure accountability and adherence to Ryerson's values, a complaints and oversight process will be implemented that will accept and investigate complaints resulting from interactions with security personnel, including special constables. In addition, a cross-functional Community Safety and Security Liaison Committee will provide advice and insight to the department about safety and security concerns among members of the community.
The university is committed to ongoing consultations and to listening to feedback from the community as we work through a phased implementation.
We want to thank all our community members who provided feedback, either through the consultations or through other means.
We will continue to communicate with Ryerson students, faculty and staff as more information becomes available.

Denise Campbell
Executive Director, Community Safety and Security