Ryerson answers the call to supply masks to Northern First Nations
Staff and faculty with long-term First Nations community partnerships mobilize the Ryerson community
May 08, 2020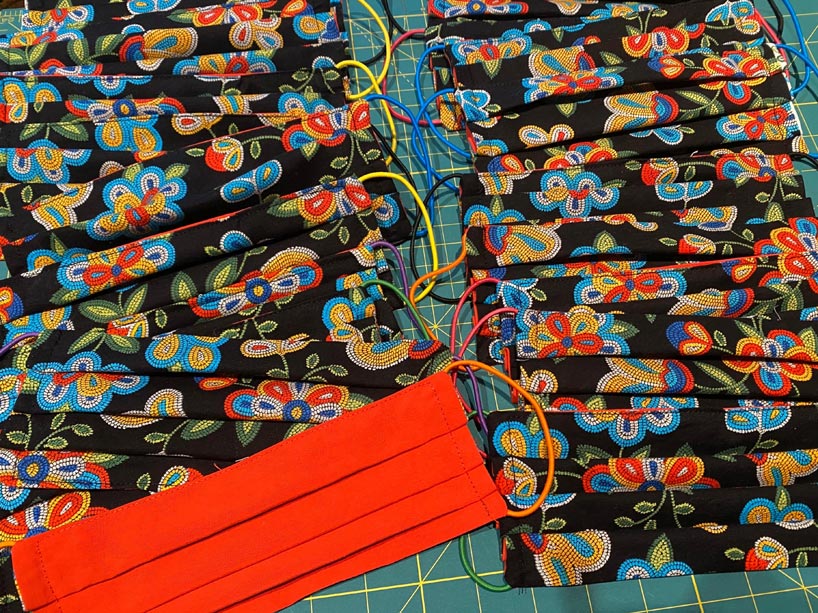 Professor Shelagh McCartney at the School of Urban and Regional Planning and director of the Together Design Lab, external link has worked extensively with the Eabametoong Nation (EFN) for the last six years on a community-driven housing plan, constructing homes. She and collaborator Michael Dellios, a local Toronto woodworker, are working on a proposed social entrepreneurship business in EFN to build cabinets for homes.
McCartney and Dellios worked together to answer the call of EFN housing manager, Ron Missewace, to supply immediately needed personal protective equipment (PPE) to EFN in response to their first COVID-19 case. "COVID-19 is really exposing the cracks in an already-broken system. Given the housing crisis and overcrowding it is impossible to follow the policy advice to socially distance," said McCartney, who has been an expert on First Nations housing issues for many years.
Professor and graduate director of Child and Youth Care, Judy Finlay, has been working with the Nibinamik First Nation for almost 25 years. When former Chief Johnny Yellowhead reached out for help - she and research associate, Nicole Ineese-Nash, a graduate of Ryerson's masters in early childhood studies and a doctoral student at OISE, partnered with McCartney and Dellios to share resources.
Finding Our Power Together, external link (FOPT), founded by the Nibinamik First Nation Youth Council in collaboration with Ineese-Nash in 2017, has been working closely with young people in Nibinamik in response to a local suicide epidemic. The FOPT team took a leadership role in coordinating the collection of materials to supply other communities and expanded to include much needed educational supplies for children and youth.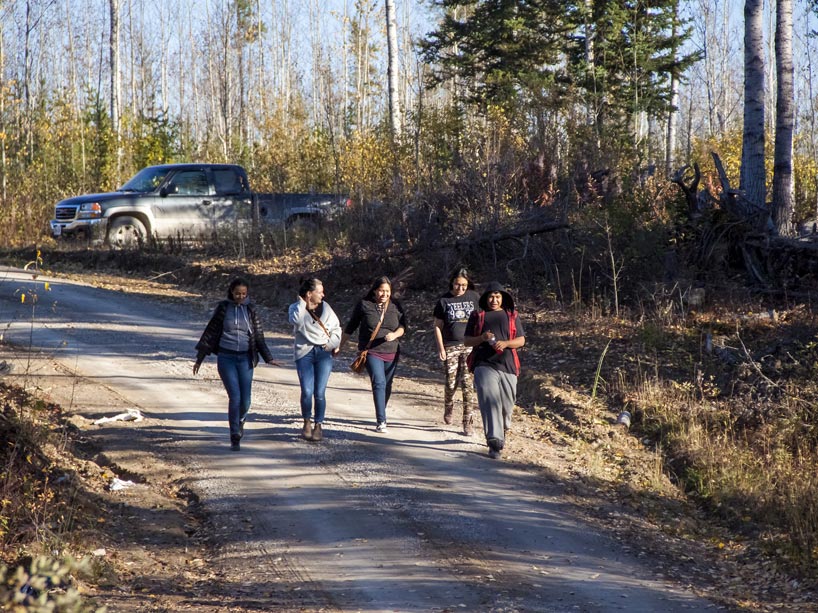 COVID-19 in the North
There are confirmed COVID-19 cases in the north. Often several generations in a family live together due to shortages in housing supply. Northern communities also face challenges with access to doctors and medical supplies, due in part to distance and community size. FOTP is echoing their appeal for emergency assistance in response to COVID-19, external link. The team has a goal of collecting and distributing 10,000 masks, while acknowledging the masks themselves are only a short-term solution to ongoing gaps in the provision of health services on reserve.
The team has also developed and posted instructions online, external link, showing how people can make masks as well as how to appropriately use homemade face masks effectively. Instructions are based on those from the Centre for Disease Control Canada, external link and are also included in each individually sealed face mask sent to these communities.
To put the mask situation in perspective there is only a small government supply going to a nursing station. This community does not have a full-time doctor, so prevention is very important. Elders, who are the keepers of stories and culture, will be hit particularly hard by this virus. As word of this initiative spread, more First Nations communities will be seeking help. "Given what we know about what happened during the H1N1 pandemic - the death rate in Northern First Nations communities was seven times that of Southern Ontario," explained Finlay.
"This is a youth-led initiative," said Finlay. "Knowing that other people care is important, so ways of staying connected are also important. We have a line on some phones with minutes on them, although service and internet access is spotty in the north. Pen pals and online connections, such as Facebook are all important."
Although internet access is intermittent, creating opportunities for social and online connections is important with remote communities. Finlay wants young people to feel like they are stakeholders in the project; what happens to them and their community, and to help them connect with others. "We are following the tradition of mamow-Ki-ken-da-womin - searching together for answers - this is very important," says Finlay.
"There are so many people to thank," said Dellios, "thanks to Nicole Ineese-Nash for putting up the website and acting as the local lead for the project. Haute Couture, a Toronto fashion company, has also donated time and materials to making masks, external link. And a big thanks to the Defence For Children International, Canada Branch, external link, for help with donation tax receipts, Ryerson Early Learning Centre, Canada Sews, external link, and Taking IT Global, external link."
The project is now looking to provide PPE and important means for social connection to several First Nations communities including Nibinamik, Kitchenuhmaykoosib Inninuwug, external link (also known as KI), and Eabametoong, external link First Nations. "Young people in these communities are working together to lead the way forward, so we should acknowledge that more communities have come forward for help as leadership and that we can come together to support them," says Finlay.
"So the work doesn't end with masks. We are also collecting, and sending, educational supplies for children including books, colouring sheets, toys, and craft kits so they have access to educational material while in isolation," said Ineese-Nash. Supplies will go to Thunder Bay, where they will be flown directly to the local community in need.
There is an ongoing need for support. To find out more about what is happening or how to get involved, please visit findingourpowertogether.com/, external link.

Related stories: