From SARS to COVID-19: Putting the spotlight on anti-Asian racism
Members of the Ryerson community explain why anti-Asian racism increases during health crises
May 14, 2020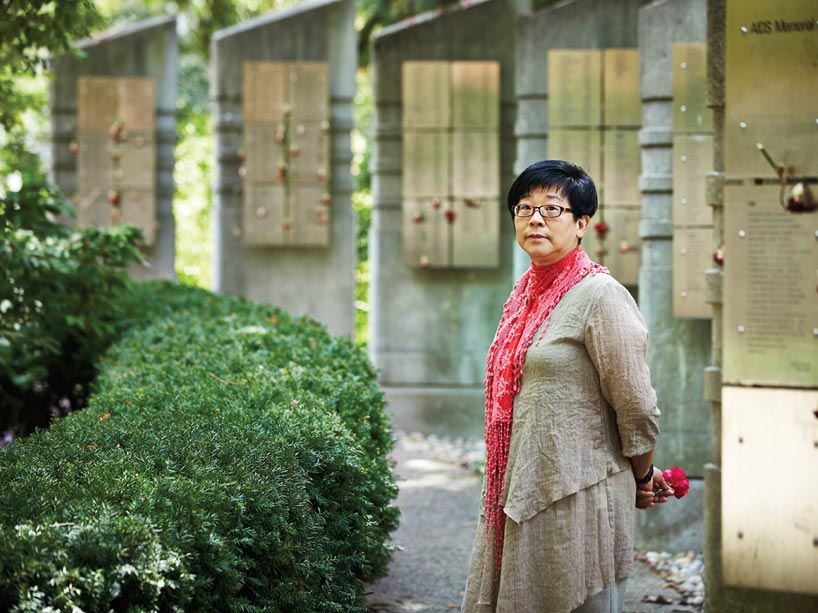 First President Donald Trump called it "The Chinese Virus (external link) " and now, several months later, Canadian singer Bryan Adams is blaming "bat-eating, virus-making (external link) " people for his cancelled concert dates.
When news of COVID-19 started to hit mainstream media, reports emerged of increased discrimination against the Asian community (external link) . Korean American actor John Cho wrote a powerful article for the Los Angeles Times (external link) about Asian American discrimination during the pandemic.
Rewind to 2003, at the height of SARS in Toronto and it puts racism during a health crisis into perspective. COVID-19 is not the first time a specific community has experienced an increase in stigmatization and discrimination during an outbreak.
Josephine Wong, now a professor in Ryerson's Daphne Cockwell School of Nursing, was working at Toronto Public Health and deployed to the SARS control centre at the time. She worked with a community coalition to mount a SARS hotline to meet the needs of the Chinese communities, especially among the elderly.
"This work put me in contact with many people who were in distress," she said. "The Chinese and other Asian Canadian communities were hit hard by stigmatization and racism. Some lost their jobs within days."
Wong says fear and misinformation reinforced racist and xenophobic attitudes towards Chinese and Asian Canadians, and the SARS CoV was used to justify microaggressions and marginalization at the time.
"Seventeen years later, unfortunately, blatant stigmatization related to COVID-19 and racism has resurged in Canada and other countries," Wong said.
Why is racism amplified during health crises?
Pamela Sugiman, dean of Ryerson's Faculty of Arts, studies race and racism. She explained that in situations such as COVID-19, in crises, the racism that is embedded in society rises to the surface and becomes acceptable for some people.
"When the president of the United States calls COVID-19 (external link) 'The Chinese Virus' racism becomes legitimate and may even become normalized," said Sugiman.
This also puts those who are stigmatized and affected in a difficult position. "It's difficult for people to push back because we're in the midst of a pandemic and everyone is scared and feeling vulnerable," said Sugiman.
Concerns have been shared with Ryerson's Human Rights Services, a unit of the Office of the Vice-President, Equity and Community Inclusion, about COVID-19-related racism directed toward members of the East Asian and/or Southeast Asian communities. It is believed that complaints may be underreported for any number of reasons including, but not limited to feelings of stigma, past trauma and/or fear of retaliation.
"Uncertainty and fear create a fertile breeding ground for the spread of xenophobia, racism and discrimination," said Grace Chau, interim director of Human Rights Services. "There may be different reasons underlying these misplaced attitudes or beliefs, but discrimination associated with health crises is not new."
The types of concerns that Human Rights Services have heard from individuals of East Asian or Southeast Asian heritage include unwelcome comments, verbal harassment or aggressive physical distancing due to COVID-19 related racism.
Although COVID-19 has been described as the "great equalizer" that does not discriminate, many marginalized communities are being disproportionately affected by individual, institutional and/or structural discrimination.
Is there a solution?
Having learned from the psychological, social and economic harm that the Asian Canadian community experienced during SARS, Wong and 14 collaborators developed cutting-edge action research and were awarded the maximum amount ($500,000) in the government of Canada's COVID-19 rapid response research (external link) funding in February 2020.
Wong and her research partners created Pandemic Rapid-response Optimization To Enhance Community-Resilience and Health (PROTECH (external link) ). The project launched at the beginning of May with the objective of reducing stress and stigma, and promoting collective resilience to affected groups.
Project PROTECH includes:
COVID-19 Info Hub: An online resource hub that provides accurate and timely information on COVID-19, and practical ways to cope with fear and anxiety;
Online group training with live video meeting to reduce stigma/stress and promote resilience among affected groups (individuals who tested positive; health-care providers experiencing stress or burnout, community leaders);
Access to information in both English and Chinese languages, including tips and strategies on how to deal with stress related to stigma and racism;
Live chat options to address user questions.
Wong and her team will conduct focus groups to examine the effectiveness of Project PROTECH so that it can be adapted and used in different communities across Canada and other countries for future pandemic outbreaks.
When asked whether there could be a solution, or lessons to be learned, from the exacerbation of racism during health crises, everyone acknowledged that there is a broader issue.
"Stigmatization is a process of power and domination," said Wong. "Stigmatization continues to happen every day during epidemics or outside of epidemics."
Sugiman also noted that racism during COVID-19 only puts a spotlight on the systematic inequalities that Black, Indigenous and People of Colour experience in regular times. "We need to work on social support for everyone."
"Also, people need to be accountable. If you see something [racist] happening, stand up and say something."
Tips from Ryerson's Human Rights Services on how to act in solidarity with those facing discrimination
Be alert. Speak out against discrimination in all its different forms when you encounter it, both online or in person.
Be socially responsible by calling out and holding politicians, media, and companies that promote discrimination or reinforce stereotypes accountable.
Be informed. Stay informed and help educate others to debunk misinformed, discriminatory attitudes and beliefs.
Be an ally to those impacted by acts of racism. Provide support by listening and referring individuals to available resources (i.e. counselling).
Be a resource and help protect those who may be impacted by sharing information about where they can report acts of discrimination (e.g. to Human Rights Services, Ryerson's Community Safety and Security or to the Police Service when a crime has been committed).
If you are a Ryerson community member who has experienced discrimination and harassment and want to seek guidance, including information about how to file a complaint, please contact Human Rights Services for advice/consultation. Concerned parties can reach out by email at humanrights@torontomu.ca or by phone at 416-979-5349.
To be part of the larger conversation on change, register for Anti-Asian Discrimination in the Time of COVID-19: Confronting Racism and Discrimination, an Alumni Webinar on May 26 at 1 p.m.

This is one in a series of Ryerson Today stories focused on how COVID-19 is affecting equity-seeking groups.

Related stories: