Student Housing takes safety measures to support students amid pandemic
Evolving requirements called for late nights and fluid planning from the team
April 09, 2020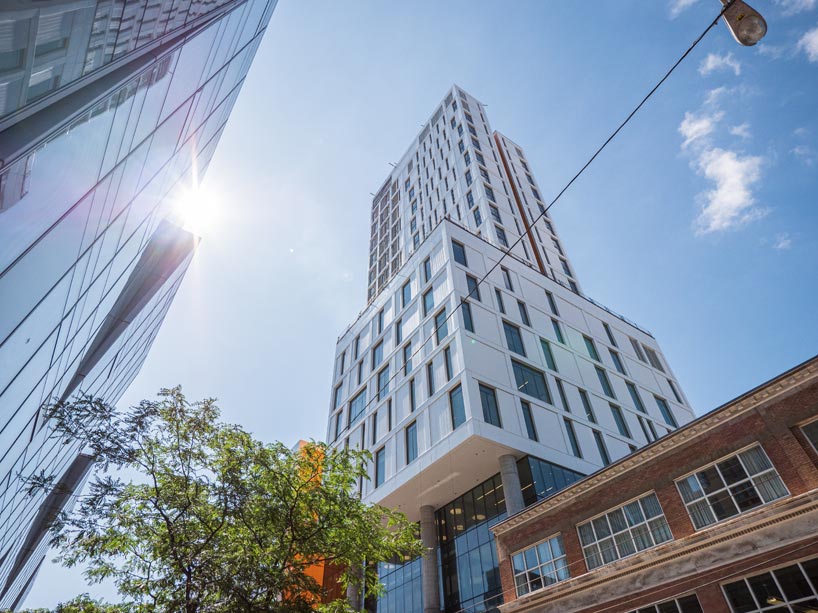 For the Student Housing and Residence Life team, responding to a pandemic has required forward-thinking, flexibility, and lots of empathy and late nights.
When the campus shifted to an essential services model on March 17, 1,130 students living in residence were asked, if possible, to return home to help prevent the spread of the disease. Though most students were able to meet the March 23 move-out deadline, about 90 students with extenuating circumstances now remain in their dorms.
This sudden shift has kept the team busy processing partial refunds on students' housing and meal plans, facilitating early move-outs, packing up the personal items of students who needed to leave swiftly, providing expanded one-on-one support for the students that remain, and making some moves within dorms to meet Toronto Public Health's (TPH) guidelines.
Accommodating students, meeting safety requirements
"The guidance around the disease is that it can be transferred through close contact, and since a number of our residence styles mean close contact through shared washrooms or dorm rooms, we needed to move students to meet the recommended ratio of one student per bathroom," says Marcelle Mullings, director, Student Housing & Community Care. Students in ILLC who needed to remain in residence were moved into Pitman Hall and the students in Daphne Cockwell Complex will remain until the end of their contracts.
The team needed to make other shifts as well, including closing common lounges and larger meeting spaces, prohibiting external guests from visiting the dorms, working with Food Services to transition to closing the dining halls and moving to a pick-up model.
"It may be a challenging time for some students to work through right now, so we're trying to be open and have a dialogue," says Valerie Bruce, associate director, Housing Operations and Administration. "Given the circumstances, students have had many questions, so our team has connected with many of them one on one."
Mullings says that while most of the team works from home and a few work on campus on a rotational schedule out of necessity, the entire team has been working hard to provide students the support that they need. "We have our regular full-time residence support staff still working to support our students around the clock, regardless of the issues that might come up. We also have a dedicated line for students who might be feeling unwell so they can report it and we can give guidance on what they need to do.
"We're connecting students to some of the main supports around community building that the Student Affairs team is offering, as they're away from their families and other students. International Student Services has also been there to support our international students."
Adapting to what's ahead
Given the uncertainty around when restrictions will lift, the team is anticipating that some students may need to stay in residence into the summer. "A lot of students are anxious, everyone wants to know when we'll be able to move back to normalcy. Right now, we're reassuring students and providing support as we can."
Through the challenges, the team remains supportive of one another, even when they can't connect in person. "I've seen that my colleagues are all very supportive," says Mullings. "We had some very late nights those first few weeks and everyone has been flexible to do what's needed. I think as a team, we've probably grown closer."
"Everyone is coming together, even though this is not ideal and it can be scary," says Bruce. "But when this is all over, it will be an opportunity for us to look back on this as a success story as a team, and at times, it has felt like we've moved mountains."
This is one story in a series about how Ryerson University departments have successfully faced the challenges presented by COVID-19.
Related stories: