Coming together at a difficult time
President Mohamed Lachemi outlines how the university is responding to the crisis
Category:
From the President
March 23, 2020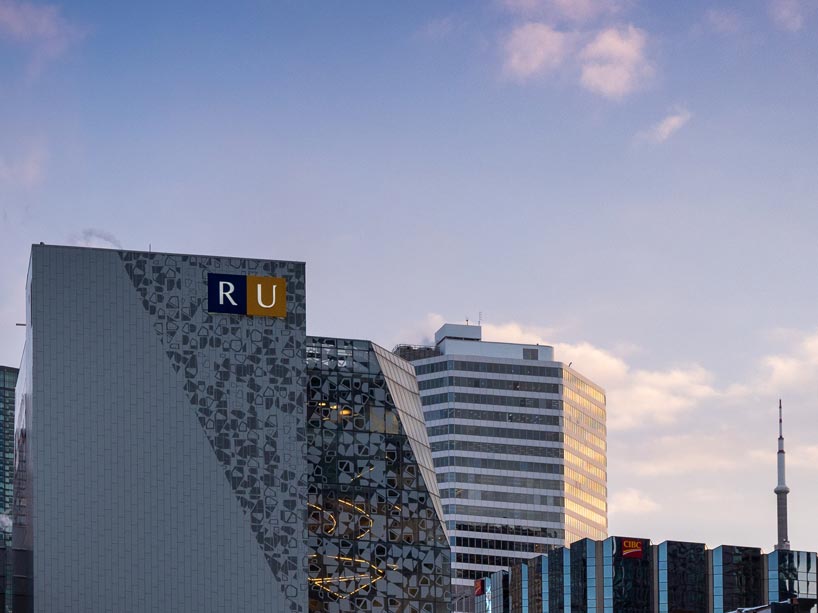 The last few days have tested us all – our creativity, our patience and our ability to adapt. During this challenging time I have been witness to impressive demonstrations of leadership and collaboration, all in support of Ryerson's academic mission.
As an institution, our priority remains ensuring that our students can complete their term and that those who plan to graduate this spring can do so, while focusing on the health and well-being of our community members.
I'd like to thank our academic leadership team including our deans, chairs and directors, and our many faculty, who have demonstrated immeasurable flexibility, creativity and support to ensure that the core business of our university – providing exceptional education – continues.
A big thank you also goes to staff across the university. Many units are working tirelessly in support of this new reality that has us working in new and unfamiliar ways, away from our teams, and on altered timelines in circumstances that are changing rapidly. Your determination and commitment has not gone unnoticed.
The university has taken many steps and created several new resources to support faculty and students with the completion of coursework as students shift to learning remotely. Here are just a few examples of the ways our community has come together:
Centre for Excellence in Learning and Teaching
The Centre for Excellence in Learning and Teaching (CELT), in collaboration with The Chang School of Continuing Education, Computing and Communications Services (CCS), and the Ryerson Library, has shown exceptional leadership in providing resources and support to help shift courses to alternate forms of delivery.
To allow for academic continuity, CELT has been updating their resources daily, including:
The Continuity of Teaching Guide, which provides a variety of tools and resources available to support the continuance of teaching with online tools;
The Continuity of Learning Guide for students, which helps students adapt to new learning processes while away from campus;
Virtual consultation offerings for faculty and instructors;
Zoom Live Web conferencing access; and

Ryerson Global Proxy Service for international students who are returning home and require proxy access to applications on the ryerson.ca domain. The global.ryerson.ca proxy service is available for use.
Ryerson Library resources
The Ryerson Library is working to accommodate students who do not have access to a computer while away from campus via its laptop loan program. Laptops will be distributed via courier, or in selected cases, given via a modified pick-up by special request.
Rogers Communications has also agreed to provide unlimited data until the end of term to students who are Rogers or Fido subscribers so that they can use their phones as a wi-fi hotspot without worrying about incurring charges from exceeded data limits. Wi-fi hotspots will also be available for loan and couriered to students who require Internet access, this solution will be prioritized for students who are not Rogers or Fido subscribers.
Students can make requests by emailing the library at access@ryerson.ca. To borrow a laptop and/or wi-fi hotspot, or to register for the unlimited data plan, students must have their student card ready for verification.
The Ryerson Library has also created a Supplementary Course Materials guide, which provides information on its online educational materials (i.e. ebooks, videos, etc.), as well as a curated list of other educational resources available to faculty. Access to all online resources remains available 24/7.
Faculty and students can request online reference and research appointments, or course material support with a Librarian. More information is available at Library Services and Resources update or by visiting the Ryerson Library website.
Senate approval for mid-term course changes
Last week, the Senate Priorities Committee (SPC) approved increased flexibility for program delivery under Senate Policies 166 and PDF file134. These changes allow professors to modify course assessments mid-way through the term and increases their capacity to allow exceptions in extraordinary circumstances.
Course deadline extension
Deadlines for official grade submission and course drop dates have been extended.
For students: The deadline for dropping winter 2020 undergraduate, graduate and Chang School courses in good academic standing has been extended to Thursday, April 9, 2020 (the last day of classes).
For faculty and instructors: The deadline for official grade submissions has been extended to Monday, May 11, 2020 at 8 a.m.
Support for students in extraordinary circumstances
As a diverse and multicultural campus, we recognize that some of our students may not be able to return to their home countries. For those students living in residence who are not able to return home, arrangements to remain in residence are available.
International Student Support (ISS) provides a number of services to our international students, those with questions about health coverage or immigration processes can seek support from ISS via email or phone.
Counselling services
The Ryerson Medical Centre has moved to a virtual system. Mental health assessments are available and appointments are being provided by telephone or video-conferencing.
Students can still contact the Medical Centre at 416-979-5070 or at medicalct@ryerson.ca, as messages are being monitored regularly during business hours, and a receptionist will respond as soon as possible.
Similarly, the Centre for Student Development and Counselling (CSDC) is also physically closed, but has moved to a virtual support system. Students can still contact the CSDC at 416-979-5195 or csdc@ryerson.ca, as messages are being monitored regularly during business hours, and a receptionist will respond as soon as possible.
The university continues to explore expanding counselling and support options available to our students, a current list of available services can be found on the CSDC website.
To all of our students: We're here for you. Please do not hesitate to reach out to your professors, departments or the many teams across campus for any clarification or support you may need at this time.
Banding together in the days ahead
While little is certain in the days ahead, I am certain of this one thing - we will get through this together, one day at a time. Stay in touch with your loved ones, take care of yourself and others, I look forward to the return of our vibrant, active campus. For the most up-to-date information from the university, please visit ryerson.ca/covid-19.
Mohamed Lachemi
President and Vice-Chancellor