Centring Black Canadian women and history
Annual Viola Desmond Awards Ceremony celebrates the power of Black Canadian women
March 13, 2020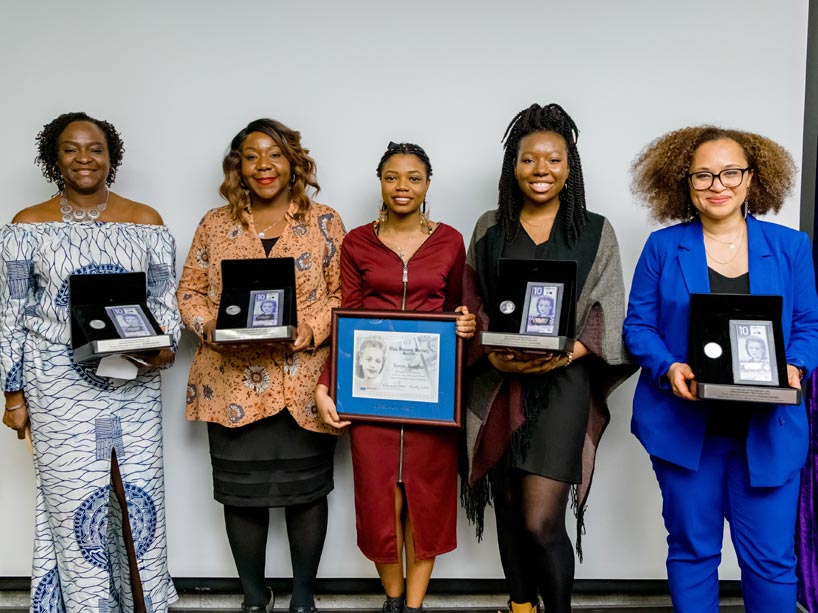 Through truth telling, music and song, the Ryerson community got a history lesson at the 12th Annual Viola Desmond Awards Ceremony.
The signature event, organized by the Office of the Vice-President, Equity and Community Inclusion, celebrates outstanding Black Canadian women at Ryerson and from the greater Toronto community. The ceremony honours the legacy of Viola Desmond, the Black Nova Scotia businesswoman who challenged segregation in 1946 by refusing to be removed from the Whites-only section at the Roseland Theatre in New Glasgow, N.S. Every year five awards are presented, each named after Black Canadian women who broke barriers and systemic structures to achieve their accomplishments.
Natasha Ramsahai, meteorologist for 680 All News Radio, Citynews and Breakfast Television, was the host for the evening's celebration.
"We gather in recognition of the strength of Viola Desmond who stayed true to herself and 'would not be budged' on November 8, 1946," said Denise O'Neil Green, vice-president, equity and community inclusion. "The power of Black women is here in this room tonight. Viola's fight was not in vain. It is an act of resistance to empower ourselves and tell our stories. Her spirit is guiding us to continue this fight."
The awards took place on March 2, the same day the City of Toronto, external link declared Black Mental Health Day, external link to uncover, understand and increase awareness of the negative impact racism has on Black Torontonians. Green reminded the audience of the fear Desmond must have felt in standing up for herself and the toll it took (and continues to take) on Black people's mental health in battling racism daily.
"Today we celebrate strong Black women like Viola Desmond. She had the courage to challenge the status quo," said President Mohamed Lachemi. "We have to continue the work because racism is part of everyday life. When you are a person of colour, you feel the pressure. The Viola Desmond Awards are a powerful reminder of the difference an individual can make if they choose to stand up for what they believe in; for what is right."
#BlackGirlMagic
Nikki Waheed, career education specialist at the Career & Co-op Centre, is one such individual who set out early on in her life to help others. Waheed accepted the Ms. Trey Anthony Staff Award.
"I remember when I was 18, 19 years old, the one thing I said to myself was 'I want to help people find good work,'" Waheed said. "I'm actually quite blessed to be doing exactly what I set out to do. What inspired my work was really my needs when I was an up and coming professional, I didn't really have a lot of guidance. Careers are a big part of who we are in our lives and our ability to afford our lives and have good lives."
For Namugenyi Kiwanuka, journalism '99 graduate, who received the Ms. Angela James Ryerson Alumna Award, the evening felt like she was standing on the shoulders of giants.
"My kids are here tonight and I want them to see that anything is possible," Kiwanuka said. "I was born during a civil war – that didn't determine my life. I survived so my children could thrive. And I didn't get here by myself.
"I think for a lot of people in university, you have this big question mark, 'if I do something now, is this going to have ripple effects for the rest of my life?' You're going to have a lot of starts and stops but as long as you keep moving forward, it doesn't really matter. There's no such thing as failure. There's always an opportunity to learn."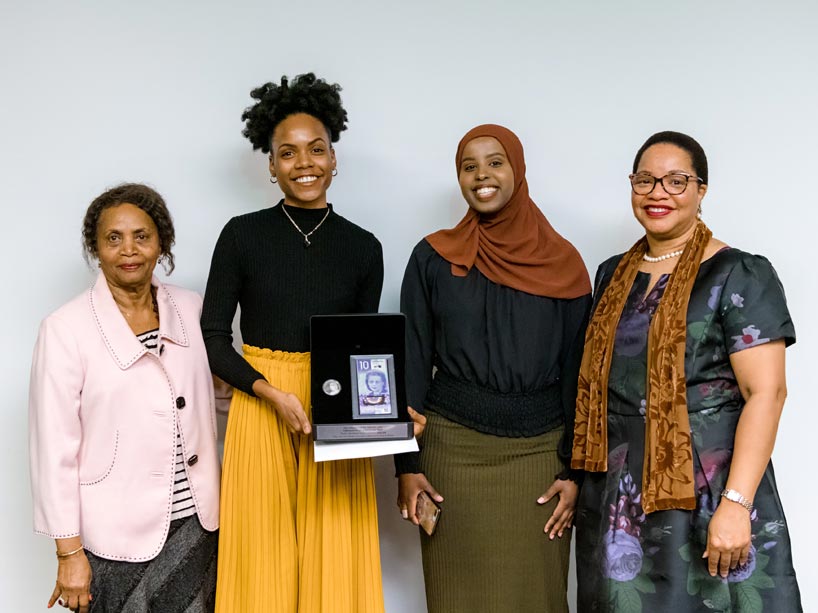 The full list of award recipients are:
Beverly-Jean Daniel, School of Child and Youth Care professor (Senator Rosemary Moodie Faculty Award)
Nikki Waheed, career education specialist, Career & Co-op Centre (Ms. Trey Anthony Staff Award)
Latoya Powell, fourth-year journalism student (Ms. Joan Jones Ryerson Student Award)
Namugenyi Kiwanuka, journalism '99 alumna (Ms. Angela James Ryerson Alumna Award)
Huda Nur, Grade 12 student at Martingrove Collegiate Institute (Ms. Viola Desmond Award)
In addition to the Viola Desmond Student Award, the Viola Desmond Bursary, established in 2013, was also awarded during the ceremony. This year, it was given to Yanique Brandford, a fourth-year medical physics student who founded the non-profit, Help A Girl Out, which provides feminine hygiene products to women in need.
The award honourees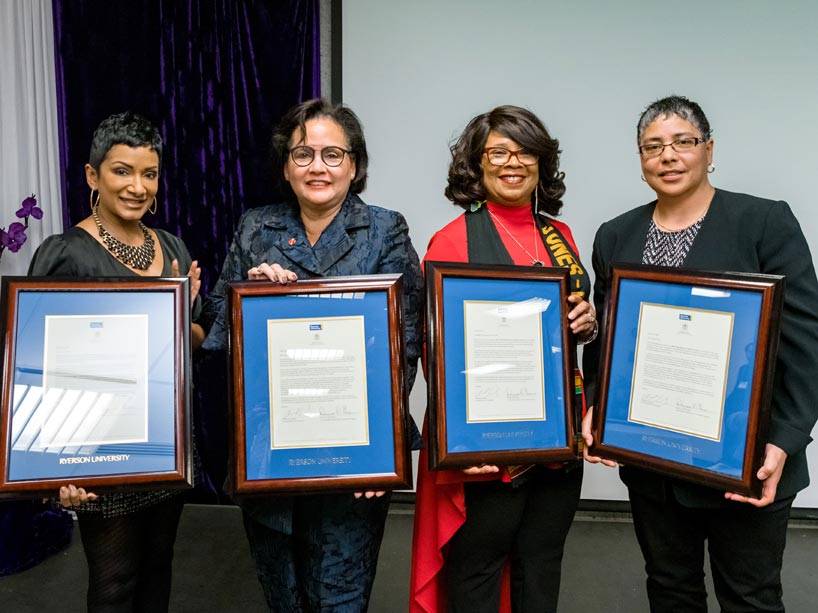 Senator Rosemary Moodie Faculty Award – pediatrician and neonatologist, who was appointed to the Senate of Canada in December 2018.
Ms. Trey Anthony Staff Award – the first African-Canadian woman to write and produce a television show, Da Kink in My Hair, on a major primetime Canadian network.
Ms. Joan Jones Ryerson Student Award – longtime activist in the African Nova Scotian community, including founding member of Kwacha House, the Afro-Canadian Liberation Movement and Black History Month Association.
Ms. Angela James Ryerson Alumni Award – Canadian former ice hockey player who was one of the first three women inducted in the International Ice Hockey Federation (IIHF) Hockey Hall of Fame in 2008, one of the first two inducted in the Hockey Hall of Fame in 2010 and was inducted into Canada's Sports Hall of Fame in 2009.
Make a donation to the Viola Desmond Student Award and Bursary program
For the past 12 years, the Viola Desmond Awards and Bursary program has recognized the contributions of outstanding Black Canadian women in the Ryerson and greater Toronto community. Make a donation today and help us keep the legacy of Viola Desmond alive.
Donate to the Viola Desmond Student Award and Bursary program.
Next year's awards ceremony will be on March 1, 2021. Explore the image gallery for more photos from this year's celebration.