Students call this class "life changing"
Ryerson's Thriving in Action, a life skills and resilience course, is now available free online
February 21, 2020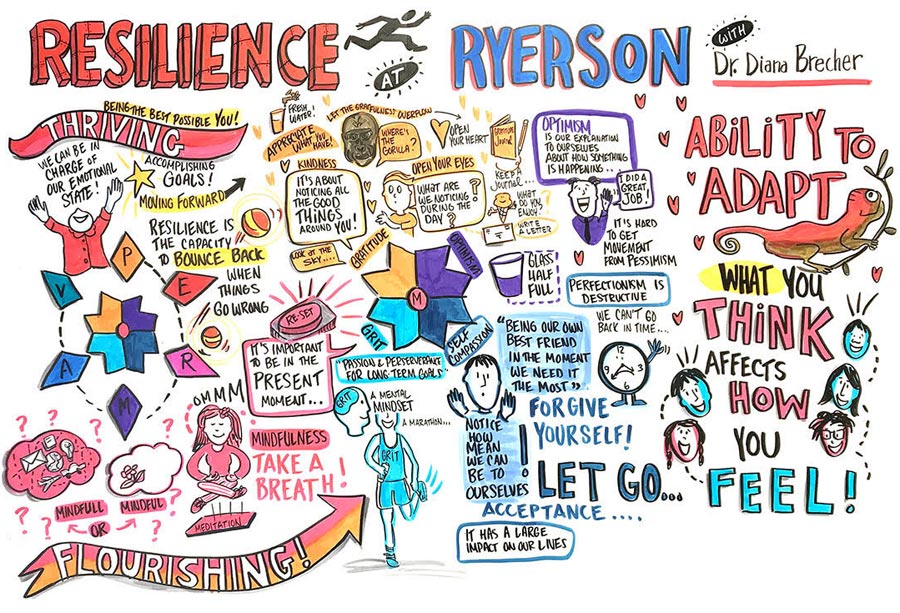 When Afreen Meharaj was in her second year at Ryerson, she was struggling to navigate university life. Her academics were suffering and she was on the verge of probation.
"I am a very passionate learner, but nothing was helping at the time," Meharaj recalled.
Then, in 2017 Meharaj signed up for Thriving in Action, a free 10-week intervention course that covers everything from building new habits and resilience, to mindfulness meditation and even sleep as a learning strategy. The course is offered through Special Projects, Student Affairs at Ryerson.
"The introductory email was welcoming and non-judgemental. I noticed the course was open to all Ryerson students, regardless of academic standing," she said.
"It really gave me a sense of connectedness and excitement to come to Ryerson," said Meharaj, who has taken the course three times. "I find myself to be more resilient overall. I practice more self-advocacy. [Thriving in Action] teaches skills that aren't limited to school; there is always something to learn."
This term, the transformative course is available online, free, to students, faculty and staff at Ryerson. It's also being taught as a for-credit course in the Faculty of Arts and has been shared with other post-secondary institutions.
Positive psychology and learning strategies
Thriving in Action launched in 2017 as part of Ryerson's ThriveRU program. Diana Brecher, a clinical psychologist on secondment from the Centre for Student Development and Counselling and Deena Kara Shaffer, coordinator of student transitions and retention in Student Affairs, combined their expertise in positive psychology and holistic, health-promoting learning strategies to help serve students who self-identified as not doing well in school.
"We knew right away, during the pilot, that something was going right. Students were reporting greater confidence, motivation, achievement and better connections to their peers and to campus," said Shaffer.
After 13 successful cohorts, Brecher and Shaffer saw a need to scale Thriving in Action. They created Thriving in Action Online to bring the in-person intervention course to a larger audience.
Online and part of the curriculum
Thriving in Action alumni contributed by recording video testimonials on 12 different themes like appreciativeness, attentiveness and healthfulness. Users can explore Thriving in Action Online beyond the video testimonials through multiple readings, exercises, questionnaires, meditations, visualizations and more. It is not a linear program and is digestible in any order that the user wishes.
With Thriving in Action Online, "we wanted to make as many portals as possible," said Brecher. "There are many ways to learn and engage. We don't want to prescribe the only way."
Thriving in Action has also made its way into the traditional classroom setting as a for-credit course within Ryerson's Faculty of Arts.
"Our hope had always been to make [Thriving in Action] for credit," said Brecher. "When it is part of your curriculum, the university is saying: 'This is important, this is something you need to know.'"
Thriving in Action is offered as an elective to first-year Faculty of Arts students in their second semester. With 90 students already enrolled and a waitlist, its popularity as an elective is clear. Students are assessed on how they practice well-being and work within an applied learning model that includes group movement classes through Ryerson's recreation services.
Helping others beyond Ryerson
Early on, Brecher and Shaffer noticed a groundswell of interest in their work from other post-secondary institutions. As a result, the team has developed the Thriving in Action Training Institute, a workshop created to inform other educators on how to integrate Thriving in Action on their campuses.
They have taught more than 350 post-secondary educators. Thriving in Action has been implemented in over 20 institutions and some, like the University of Lethbridge, have already signed on to use the Thriving in Action Online portal as a campus resource.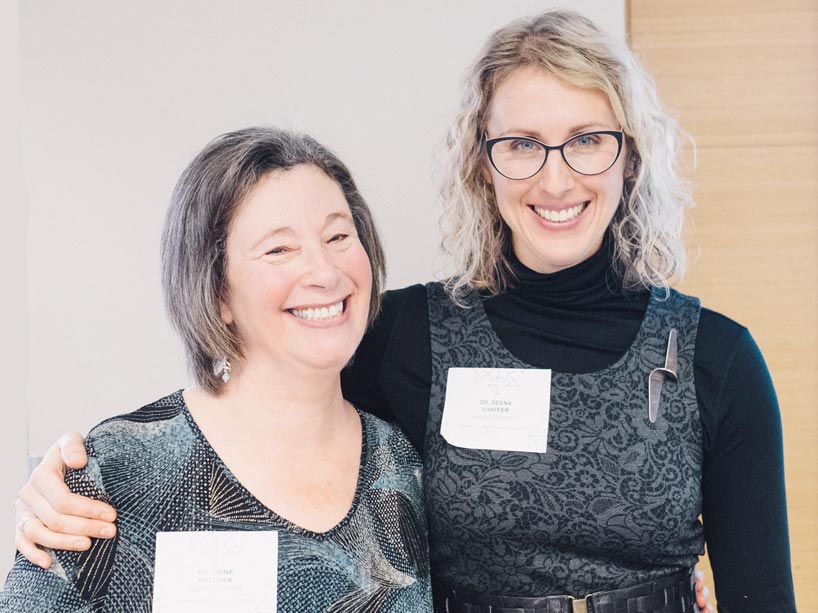 University-wide support
Brecher and Shaffer acknowledge that the rapid growth and popularity of Thriving in Action has been a campus-wide effort.
At the faculty level, professor Alan Sears (chair of the Department of Sociology) and Nikki Waheed, career education specialist within the Faculty of Arts, were champions in bringing Thriving in Action into the first-year curriculum.
At the administrative level, director of special projects, John Hannah, and executive director of student well-being, Allan MacDonald, were integral in shepherding the program forward. Louise Cowin and Andrew Pettit in the recreation department removed barriers that allowed students to take free Thriving in Action movement courses as part of their assessment. Every detail, right down to graphic design for Thriving in Action Online by Donica Willis in Student Affairs Creative, has included the work of the Ryerson community.
At the student level, many like Meharaj, have benefited from the Thriving in Action courses. In both the for-credit and not-for-credit courses, the feedback has been very "touching," says Shaffer.
"Feedback within week one of the course has been words like: 'life-changing' and 'transformative'. Students are asking us why it isn't a mandatory course."
The future of Thriving in Action
Beyond significant growth in the classroom, online and at other universities, there is lots of room for Thriving in Action to expand. Brecher and Shaffer are actively conducting research on the impact of Thriving in Action. They are also looking at ways to incorporate the course at a K-12 level.
Thriving in Action Online will be updated annually to reflect the latest research in neuroscience and positive psychology.
Currently, Meharaj is in her final year of Ryerson's politics and governance program. She hopes to graduate in the spring, where she will apply the skills she learned through Thriving in Action to life after undergrad. She's exploring a master's degree and is interested in policy development and public service.
"I feel like I can take any problem on. It's not the end of the world. I can still keep going, no matter what life throws my way."
Find out more at Thriving in Action Online.