How Justine Woods sews community connection through traditional Métis beadwork
Fashion design grad leads Beading Circle - a place on campus to practice a traditional art form
January 21, 2020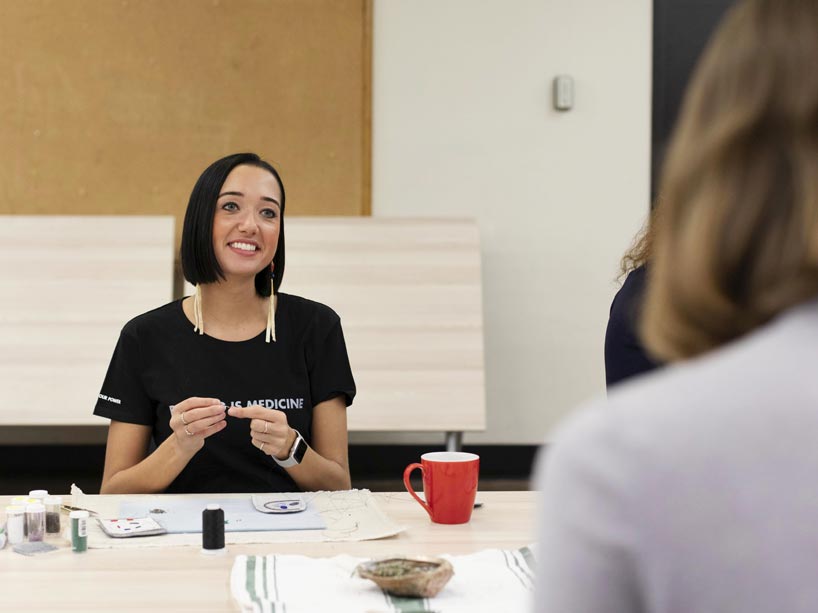 After I graduated from Ryerson's fashion design program in 2018, I bumped into one of my professors, Anna Romanovska. We were chatting about my thesis collection and she said she'd been really inspired by my use of Indigenous beadwork.
She suggested starting a beading circle at Ryerson, which had never been done. So, once funding was in place through the School of Fashion, we piloted the monthly program from January through April. Based on the great response, it now runs every two weeks throughout this academic year.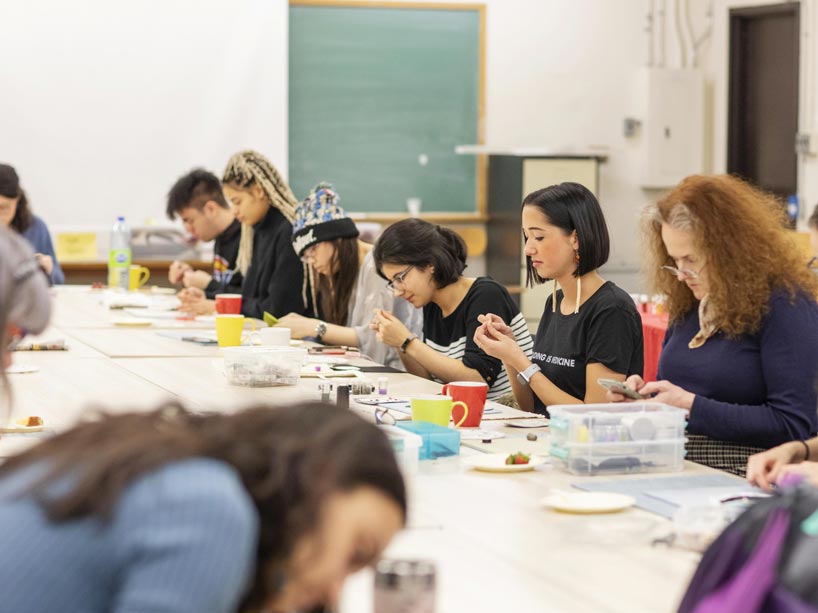 Beading circles are important, sacred spaces that allow both Indigenous and non-Indigenous people to come together, build community and share knowledge through the practice of beadwork. It's a very social gathering, so everyone shares personal stories and bonds with one another through this traditional art form.
One of the most positive things about the experience has been when Indigenous students and faculty who had never been taught this tradition come, learn and practise something they did not grow up learning how to do. It's been humbling and rewarding to see them have the opportunity to practise something so connected to their roots.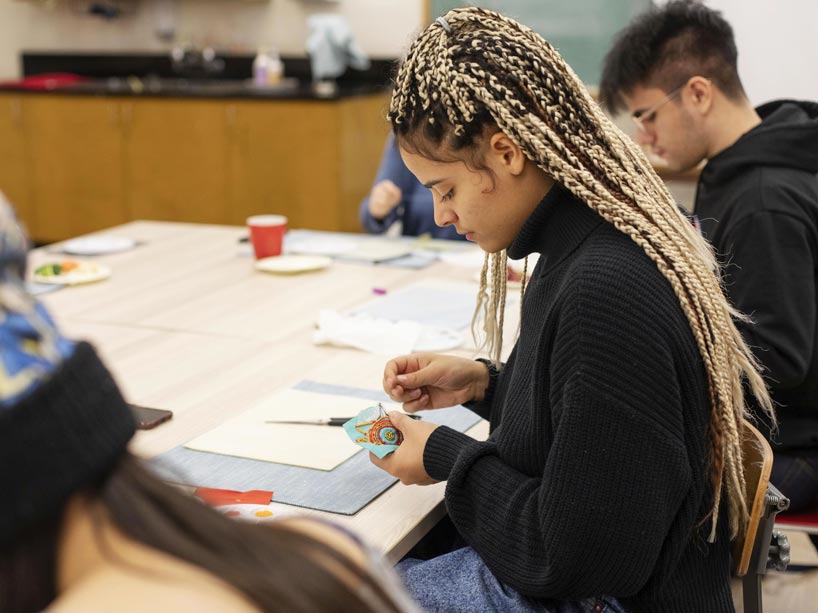 When doing my thesis work at Ryerson, I dove deeply into beading in connection with my practice as a fashion designer.
That experience was pivotal for me. It motivated me to keep looking at the aspects of fashion that are more disruptive and more critical when it comes to talking about issues surrounding Indigenous identity. I really hope to empower others who didn't necessarily grow up in an atmosphere that celebrated Indigenous traditions and art practices to use fashion and their creativity to further explore their identity.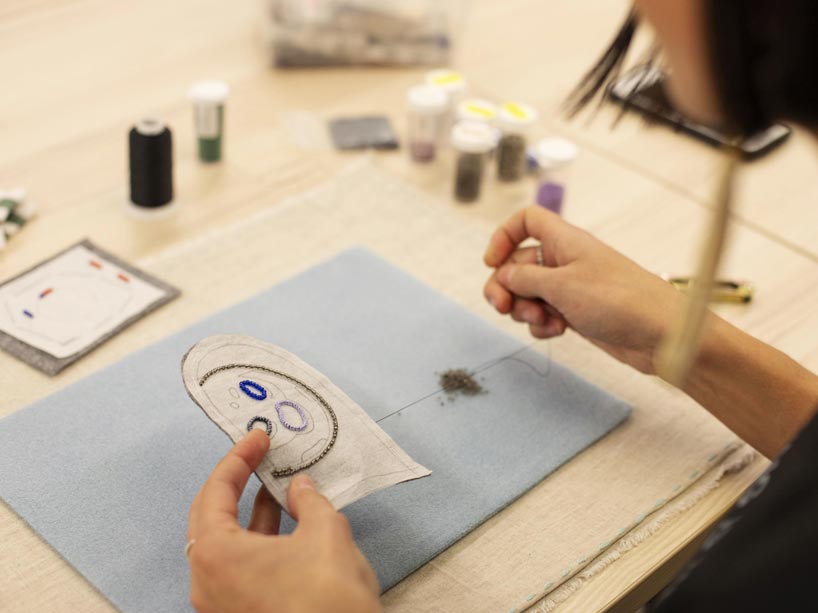 That's something I'm pursuing in my graduate studies at OCAD. I want to create work that is centred on decolonization and issues around Indigenous identity and the way we are perceived within society. As a designer this means using fashion as a platform to amplify Indigenous voices, disrupt identity stereotypes and create presence of contemporary Indigenous identity within society. I think fashion can be a really powerful storytelling tool and a way to talk about issues in a visual way.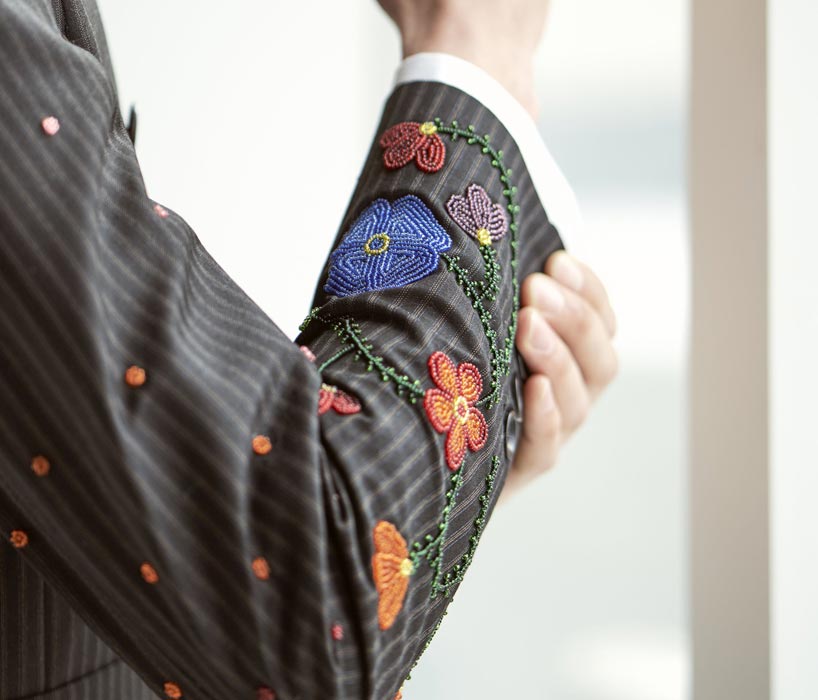 I do a lot of work that focuses on creating custom garments for clients and a big part of the process is creating a representation of the wearer through the beadwork. This is something that is really important, because historically, Indigenous beadwork has been used to reflect the person who was wearing that garment, and within my work it's really important as well.
Many Indigenous creatives today are celebrating these art forms like beadwork and other adorning practices, as well as performative arts, song, dance and ceremony. I think all of these things are ways that we can reclaim our space and share knowledge about our people and where we come from.
– As told to Deborah Smyth
This story was first published in Ryerson University Magazine January 2020. To read more, visit Ryerson University Magazine (external link) .
This is one in a series of stories marking the two-year anniversary of Truth and Reconciliation at Ryerson: Building a Foundation for Generations to Come, the university's community consultation report drafted in response to Canada's Truth and Reconciliation Commission 2015 report.
Related stories: