Expanding scientific thinking to include traditional teachings
Indigenous knowledge and science outreach co-ordinator Amber Sandy talks about expanding two-way engagement with First Nations on campus
January 24, 2020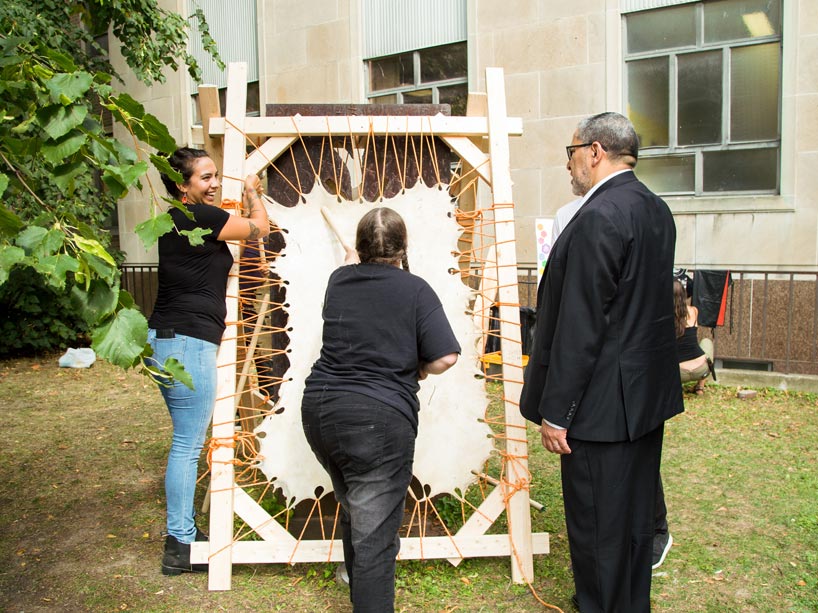 For the last year and a half, Amber Sandy's role as Indigenous knowledge and outreach co-ordinator within the Faculty of Science's SciXchange team has taken her to different communities and schools across Ontario to integrate traditional and western science into approaches to conservation and environmental science.
"I often talk about Indigenous people as natural scientists and it's because it's embedded in all of our stories," says Sandy, a member of Neyaashiinigmiing, the Chippewas of Nawash First Nation.
Her role is an example of change that Ryerson is implementing in the wake of the 2015 Truth and Reconciliation Commission (TRC) report, which shared specific ways in which post-secondary institutions could play a key role in reconciliation.
In 2018, after extensive community consultation, the Ryerson community released its report, Truth and Reconciliation at Ryerson: Building a Foundation for Generations to Come. It shared actions the university would take, including improving and expanding support for Indigenous learners, increasing the number of Indigenous staff and faculty, and deepening engagement and establishing partnerships with communities.
Sandy has now been in the role for over a year and sees the permanent, full-time position as a small step in the right direction to uphold the recommendations. "There's always more to do, but I think in the larger scheme of things, Ryerson does a good job of creating space for Indigenous people and even going to my first employee training, the fact that they talked about Egerton Ryerson and the history behind that name and why it's important to know really made me feel like 'oh, okay, we can actually talk about this stuff' – it makes you feel more included."
Creating community
Her role within SciXchange has a vast mandate, and she's still looking for ways to expand and grow the role. "Our main goal is to introduce people to science, so we run programs for elementary and high schools, as well as events to engage the general public with science." She manages several community-based projects and programs with a focus on integrating traditional and western science in approaches to conservation and environmental science.
"My position just seemed like the job was written for me, because for years I've been doing work with First Nations communities as well as educators, teaching them how to incorporate Indigenous knowledge with science in the classroom."
"I've dedicated a lot of my time to learning in community, that's what I'm really passionate about," she says. "It's a matter of keeping up with those relationships and supporting the community with the things that they're doing," she says. During last year's powwow, Sandy helped to facilitate a hide tanning workshop for the Ryerson community. This meant she spent stretches of the summer working with Elders and knowledge holders in their homes, learning their process and providing an extra set of hands. "Then you're able to bring the knowledge back to campus and put on an event where you get to share it with everyone," she says. "In that way, it's a little more reciprocal."
Traditional scientific knowledge
A big project Sandy's working on now is fish skin tanning, which takes some of the knowledge she shared with the Ryerson community during the hide tanning workshop and makes it accessible in classrooms. "Teachers can talk about everything from Indigenous history to clothing or the chemistry or biology behind it," says Sandy. Hiring a student has also meant further program expansion, with Sandy and Jenna Barnhardt, Tyendinaga Mohawk Territory, now running a program called Stoodis Science – "it's Indigenous slang for 'let's do this'" – which engages communities with science.
While in community with Stoodis Science, Sandy says that she shares an important message: science is attainable and the knowledge that these students hold is already scientific. "Working with Indigenous kids in communities, it's so easy to talk to them about environmental science, because they just get it, they know those things. And it became really important that I share with kids that the knowledge they're learning from their aunts, uncles, grandparents is scientific, and it's valid, and that they should feel empowered that they have this scientific knowledge that not a lot of other people grow up with."
Sandy is keen to see how these programs can be expanded to meet other mandates within Ryerson's community consultation report, including creating new pathways for Indigenous students to study at Ryerson, who are often encouraged to follow applied science streams instead of academically oriented streams.
"My hope is that, while doing Stoodis Science in a community, we can show those students how attainable science can be and create that spark and hopefully be something that helps to get them into it. What I want to do is build meaningful programs where we have relationships and we go multiple times a year, so it's a commitment to the students to see it through."
This is one in a series of stories marking the two-year anniversary of Truth and Reconciliation at Ryerson: Building a Foundation for Generations to Come, the university's community consultation report drafted in response to Canada's Truth and Reconciliation Commission 2015 report.
Related stories:
A learning experience for the provost