Female engineers at Ryerson persevere 30 years after Montreal Massacre
Ryerson professor Habiba Bougherara studied at École Polytechnique, where 14 women lost their lives
December 05, 2019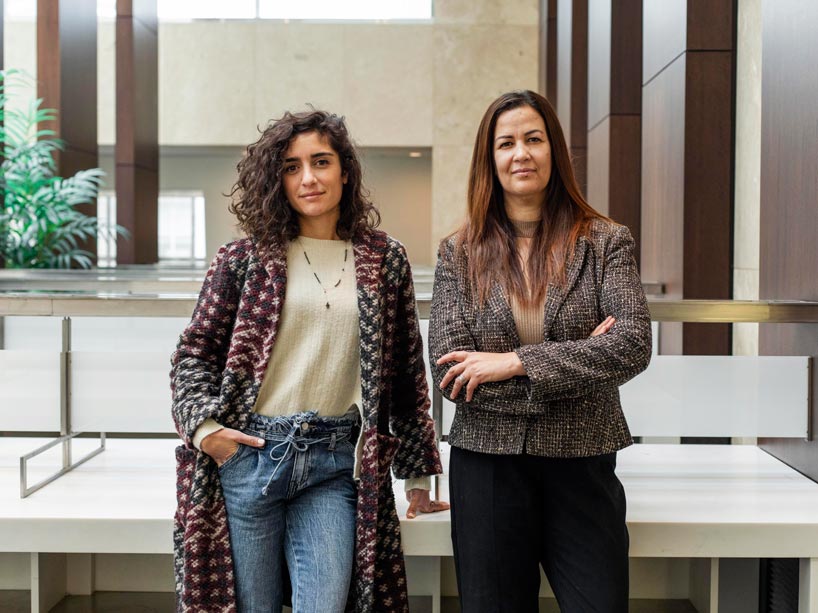 On Dec. 6, 1989 – 30 years ago – a man went into Quebec's top engineering school, École Polytechnique, and murdered 14 women.
The tragedy, known as the Montreal Massacre, hits home for many female engineers, including Ryerson professor Habiba Bougherara and Ryerson engineering grad and postdoctoral fellow, Sylvie Antoun.
In fact, Bougherara was once a student at École Polytechnique – and was taught by two professors who were there that day.
While society has made considerable progress advancing the rights of women, barriers remain in the field of engineering – which sees females significantly outnumbered, especially in mechanical engineering, which is the field of study for both Bougherara and Antoun.
Lamya Amleh, director of the First-Year Engineering Office at Ryerson, says that while progress has been made, "there is still much to be done".
"Female participation in engineering remains well below that of the men in both undergraduate and graduate programs," said Amleh, who is also a professor in the civil engineering department.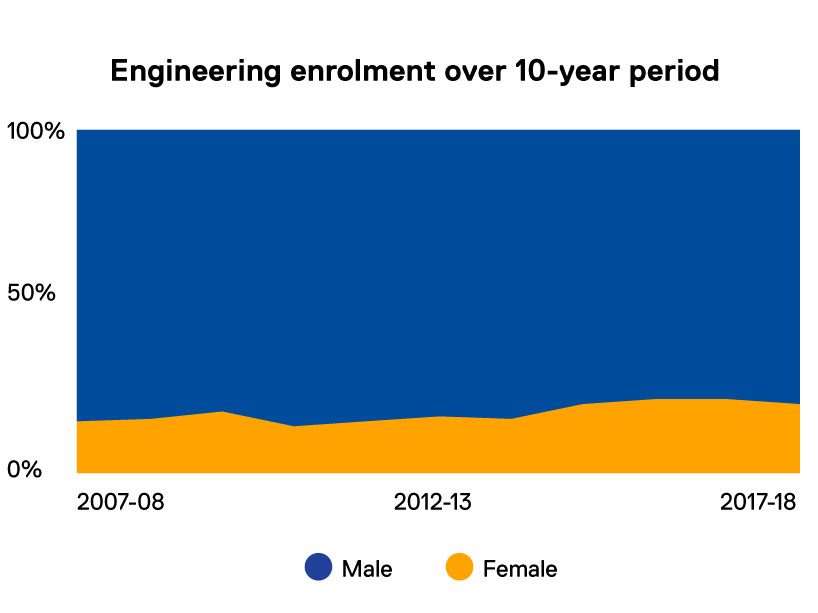 Mechanical engineering sees major gap
She points out that in different areas of engineering, the numbers vary: over the last 10 years at Ryerson, in biomedical engineering, for instance, females comprise more than 45 per cent of students. But in mechanical engineering, that number drops to only 10 per cent.
"Research shows that social and environmental factors contribute to the underrepresentation of women in science and engineering," Amleh said. "We need change and ongoing effort at all areas of entry, starting at home and at the potential exit in the pipeline from high school, university education and in the workforce."
Overall, while progress has been slow, it seems to be moving in the right direction.
At Ryerson, for example, in 2007-2008, mechanical engineering saw a male to female ratio of 11 females to 148 males. Ten years later, in 2017-2018, that gap lessened – with 33 females to 90 males. Amleh says it's an "odd and interesting increase. We must be doing something right."

For continued progress, Amleh says "Matters of access, support and retention require ongoing effort and resources to be devoted to them."
In recognition of the 30th anniversary of the Montreal Massacre, I sat down with professor Bougherara and Antoun to talk about their ability to persevere and thrive in the field. They also give advice to the female engineers of tomorrow.
One-on-one with professor Habiba Bougherara
1. What was it like attending École Polytechnique, where this tragedy took place?

Bougherara: I began at École Polytechnique in 2000. I learned even more about what happened when two of my professors told us that they had been at the school when it took place.
One of them was a student at the time. He said the shooter separated the males from the females, all in the same room, and then started shooting the females. It was very emotional. He said what bothers them the most is that they couldn't help. Their female colleagues were being slaughtered in front of them, and they couldn't do anything about it. That's what's affected them the most. It was life-changing.
2. Do you recall any particular challenges that you faced as a female student in engineering?
Bougherara: One challenge was working on group projects. You want to be with the outstanding students, but it's hard as a female to find a strong group to be part of, and in my case – being from Algeria – especially as a female minority. So, sometimes, I would do the project by myself. Other times, I might join the other people who were leftover.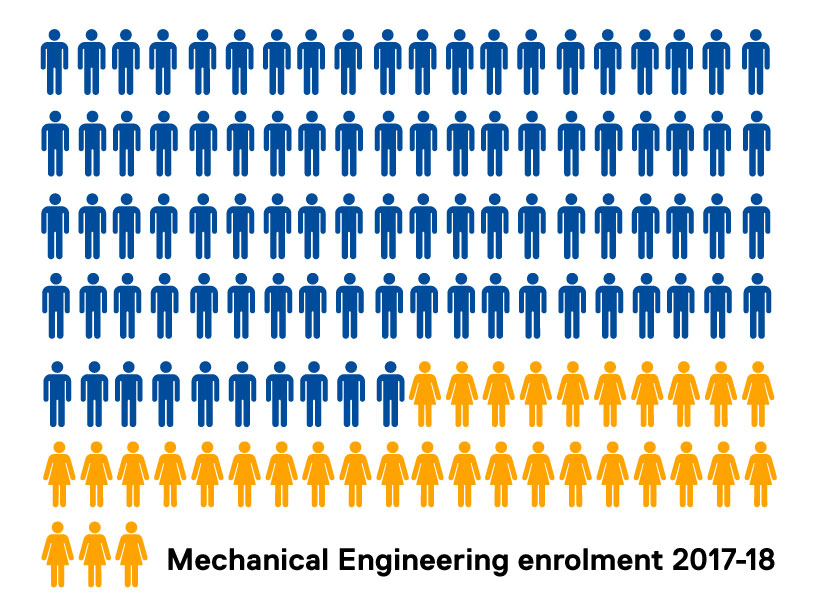 3. Has there been an increase in female engineering students over the years? Talk about the current climate.
Bougherara: It has improved over the years, but still, there's a lot more to do. For instance, when I was at École Polytechnique, there was a chair to promote women in engineering, which is a bit of an equivalent to the ROPES program here at Ryerson, but on a bigger scale. (Research Opportunities Program in Engineering and Science is a Ryerson program designed to encourage high school students in engineering and research.)
But, as I said, it's not enough. If we are looking for a big impact, a strategic plan in all areas of education and society needs to be developed. One way to start is by increasing the pool of female engineering professors.
Some disciplines in engineering have seen a net increase in female enrolment, such as chemical engineering and biomedical engineering. But in mechanical engineering, which is what I teach, of my 130 students, roughly 10 are female.
4. You mentioned there is a need to increase the number of female engineering professors. Did you ever have female professors?
Bougherara: I had two female professors in my undergraduate degree in Algeria. But during my master's degree, PhD and postdoctoral studies here in Canada, I didn't have any.
5. With so few women in engineering, is it meaningful for you to teach female students?
Bougherara: When a female student walks into the classroom at the beginning of the year, I am happy – like, my heart starts beating faster. You know it's helping to remove barriers and remove stereotypes. You know something good is happening.
It's also exciting because females usually have a different learning style than their male peers, so having them in my class creates more synergy and brings a different perspective to engineering.
6. Are your female students grateful to have a female professor?
Bougherara: I had one female student who wrote on my faculty course evaluation, "You are a role model."
7. What advice would you give young women who are pursuing careers in engineering?
Bougherara: Dare to dream, dream big, and pursue your dreams.
8. What are your goals for the future?
Bougherara: One of my goals is to keep empowering women in engineering, not just my own students, but all female engineering students. I often help students of other supervisors by giving them advice or helping them solve different problems. Also, when I get a grant, I take a portion of it and dedicate it to the training of female engineers.
We really need to put females at the forefront. If there is a competition or an award, we need to put females out there. They will thrive.
9. Please share some of your career highlights and successes.
Bougherara: I have won several awards, including the prestigious Early Researchers Award from the Ontario Ministry of Research and Innovation, the Collaborative Research award, and the YSGS Outstanding Contribution to Graduate Education Award. I'm also a three-time winner of the Ryerson Research Excellence Award.
I have developed world-class research in high performance bio-composites for various engineering applications, including biomedical, automotive, aerospace and military. This work has significantly advanced the fundamental understanding of the interaction of microstructure, processing and performance, resulting in more than 150 peer-reviewed/conference papers, two patents and 10 book chapters.
One-on-one with Sylvie Antoun
In September 2015, Sylvie Antoun came to Ryerson from Lebanon to complete her PhD in mechanical engineering. The member of Ryerson's Cross Country and Track & Field team graduated with multiple academic awards in fall 2019 and is now a postdoctoral fellow at Ryerson.

1. What or who inspired you to pursue engineering?
Antoun: My dad is my role model. He's a technical manager, and my sisters are both engineers… He always used to tell us, you are three females, and you are so strong. He made us believe in ourselves and our ability to succeed. He never doubted us, he knew we were just as strong as males and gave us confidence. Having support from the male side is important.
2. What's it like being female in a male-dominated program?
Antoun: I have never thought of myself as a female in engineering, I just think of myself as someone who is passionate and determined. I always wanted to prove to myself that I can do it, I always have the mindset that I have as much potential as any other engineer. Engineering is a male-dominated program, but it doesn't mean females are not as capable. It is not based on gender skills, it is about passion, reason, confidence and determination.

3. How did you stay motivated and determined?
I'm grateful for my involvement in athletics and other things that helped me go through all of my academic challenges. The people who believed in me were my advisor, my coaches, my friends and my teammates. And most importantly my family, in Lebanon.
4. What does it mean to you to be taught by female engineering professors? Is it particularly inspiring?
"I've never been taught a course by a female engineering professor. Not once in the whole 10 years… (It) makes me even more eager to become a professor now."
Antoun: I've never been taught a course by a female engineering professor. Not once in the whole 10 years. I only had a female co-advisor during my master's degree.
I knew from beginning that there weren't many female engineers, especially in mechanical engineering. The fact that the number of female professors is so low makes me even more eager to become a professor now.
If a female is passionate about engineering, it's important for her to have a female role model. It shows they have a chance and that they belong.
5. What advice would you have for women pursuing engineering today?

Antoun: Yes, we are underrepresented and underestimated. But, I advise them to believe in themselves and follow their passions, and to stay connected to what initially led them to study engineering in the first place, and pursue it to the end. It's also important to have a balanced life between school and personal. Expanding your social sphere helps give you the support you need to face challenges.
6. What are some career highlights for you thus far, either academically or professionally, or both?
Antoun: On the academic side, I won Ryerson's Mechanical and Industrial Engineering Excellence Award in the middle of my PhD. Then, in October 2019, I was awarded Ryerson's Gold Medal for the Faculty of Engineering and Architectural Science (FEAS). On the athletic side, I won the Ontario University Athletics Academic All Canadian Awards each year from 2015 to 2019.

7. What are your future goals?

Antoun: I would like to be a professor of mechanical engineering so I can pursue meaningful research and prepare students to make positive changes in the world. I'll do this by teaching them critical thinking and problem-solving skills. I want to continue to focus my work towards saving the earth and advance sustainable energy technology. Most importantly, I plan to continue inspiring others to choose to believe in themselves and follow their passions.
Related:
Women in engineering: Barriers remain 30 years after École Polytechnique shooting, external link (By Ryerson professor Wendy Cukier for the Conversation)
Pursuing the career the women of Polytechnique could not, external link (featuring Ryerson professor Kathryn Woodcock)