Donna E. Young appointed founding dean of Faculty of Law
Distinguished professor from Albany Law School joins Ryerson University
Category:
From the Provost and Vice-President, Academic
December 16, 2019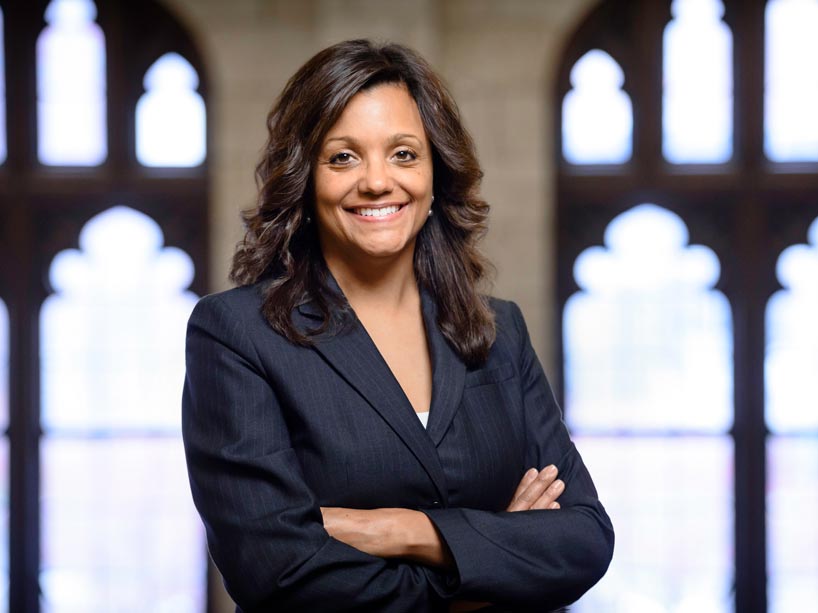 I am pleased to announce the appointment of Donna E. Young as the founding dean of Ryerson University's Faculty of Law. With more than 26 years in the legal academy, Donna is an experienced leader who shares the university's commitment to innovation, diversity and access.
Donna is currently the President William McKinley Distinguished Professor of Law and Public Policy at the Albany Law School, the oldest independent law school in the United States. She also holds a joint appointment at the University at Albany's Department of Women's, Gender and Sexuality Studies. Her tenure at Ryerson will begin on January 1, 2020.
Ryerson's Faculty of Law reimagines legal education to create a new kind of lawyer, driven by a curriculum designed to increase the career readiness of graduates, to enhance diversity in the legal profession, and to improve access to justice. As the inaugural dean of the Ryerson Faculty of Law, Donna will provide dynamic, thoughtful leadership, vision and strategic acumen to shape the new school's mission of being a model for the future of legal education.
At Albany Law School, Donna's teaching focused on criminal law, employment regulation, federal civil procedure, and gender and race discrimination. A trailblazing educator and respected scholar, she has held leadership positions on core faculty committees at Albany Law and is a member of the board of directors of nonprofit organizations dedicated to women's health and to civil rights and civil liberties.
Donna has played an important role in the recent affiliation and strategic partnership of Albany Law School and the University of Albany by planning and developing a series of joint ventures with the Department of Women's, Gender, and Sexuality Studies. She brings to Ryerson a commitment to interdisciplinary collaboration and to strategic partnerships with the legal community.
No stranger to Toronto or the Toronto legal community, Donna is a first-generation Canadian raised in North York, the daughter of parents from Jamaica and Belize. Before entering the academy, Donna worked in litigation at Toronto's Cornish Roland Barristers & Solicitors, at the Ontario Human Rights Commission, and at the City of New York Mayor's Office of Labor Relations, Legal Department.
In Rome, Italy, she was a consultant at the International Development Law Organization and a Visiting Scholar at the Faculty of Law at the University Roma Tre. Donna has worked on development projects in Sri Lanka, Uganda and Mexico. She holds a bachelor of science (honours) in psychology from the University of Toronto, an LL.B. from Osgoode Hall Law School, York University, and an LL.M. from Columbia University School of Law, where she was also an Associate in Law.
Ryerson Law is the culmination of years of planning, legal consultation and approvals, and Donna's expertise and vision will help Ryerson continue to help redefine Ontario's approach to legal education.
Please join me in congratulating Donna and in wishing her all the best in her new role.
I would like to thank Anver Saloojee for his exceptional leadership as the Faculty of Law's interim dean; his direction and leadership have helped Ryerson's vision for a different kind of law school become a reality.
I would also like to thank the members of the search committee whose contributions led to Donna's successful appointment:
Pnina Alon Shenker
Professor, Law & Business
Tim Bartkiw
Professor, Human Resources and Organizational Behaviour
Tanya (Toni) De Mello
Director, Human Rights Services
Dorsa Eshtehardian
Student, Law & Business
Sari Graben
Professor, Law & Business
Aziz Guergachi
Professor, Information Technology Management
James Nadler
Chair, School of Creative Industries
Anver Saloojee
Assistant Vice-President, International
Daphne Taras
Dean, Ted Rogers School of Management (TRSM)
____
Michael Benarroch
Provost and Vice-President, Academic