Introducing the Daphne Cockwell Health Sciences Complex at Ryerson
Join the community for the official opening of the new state-of-the-art building on November 25
November 19, 2019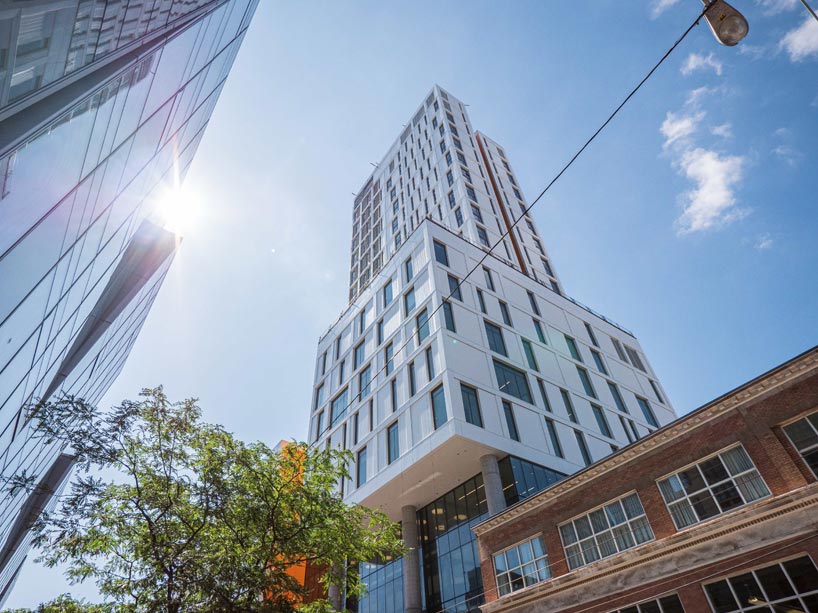 The new Daphne Cockwell Health Sciences Complex (DCC) is open on Church Street, offering students plenty of places to study, mingle and learn in state-of-the-art classrooms and labs. It's a place where faculty from different schools can collaborate on projects, it is fully accessible and meets high standards of sustainability.
The building brings together four schools within the Faculty of Community Services (FCS) and provides research space, enabling entire research teams to be situated in common workspaces.
"We are proud to officially open the Daphne Cockwell Health Sciences Complex to the Ryerson community," says Ryerson President Mohamed Lachemi. "This is truly a place that has been designed for our students and faculty to study, collaborate and innovate together."
The official opening takes place on Monday, Nov. 25, 2019. The Ryerson community is invited to attend at the Daphne Cockwell Health Sciences Complex on the second floor at 288 Church St. There will be remarks from 12–12:30 p.m., light refreshments at 12:30 p.m. and building tours from 12:45–2 p.m. We would appreciate your google formRSVP, external link .
Multi-disciplinary space
Designed by architects Perkins and Will and constructed by Eastern Construction Company Ltd., the DCC features an eight-storey academic podium with nearly 175,000-square-feet of labs, classrooms and program space with flexible audio-visual technology. Nutrition students have a demonstration kitchen while midwifery and nursing students have clinical suites where they can practice clinical examinations. Practical nursing labs replicate hospital wards with nursing-station equipment set up to simulate real-life conditions and hospital scenarios.
Atop the podium is an 18-storey residence for 332 students, including 18 accessible, two-bedroom, apartment-style suites and an accessible unit for a residence advisor. The residence has a concierge desk that is staffed 24/7, modern laundry facilities, a meeting space with floor-to-ceiling windows and a communal kitchen.
The building also has an infant feeding room, which is available to all members of the Ryerson community.
"It is so exciting to see our students, staff, and faculty filling these new spaces with energy and enthusiasm from the first day they moved in," says Lisa Barnoff, dean of the Faculty of Community Services. "Having four FCS schools together in one space will foster so many opportunities for connections and collaborations."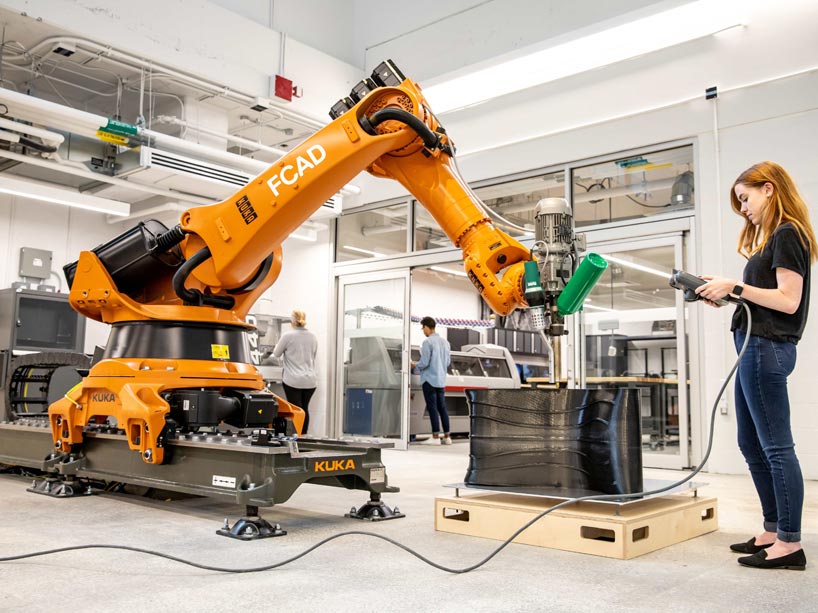 Along with new labs and classrooms, administrative offices and research areas for faculty, the building is home to FCAD's Creative Technology Lab. The new 7,500-square-foot lab, in the basement of the building, is outfitted with advanced design and prototyping equipment with sophisticated fabrication, media production and digital design capabilities including robotic arms, CNC machines, laser cutters, 3D printers and a new print packaging facility ‒ giving Ryerson students an edge on creative applications of technology.
The DCC also houses the Centre for Excellence in Learning and Teaching, which fosters a community dedicated to innovative thinking about curriculum, pedagogy and inclusive teaching practices to enrich the student learning experience.
Sustainability and inclusivity features
Having met its targets for LEED Gold certification, the DCC has several innovative features to support Ryerson's commitment to sustainability. There's a green roof atop the eighth floor run by Ryerson Urban Farm that can be used for educational and research purposes. The building also has radiant floors for heat and uses a greywater system: water collected from showers, taps and rain is treated and used to flush toilets.
The building is the first Ryerson-owned structure to use chilled beam technology, which helps to regulate temperature in offices, reducing electricity and fossil fuel use. The mechanical systems have been designed to be very energy-efficient as well, reducing the environmental impact of the building.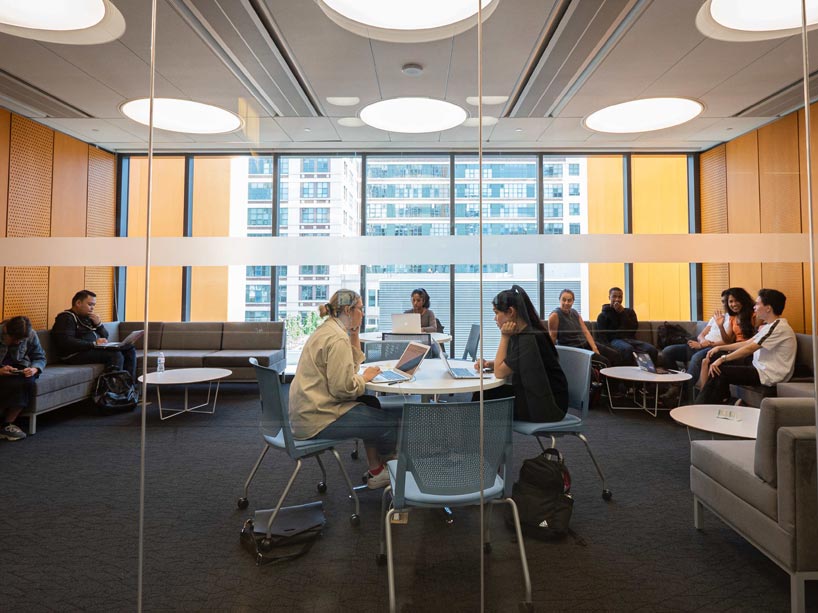 In addition, the complex is a "living lab" that contains a comprehensive sub-metering system that collects real-time data about energy consumption and climate control. The data can be used to identify opportunities to improve sustainability and inform decisions for future buildings, as well as being used for graduate-level research. There are also sensors that detect the amount of carbon dioxide being used so that fresh air can be pumped into the facility as needed.
Creating an inclusive environment was a key priority. In addition to accessible student residences, all classrooms, labs, offices and entrances are accessible. Barrier-free washrooms are available on all floors and tactile surfaces help define spaces for those who are visually impaired. All academic student spaces, such as classrooms, labs and seminar rooms, have assistive listening technology to improve communication for individuals who are hard of hearing. The system can be accessed using wireless headphones or through an app on a user's phone.
The building is named in recognition of Daphne Cockwell, the mother of long-standing Ryerson Board of Governors member Jack Cockwell. On the main floor is a portrait of Daphne, noting that she embodies the generous spirit at the heart of our community. Serving as a nurse in the 1940s, she was committed to helping others throughout her life and her compassionate care will inspire future generations at Ryerson.
For Deborah Brown, vice-president, administration and operations, seeing Ryerson's newest crown jewel take shape is extremely rewarding.
"Seeing this building come to life with our students, faculty and staff is truly amazing. We are proud of this building that has been designed to be a welcoming and inclusive space for teaching, living and learning."