Entrepreneur Michelle Jaelin teaches healthy eating with an Asian twist
Nutrition grad discovers creative niche sharing her Chinese food heritage with other millennials
November 21, 2019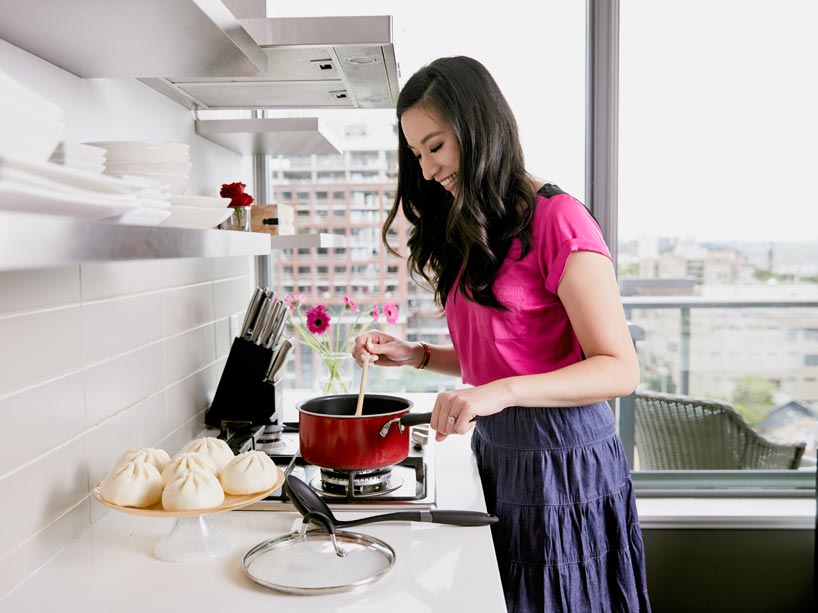 If you've ever wondered what colour urine should be or how the keto diet works, ask nutrition expert Michelle Jaelin. She's appeared on TV talking about these and other facts about how eating affects your body.
Like many millennials, Jaelin's passion is food. She founded Nutrition Artist (external link) in 2016, a creative food brand that shares cultural food stories, practical nutrition information and simple cooking tips. A registered dietitian, she graduated from Ryerson with a bachelor of applied science in nutrition and food in 2013 and completed a certificate in food security from The Chang School of Continuing Education.
Jaelin says that cuisines from different cultures are getting more exposure thanks to popular Netflix shows like Ugly Delicious, Street Food and Salt, Fat, Acid, Heat. However, "none of them talk about these foods as healthy. It's important to acknowledge diversity, food culture and nutrition. This is my content creation niche," says Jaelin, whose parents immigrated to Canada from Hong Kong.
While most dietitians work in clinical settings, Jaelin is creating her own career. She educates her expanding online community and is a consultant for food and health companies. Her mission: to celebrate food in all its glorious diversity and make healthy eating easy for digital natives.
Jaelin saw a business opportunity to brand herself as an expert in Asian food and nutrition when she noticed there wasn't educational content reflecting the foods she grew up with in Thornhill, Ont. Her Instagram account @nutritionartist (external link) boasts content reflecting her Chinese-Canadian heritage, with light-hearted posts sharing nutritional facts on bubble tea, moon cakes and bok choy. Most of her followers are Asian-Canadian millennials.
"My first job in nutrition was working at a medical clinic with primarily an East Asian and South Asian clientele. My Cantonese language skills really helped there, and well as my understanding and openness to learning about how people of other cultures eat," she says.
Jaelin, who now lives in Hamilton, Ont., is a rising TV personality who's appeared on CityTV, Global, CTV and more. She often dispels nutrition myths, shares ideas on how to reduce food waste and teaches viewers about Chinese food culture. Last year, she appeared on Hamilton's Morning Live show dressed in a cheongsam, beautifully embroidered with countless peonies, and talked about dishes traditionally eaten during the Lunar New Year. Jaelin has also appeared on Fairchild Television, Canada's Chinese-language TV network, where she's given interviews in Cantonese.
Jaelin says that confidence is critical when going into business for yourself. "A lot of young women and hyphenated-Canadians reach out to me. Most are so smart and competent, but the missing ingredient is confidence. I think sometimes there's the expectation that Asian people will not be assertive. Screw the stereotypes. Don't be afraid to take up space!" she says.
When asked if she and her Vietnamese-Canadian husband ever fight over whose culture has the better food, Jaelin bursts into laughter. "So Chinese food is my comfort food and I love it. But I find Vietnamese food also excites me – the flavours, the unique way of preparing and cooking. I always look forward to meals with my spouse and mother-in-law."
To learn more about food, nutrition and culture, follow Michelle Jaelin on Instagram @nutritionartist (external link) or visit nutritionartist.com (external link) .