What you need to know about the campus core revitalization
Construction on Gould and Victoria aims to create safer, accessible and sustainable spaces
August 26, 2019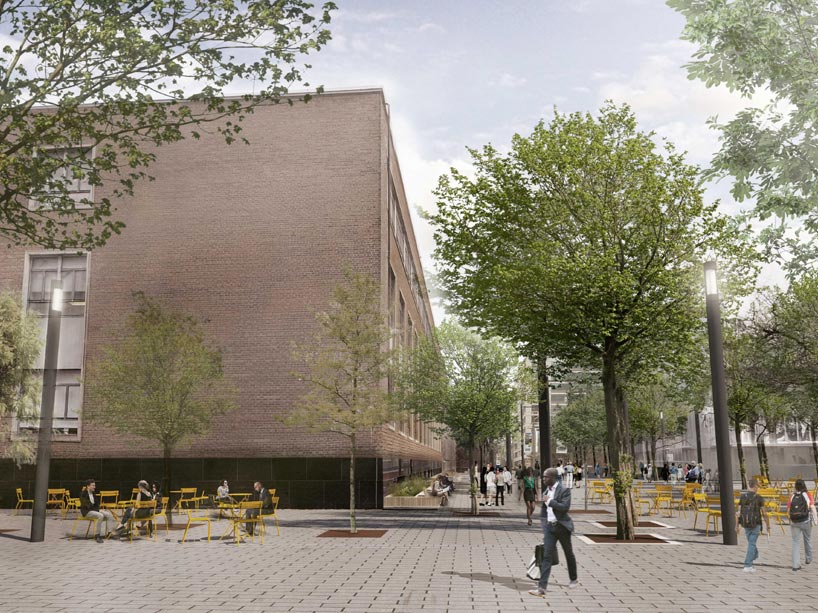 Whether you're new to Ryerson or coming back to school, you'll soon notice that the campus is undergoing some major construction work.
This is part of the long-term Campus Core Revitalization project, designed to enhance safety and accessibility of spaces while improving below-grade infrastructure along Nelson Mandela Walk, Gould Street and Victoria Street.
Once completed, the Ryerson community will have a campus that is greener, safer, more pedestrian-friendly and more welcoming to the surrounding neighbourhood.
Here's what you need to know about the project and how to get around the campus while the construction continues through the fall term.
Revitalization area
During construction in the fall, the revitalization zone will stretch along the upper part of Victoria Street, Nelson Mandela Walk from Gerrard Street E. to Gould Street, and along Gould Street from O'Keefe Lane to Bond Street.
These areas are fenced off for public safety, but the sidewalk on the south side of Gould in front of the School of Image Arts building, Balzac's and the Ryerson Image Centre is open. Detours are required to go around the fencing so give yourself extra time.
A great deal of work has been completed since the project began back in March. For instance, to improve campus green spaces, trees and plants struggling to survive in their urban environment were removed. As part of Ryerson's commitment to sustainability practices, healthy topsoil was recovered for reuse while the removed trees were ground into mulch for landscaping. The Early Learning Childhood Centre also used some of the logs in their playground. In addition, the concrete that was removed from the road surface was recycled.
New accessible ramps were formed in concrete to create two new accessible entrances to Kerr Hall and to modernize Jorgenson Hall's accessible entrance. The ramps will also have wires embedded that will heat up the surface during the winter months, preventing snow and ice from building up.
In addition, concrete bases have also been set in place for new pedestrian lighting intended to keep the campus well-lit at night and improve safety.
In the coming months, contractors will continue working on raising Gould Street to the curb level, making Gould Plaza more accessible and pedestrian-friendly, and adding new seating areas.
Nearly 15,000 shrubs, plants and bushes will also be planted. Native tree species destined to be planted in paved areas will go into underground soil cells, which have already been installed, allowing for healthy root growth, storm water drainage and overall plant health.
Tips on Getting Around
Looking for ways to get around campus quickly? There are several alternative routes that can connect you to Ryerson buildings. Here are a few suggestions:
If you're travelling from Yonge Street, enter through the main doors of the Student Learning Centre, go to the second floor and walk through the Library to connect to the Podium, Kerr Hall and Jorgenson Hall.
If you need to get to the Rogers Communications Centre, you can continue walking along the second floor of Kerr Hall South, which will take you to your final destination.
To access the Quad and the Recreation and Athletics Centre, you can go through the Kerr Hall building and exit from there.
Keep an eye out for bright yellow signs posted around the zone to help direct you to specific locations such as the Library, book store, Recreation and Athletics Centre and alternate entrances to Kerr Hall.
Student volunteers armed with large maps will be stationed at key locations throughout the campus to help students, faculty and staff navigate Ryerson during Orientation Week as well.
Find out more by visiting the Campus Core Revitalization project.
The Campus Core Revitalization project was made possible thanks to the generous contribution of $7 million in funding towards the overall budget from the City of Toronto and support from Toronto City Councillor Kristyn Wong-Tam.
Related stories:
Revitalizing the Ryerson Campus