Ryerson leaders endorse federal charter to remove barriers in research
New program aims to increase diversity in post-secondary research outputs
June 04, 2019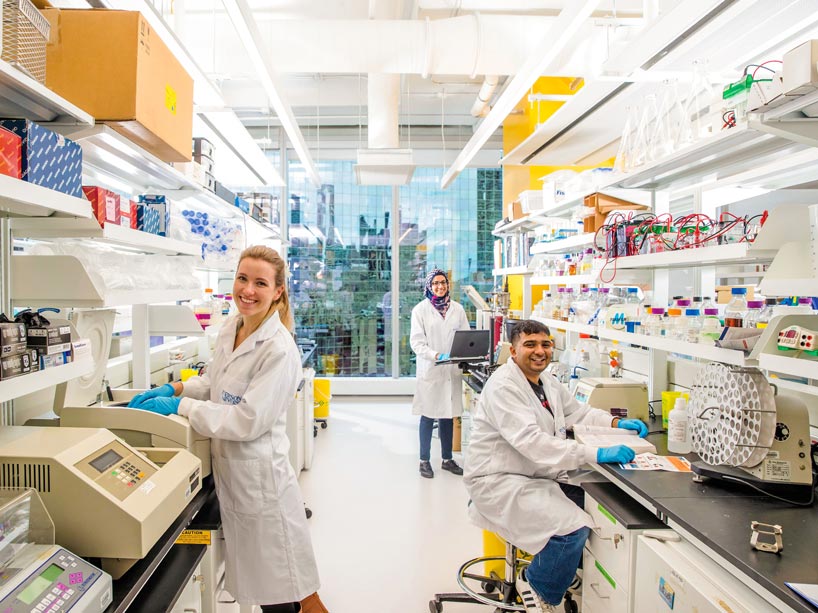 Ryerson University is proud to endorse a new Government of Canada initiative to increase equity, diversity and inclusion in research.
In May, the Honourable Kirsty Duncan, Minister of Science and Sport, launched a pilot program entitled Dimensions: Equity, Diversity and Inclusion Canada (external link) . Dimensions aims to address systemic barriers in post-secondary research environments, particularly those experienced by members of underrepresented or disadvantaged groups, including, but not limited to, women, Indigenous Peoples, persons with disabilities, members of visible minority/racialized groups, and members of LGBTQ2+ communities.
"As one of Canada's most diverse campuses, Ryerson expressly incorporates equity, diversity and inclusion into every aspect of academic planning, campus life, and our scholarly, research and creative activities," said Mohamed Lachemi, Ryerson University president and vice-chancellor. "I'm very pleased that the Government of Canada is likewise taking proactive steps towards making research at all post-secondary institutions representative of our country's wonderful diversity."
Ryerson has officially endorsed the Dimensions charter, (external link) a set of eight principles to guide post-secondary institutions throughout their practices and culture to achieve greater equity, diversity and inclusion. The charter includes elements such as an acknowledgement that the research community can best thrive when members experience equitable, inclusive and unbiased systems and practices, and that clear goals and specific actions are required to affect real change. Institutions that endorse the Dimensions charter commit to embed equity, diversity and inclusion principles in their policies, practices, action plans and culture.
"The principles of equity, diversity, inclusion, and access are foundational to scholarly, research and creative activity at Ryerson," said Steven Liss, vice-president, research and innovation. "Advancing these principles amplifies our research and innovation opportunities, removes barriers, fosters multiple worldviews, and cultivates an enriched environment for success."
The Canadian Dimensions charter reflects input from consultations held across Canada between August 2018 and April 2019. Post-secondary researchers and leaders, as well as community members from underrepresented groups, NGOs and government representatives took part in the discussions.
"We have been engaging in this conversation for some time. Our office submitted written recommendations for the program, and last summer I was pleased to offer input at a Dimensions consultation meeting with Minister Kirsty Duncan," said Denise O'Neil Green, vice-president, equity and community inclusion.
"In February, we hosted our second University and Research Funding Equity Officers' Roundtable in partnership with NSERC, where we also discussed recommendations for the national initiative," Green said. "I'm pleased Ryerson is joining other institutions that also believe it's important to be intentional about embedding equity, diversity and inclusion into the national research ecosystem."
"Ryerson's teachings and programming are more powerful when we value equity, diversity and inclusion, which is why these core values remain central to our academic plan," said Michael Benarroch, provost and vice-president, academic. "Our staff and faculty make intentional decisions every day to embed this thinking into our scholarly, research and creative activities, and I'm proud that Ryerson is a leader in this space."