Till death do us part
New exhibition explores the themes of time, memory and the fragility of life through a 1927 wedding dress
May 03, 2019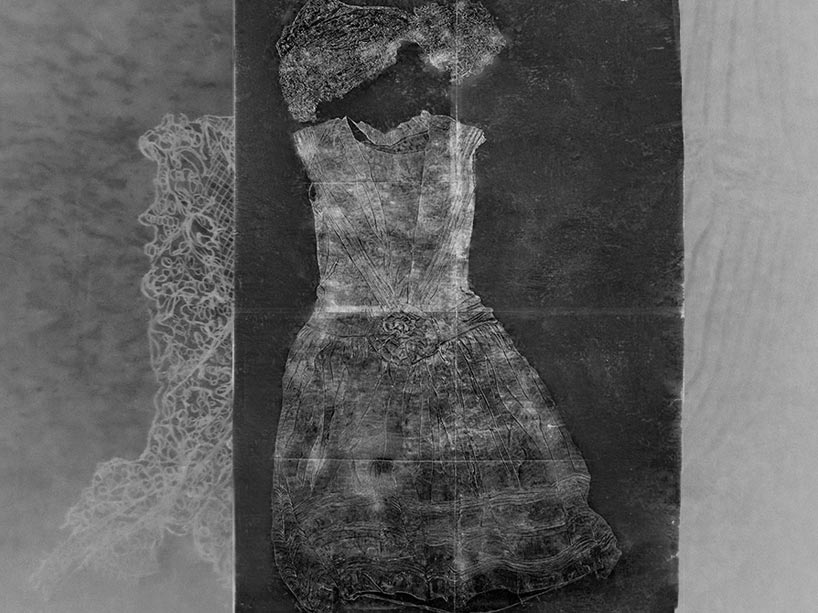 When Evelyn Normand Wilkie walked down the aisle to marry William Douglas Howard in New Glasgow, N.S., in 1927, little did she know that her wedding dress would be the subject of an exhibition at Ryerson 92 years later.
Absent Presence: A Wedding Dress and the Drawings of Sarah Casey is a collaborative project between curator Ingrid Mida, Ryerson Fashion Research Collection (FRC) co-ordinator, and U.K. artist Sara Casey, which will be exhibited at the Modern Literature and Culture (MLC) Research Centre gallery from May 10 to July 5, 2019.
"The wedding dress is haunting and taunting, and so are drawings by Sarah Casey," said Irene Gammel, the director of the MLC gallery. "We are extremely pleased to bring, an Arts Council-England-funded transatlantic collaboration between Mida and Casey to our gallery for our viewers to explore the connection between the past and present."
(Photos 1-4) Wilkie Wedding Dress (1927), Ryerson Fashion Research Collection, Gift of O'Reilly Family. Photo by Victoria Hopgood; (5) Wilkie Wedding Dress Reproduction, Olivia Da Cruz (2019). Ryerson Fashion Research Collection. Photo by Victoria Hopgood.
The original wedding dress is as delicate and fragile as a pressed flower. "When I first looked at the dress, in an Eaton's box, the silk taffeta was faded, yellowed and completely shattered in places. Every time you touched it, little pieces of silk fell off," Mida explained. "In the early part of 20th century, silks were sometimes dipped in metallic salts, and the salts deteriorate at a different rate than the textile itself."
Mida accepted the dress, and other clothing items, from Wilkie's family, as a donation to the Ryerson Fashion Research Collection, external link even though she was reluctant to accept an object in such poor condition.
"I almost threw it in the garbage," she said, laughing. "My inclination from my training is to not take a piece like that, since it cannot be safely handled, but had I not taken it, the artistic spark would never have happened."
The "spark" turned out to be the collaboration with U.K. artist Sarah Casey.
Casey had read Mida's book, The Dress Detective: The Practical Guide to Object-based Research, and she wanted to collaborate with Mida. The two began a collaborative project called Exquisite Corpses. This exhibition is one part of that larger project.
Absent Presence explores the conversations that the dress – and other items donated by Wilkie's family – could inspire about the processes of time, memory and disintegration.
"Sarah likes to ask provocative questions, and draw items that are not considered important or are overlooked in museums. For example, she has drawn Queen Victoria's underwear," said Mida. "The kind of questions that are provoked by how Sarah works are, 'What can drawing do?' and 'Whose story is this really telling?'"
In the exhibition catalogue, Mida notes, "Wedding dresses are often worn once and then stored away to remember a celebration of love and commitment. As time passes, memories fade and textiles decompose… And yet, even when a wedding dress has disintegrated beyond repair, there is a tender poignancy that makes such objects difficult to discard."
Wilkie's family kept her dress all this time out of love for her, explained Mida, and through this collaborative project, a story unfolds of who Wilkie was, and about the fragility of life itself.
In an attempt to mirror the absence of the vibrant woman who wore the dress, Casey created drawings for the exhibit by inscribing a precise likeness of the wedding dress and lingerie on waxed newsprint using a dressmaker's pin.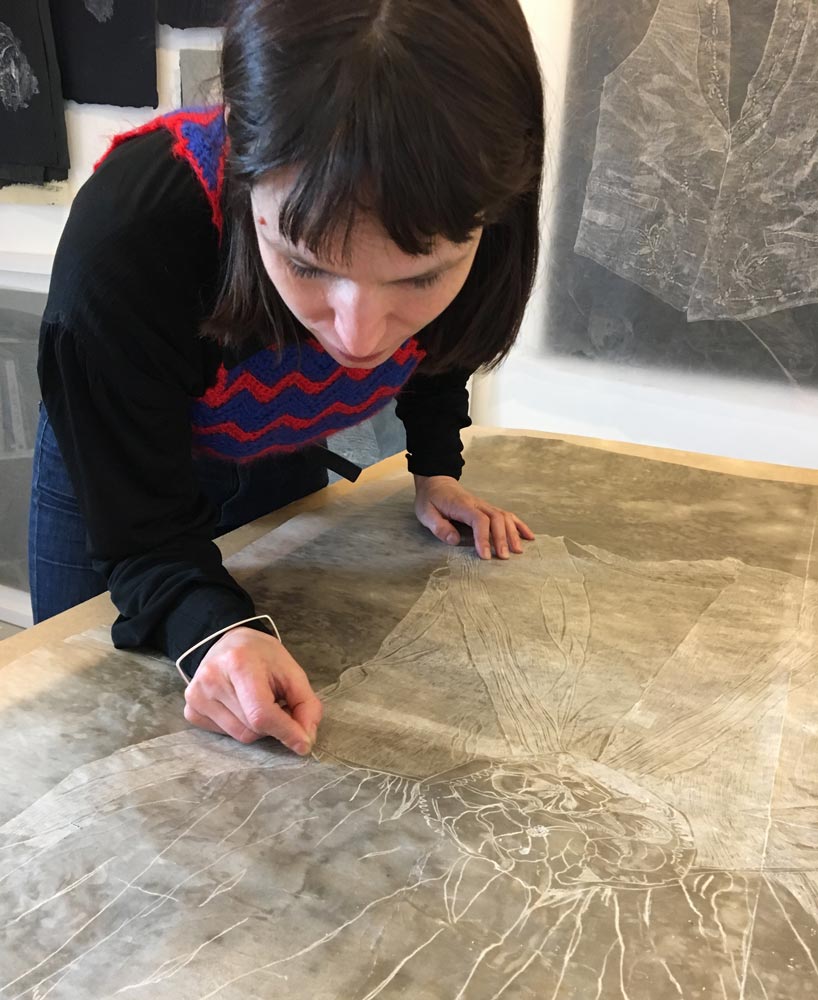 "Sarah's drawing method mirrors the processes of decay, time and memory, because her work will also decay, as the paper deteriorates over time," said Mida. "So her work becomes as ephemeral as the dress itself."
The exhibit also includes other garments, period photographs of Evelyn Normand Wilkie, and a reproduction of the dress made by third-year fashion student Olivia da Cruz. During the run of the show, there will be drawing workshops with Mida and a "Meet the Artist" event with Casey.
"Even Wilkie's choice of dress is interesting," said Mida. "She presented herself wearing a short, flapper dress as a modern woman. Because, even though some women were wearing these types of dresses, wedding dresses were usually floor-length. She made this dress herself, and she did not make that choice."
A copy of Vogue magazine from the 1920s will be included as part of the exhibit to show the popular styles of the period.
Both Mida and Casey use drawing in their work as a way of slow, careful "seeing."
"As I viewed the clothing belonging to Wilkie laid flat in their storage boxes, I was reminded of fairy tale princesses, a Sleeping Beauty, lying in repose," wrote Casey for the exhibit catalogue. "As Philip Rawson writes, through drawing, 'we are able to retake possession of those areas of our own real experience which normally lie unused and forgotten, and so see the forms of realities that nothing else can show us."
The exhibition and all events are open to the public and free of charge. To learn more or to RSVP to events, visit the Modern Literature & Culture Research Centre website.
Absent Presence: A Wedding Dress and the Drawings of Sarah Casey is part of a larger collaborative project by Sarah Casey and Ingrid Mida called Exquisite Corpses, supported by the British Council and the Arts Council through the Artists' International Development Fund, external link (AIOF).