Ryerson tackles quantum threat
Cybersecurity researcher works with industry on security technology
May 23, 2019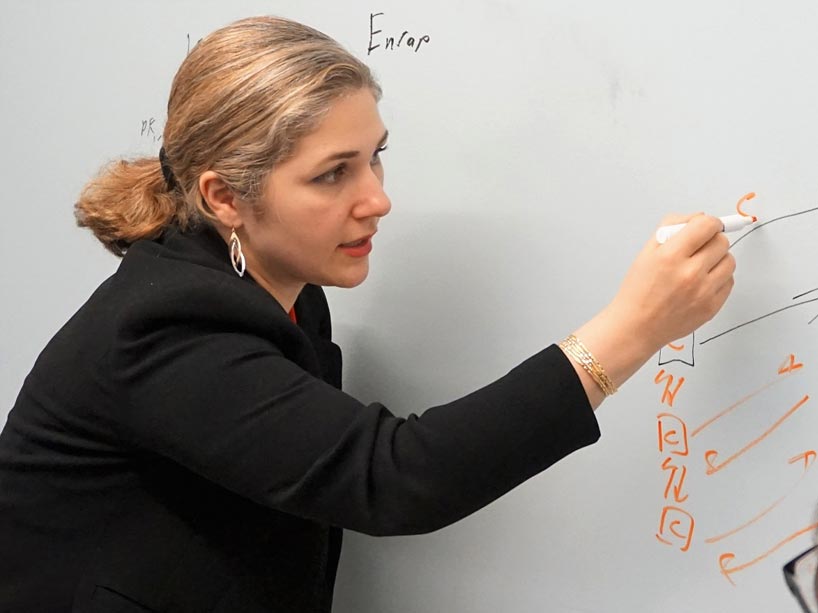 Successful graduates of Ryerson's DMZ business incubator often give back to the university – but rarely after only three years, said professor Atefeh (Atty) Mashatan, director of the Cybersecurity Research Lab (CRL) at Ryerson's Ted Rogers School of Management.
NXM Labs Inc (external link) ., however, recently did just that. In March, the DMZ alum – which has become a leader in autonomous security and data integrity technology – announced NXM's funding of Ryerson's Cybersecurity Research Lab (CRL). The multi-year research sponsorship has already yielded results with the joint work being unveiled as new quantum-safe security technology at the Toronto Quantum Summit, held April 24 and 25.
"NXM has definitely set the pace for other DMZ alum to follow," said Mashatan. "The company is rapidly growing its reputation in autonomous security and Ryerson is uniquely positioned to benefit from NXM's upside."
The CRL is an academic research lab that conducts cutting edge research in the area of information security, based on the real-world needs of industry. While it is independent from the Cybersecure Catalyst, a not-for-profit also based at Ryerson, the two spaces are part of a growing presence on cybersecurity.
"One of the distinguishing characteristics of the CRL is that all of our projects are industry-driven. In other words, we start with the industry problems that require academic help, guidance and insight," said Mashatan. "We're able to see what industry really requires and what keeps them awake at night."
One thing keeping them awake is the threat to information security and privacy posed by new user behaviour on emerging technologies as they become more and more trendy. An example is the devices in Internet-of-Things.
"Identity theft could become more prevalent as online financial services expand," said Mashatan. "This generation is exposing itself to risk through their increased digital presence, and the pace is so fast that we need to do more training to increase the information security and cybersecurity workforce to meet this need, and our lab is contributing to all of that."
The NXM funding will help the CRL train the next generation of cybersecurity experts to address these issues as well as to produce innovative solutions to industry's current and future cybersecurity challenges, said Mashatan.
Ryerson's researchers invented the QUAKE (Quantum Augmented Key Encapsulation), which together with NXM's implementation of it, was demonstrated for the first time at the Toronto Quantum Summit in April. This new security solution protects existing computers against threats from quantum computing – the next generation of computing power that has the potential to quickly crack existing encryption systems.
"We are thrilled to be working with NXM to address the impact of quantum computing and AI on security," said Mashatan. "The company already has a strong intellectual property foundation in autonomous security and we aim to enhance it quickly with our academic research resources on crypto agility, quantum computing and quantum-resistant technologies. This is a win-win for NXM and Ryerson as we focus our expertise on one of the hottest technology sectors."