The roots of Canadian fashion
Transforming the fashion curriculum with a focus on Indigenous culture and design practices
January 08, 2019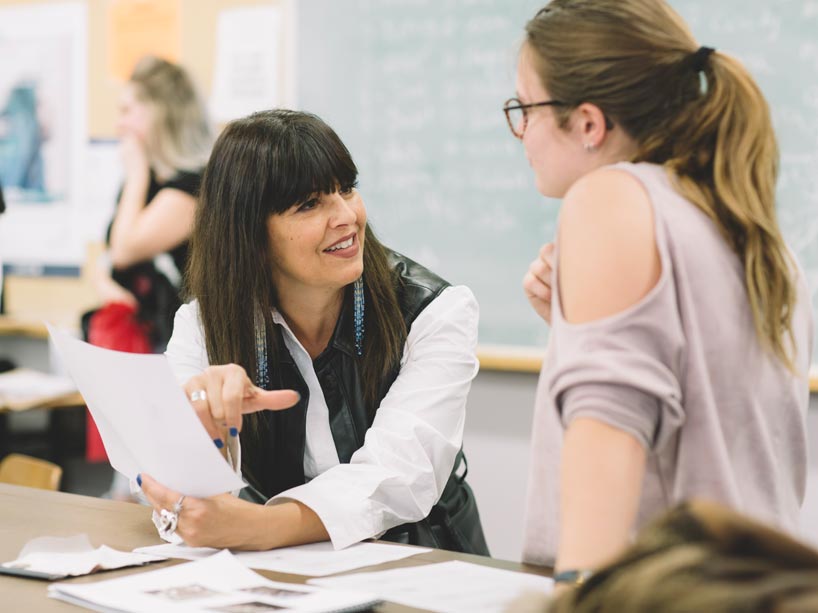 "My fall collection (external link) is inspired by the relationship Indigenous people have with constellations and the night sky," explained Angela DeMontigny, designer-in-residence. An internationally renowned designer, DeMontigny embraces her Cree-Métis heritage to create authentic, Aboriginal luxury fashion that is functional, timeless and tells a story.
DeMontigny was appointed designer-in-residence in the School of Fashion where she will work with students, encouraging them to be inspired by their culture. "Designing with only trends in mind can lead to fashion that is uninspired and lacking in purpose," she says. "I am so pleased to work with students and faculty at Ryerson to share my experiences in developing and launching a luxe Indigenous-inspired label."
Based out of Hamilton, Ont., DeMontigny has been a leader of Aboriginal fashion for more than two decades, and has produced showcases for Indigenous designers such as FashioNation at L'Oreal Fashion Week (Toronto); Fire & Fashion at Planet IndigenUs (Toronto); From Culture to Couture (Toronto) and the first ever Aboriginal Fashion Week during the 2010 Winter Olympics (Vancouver).
"Angela has so much knowledge to share with our students – from running a global fashion business to the importance of drawing from one's own background and experiences," said Ben Barry, chair, School of Fashion. "The School of Fashion is honoured to have her as part of our community, and thrilled that our students will have the opportunity to learn about designing an inclusive, sustainable and decolonized fashion system from an industry icon and trailblazer."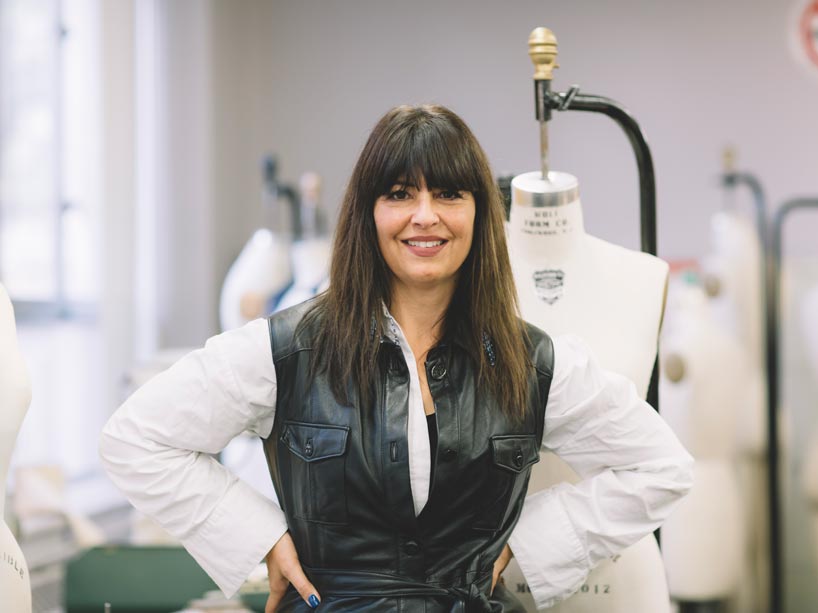 DeMontigny will work directly with Ryerson students, empowering them to embrace their heritage, culture and unique point of view as they delve deeper into their design careers. On October 18, she took part in critiques with a class of fourth-year fashion students where they presented their sketches, fabric choices and preliminary designs to industry experts and their peers. DeMontigny approached each critique with optimism and referenced her industry experience to make suggestions regarding sample making, working with buyers and barriers to the Canadian market.
"My inspiration for my final collection is very culturally driven, which is a decision I made before meeting Angela. However, it was encouraging to see someone successful in the industry who has gone in that direction," said student Li Yin Chen. "Angela was very knowledgeable about how buyers look at a collection, and she encouraged me to think about versatility in order to combine garments for different looks."
DeMontigny will be invited to participate in a variety of classes, lectures and studios throughout the year to help bring non-Western design practices into the curriculum, to provide insight on running a successful fashion business and to encourage students to approach design in a more personal way. Throughout the year, DeMontigny will also hold discussion groups for Indigenous students, students of colour and faculty to discuss racism, discrimination and appropriation.
Ryerson University is committed to Truth and Reconciliation on campus and with the broader community. Respect for Aboriginal Perspectives is a value in the university's academic plan. Ryerson continues to make progress on the Indigenization of campus and the curriculum by responding to recommendations in the (PDF file) community consultation report, which includes incorporating Indigenous knowledges and content and increasing and retaining Indigenous staff and faculty.