A view on urban health from Brazil
Nursing students travel to João Pessoa to take part in community consultation on ending violence against women
December 04, 2018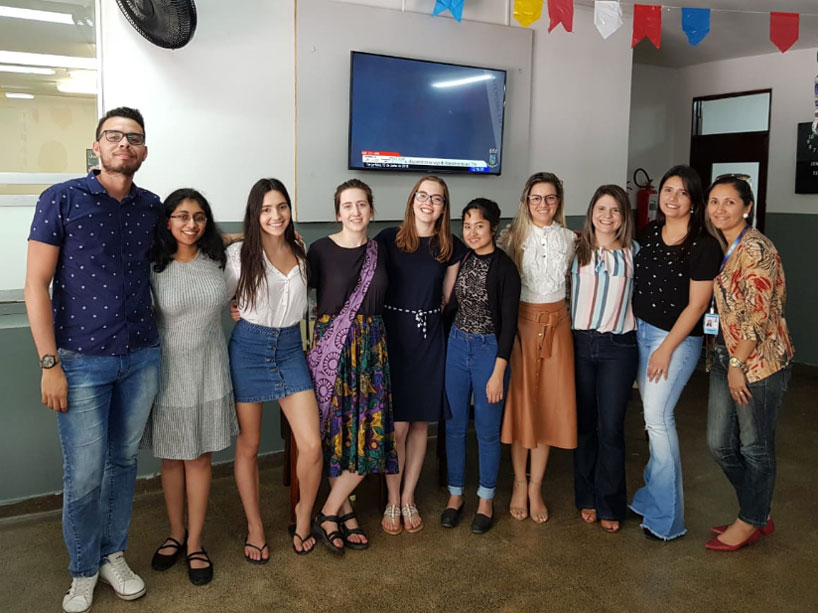 Violence against women is an urban health issue around the world. How is it analyzed from country to country? What are the social, cultural, and political situations that contribute to it? From June 7 to July 31, five undergraduate nursing students travelled to Brazil for an experiential learning opportunity that spans public health, gender studies, and women's health.
The project took the nursing students (Christina Usanov, Raima Lohani, Hannah Stahl, Sharrmini Chandrasegaram and Christine Moniz) to João Pessoa, where they consulted with policymakers, religious leaders, community health agents, judicial members, and other men and women, to better understand the context in which violence against women takes place. Working with the help of translators, the students collected a range of perspectives on an important and sensitive topic in an unfamiliar environment.
"When we started the conversations, they were very formal," said Christina Usanov, fourth-year nursing student. "After a while it became very natural and more personal. You start to realize that the more personal you are with the people you talk to, the more they're able to respond.
"We'd start hearing these stories—sometimes they were deeply troubling, but they were so personal. When we think of research, sometimes we think of people in lab coats and goggles very far away from human society, but this was such a raw experience. It's really incredible opening yourself up."
Ryerson nursing professors Margareth Zanchetta, associate director, Scholarly, Research and Creative Activities, and Sepali Guruge, Research Chair in Urban Health, directed the project, building on research they have conducted in several countries. Substantial funding for the project came from the Ryerson International Experiential Learning Initiative Fund (RIELIF), which provides one grant of $10,000 to support the development and pilot of experiential educational opportunities. Free accommodation was provided by the UFPB. Students were accompanied and supervised by a local partner, Rafaella Souto, professor at the School of Nursing in the UFPB.
"The students were able to build local relationships and create a network of friends to visit different places and observe men and women's relationships, and better understand violence against women," said Sepali Guruge. "From their consultation, we learned different forms of resistance that women experiencing violence enact to deal with violence. For example, how women actively collect evidence of violence so that they can go to court."
"Through these consultations, they learned how to identify different levels of stakeholders, as well as learn to value different voices, including women experiencing violence, nurses, police officers, and politicians. This is very important," said Margareth Zanchetta.
One of the central issues that emerged during the students' consultation was a gender divide in how violence could be addressed. "When we asked women what could be structurally changed in Brazil to reduce the rates of violence against women," said Raima Lohani, fourth-year nursing student, "they thought there should be educational interventions that address the education of children at the primary level on violence against women and the social norms of patriarchy and machoism. A majority of the men responded that women should unite together to support themselves."
Christina Usanov remembers one consultation with a grandmother in the community. "She was talking about her children and grandchildren. She would talk about what she thought should be changed, but then she would follow it abruptly with a statement of, 'Oh, but that's just a lot of dreams…' … Brazil has all this government action, these not-for-profit organizations—all these different things to address violence against women—but things are not really changing. So, talking to this woman was like a culmination of all these different experiences, and there was this feeling that was very tangible in that tiny apartment."
The students' work was presented at Nursing Network on Violence Against Women, International Conference (held at Niagara Falls earlier this fall), and they will present at Ryerson and submit their work to journals soon. They are also working on two manuscripts (in Portugese and English) based on this work. Next summer, more Ryerson students (from nursing, social work and public health) will travel to Brazil to study obstetric violence (supported by Mitacs Globalink), with a goal to turn the work into a globally scaled project in the near future.
This experience emphasizes the importance of extracurricular learning, and the opportunities for professional and personal growth that emerge through such initiatives. Applications are being accepted for the next round of Ryerson International Experiential Learning Initiative Fund (RIELIF). The deadline to apply is Tuesday, January 15, 2019 at 12 p.m. (noon). Projects proposed are expected to align with RIELIF's Guidelines. To find out more about global learning initiatives, visit Ryerson International.