A recipe for success
A student's research into food-blog safety is celebrated at prestigious Undergraduate Awards in Dublin
December 14, 2018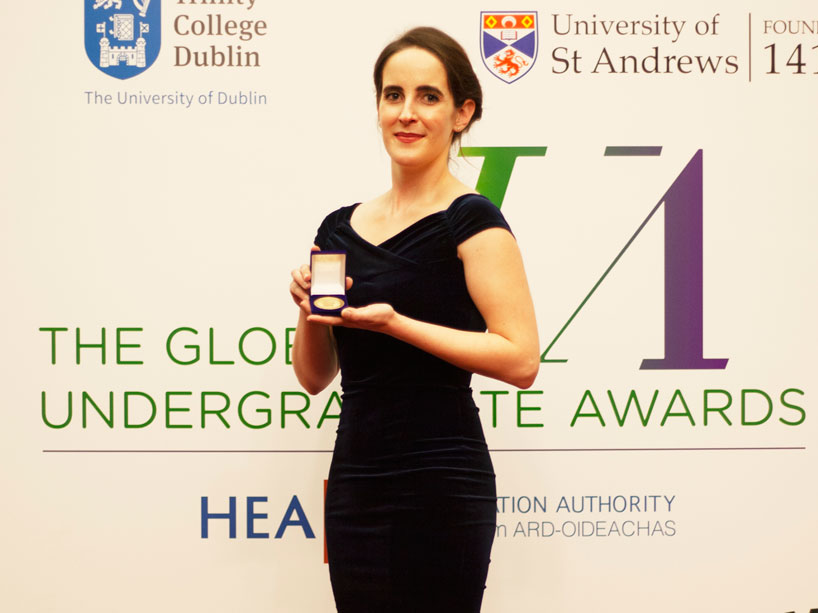 Just because a chef can make a tasty meal doesn't always mean they can make the meal safe.
Emily Morrison (Occupational and Public Health '18) was a regular visitor to food blogs when she started reading studies about how celebrity chefs influence food-handling in their viewers. Turns out the chefs don't always have the rigour to match their fame. "I read those studies of celebrity TV chefs," said Morrison, "and I wondered if the same could be said about these blogs."
Morrison's research has received international acclaim. Her paper ("The Missing Ingredient: Food Safety Messages on Popular Recipe Blogs") was chosen as the Global Winner by The Undergraduate Awards (external link) (UA), the largest academic awards program in the world. She shared her work at the UA Global Summit, held November 12 to 14 in Dublin, Ireland.
UA seeks out cutting-edge undergraduate research from around the world to tackle our greatest challenges, and provides support for promising students. This marks the first time that a Ryerson student has been a Global Winner—the top worldwide submission in a category (she won in the Nursing, Midwifery and Allied Healthcare category). This year, the UA received 4,844 papers from undergraduate students in 333 institutions. "It was surreal when I found out," said Morrison. "I was just sitting at my desk doing work and I got a phone call saying, 'Oh, we're going to fly you out to Ireland.'"
Morrison's research was both important and innovative: despite their popularity, food blogs remain underexplored in academia. She found that recipe blogs rarely recommend using a thermometer to check the final temperature of meat, and that approximately one third of recipes list either the wrong cooking temperature or no temperature at all. "I was surprised by just how few blogs actually considered food safety in their recipes," said Morrison. "It's just as easy to say, 'Cook your chicken to 74 degrees Celsius' as it is to say, 'Cook your chicken until it's no longer pink.'
"I was also interested to see a really popular blog that said things like, 'You can store your turkey at room temperature for four days.' I really hope that was a mistake. I also saw different bloggers who were actively fighting against government recommendations for certain cooking temperatures, saying, 'Cook your meat to a lower temperature because then it will be more flavourful.'"
How to combat the spread of misinformation? Morrison recommends that health educators reach out to local food bloggers and other influencers, and notes that the sloppiness is usually unthinking.
"I think part of it is cultural," said Morrison. "We grow up learning how to cook from our parents, and we learn these 'rules of thumb.' But when you look at the research, it's not necessarily the case that these rules will help you cook your food safely. There are just all these factors that we don't necessarily consider that can affect whether your meat is safe to eat. There's also this idea that if you're a good cook, you don't need a thermometer. It's intuitive, and you can just look at the food and know, 'That's good.'"
In addition to Morrison, two other Ryerson students were recognized at this year's UA Global Summit, both cited as Highly Commended Entrants: Julia Martini (Criminology '18) for her paper "Dissecting the Different Facets of Genocide in Canada: Deconstructing the Colonial Legacy Against Indigenous Peoples through Autocratic Assault within the Child Welfare System" (category: Politics and International Relations); and Saliah Chaudhry (Fashion Communication '18) for her paper "Understanding the Continued Resistance of Oppressive Stereotypes by Western Muslim Women in Creative Industries" (category: Social Studies: Anthropology & Cultural).
Ryerson University has been an affiliate of the Undergraduate Awards - Dublin since April 2016.
Related story:
Student research hits the world stage