Q&A with Janice Fukakusa
Former RBC chief administrative officer and Board of Governors chair is now Ryerson's new chancellor
October 11, 2018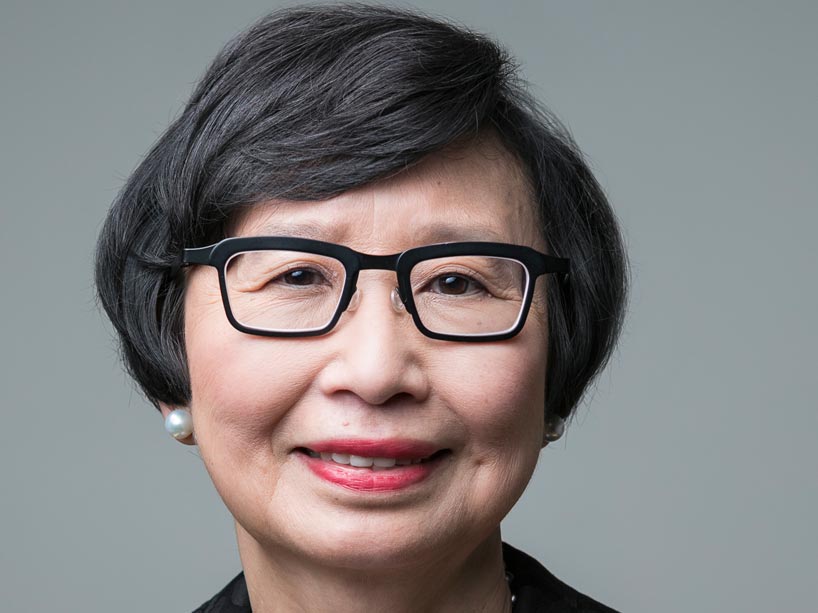 Financial services expert and longtime Ryerson community member Janice Fukakusa is Ryerson University's new chancellor.
In addition to her distinguished 31-year career in the banking and finance sector (including as RBC chief administrative officer, chief financial officer, and member of the RBC Group Executive), Fukakusa serves on many corporate and not-for-profit boards, and was inducted into Canada's Most Powerful Women Hall of Fame. Serving on the Ryerson Board of Governors from 2002 to 2018, including five years as chair (beginning in 2013), she has helped guide the university during a period of tremendous growth. Her new position makes her Ryerson's first female chancellor.
Fukakusa's installation as chancellor took place on October 10. We spoke to her about her years at Ryerson, and what she learned as a student.
What is your current role here at Ryerson?
I'm chancellor, and it involves being an advocate for the students. There are duties you have, like conferring degrees, but I think it is really about students having a voice.
You joined the Ryerson Board of Governors in 2002. What interested you in Ryerson then?
When I was asked to consider joining the Board of Governors in 2002, Ryerson was in transition—it had been a university for under a decade. I thought that I could put my skills to work to help Ryerson accelerate the great trajectory it was on.
In the time you served, what are you proudest of that the board accomplished?
There were a number of things, starting with chairing the search committee for our current President, Mohamed Lachemi, and being on the search committee to hire Sheldon Levy, the previous president. Then there was the Master Plan, which defined how Ryerson would grow as a physical presence in downtown Toronto. So, what am I proud of? Look at the Student Learning Centre. Ryerson on Yonge Street—who would have thought when we did the Master Plan that we could advance that quickly?
But in addition, the academic mission, the entrepreneur mission—it's remarkable. The DMZ was launched, and the zones are multiplying. The DMZ and Ryerson Futures (external link) have been recognized as leading-edge for entrepreneurship and technology. The other great thing has been the expansion into Brampton. When you think about all that happening just at the time I've been at Ryerson, it's been a spectacular growth pattern.
You are the first female chancellor. What does that mean to you?
I'm a diversity champion. Alongside the progress that Ryerson has made on the academic and physical sides, it's acknowledgment of the progress on the diversity side. For me, it's a fantastic way to continue in a leadership role with the diversity and inclusion mandate. For Canada to solve its productivity issues, we need women and visible minorities achieving their full potential.
You worked for many years in banking and finance. How does this inform your work at Ryerson?
If you look at the speed of financial services and development, it's very parallel with what's happening at Ryerson—in terms of the impact of innovation, technology, and serving the broader public. Also, the core themes that Ryerson is focused on—for example, cybersecurity in Brampton, is very core to financial services when you think about digitization. I've been trying to leverage the experience that I've had in financial services to inform what's happening on the education, professional training, and research side.
Looking back at your time in university, what was the biggest obstacle you had to overcome?
It was making choices. Sometimes you're not ready to make choices, but you have to be able to pivot if your priorities shift and you decide you need to do something else. For example, my undergraduate degree is in philosophy and political science, because I found that really interesting: the role of critical thinking, and looking at the past and analyzing it was really important. But when I graduated, I didn't get the kind of job I wanted. I wanted to work in financial services, but I didn't have the training. I decided I had to do my MBA. But that meant a whole different learning and re-learning.
It's making the choices, and then really being focused and determined to execute them. That may mean having to work hard, but just keeping a goal in mind, and making everything you do additive. Rather than second-guessing the choice you made in the past, just make a new choice.
What was the best advice you received as a student?
I think the best advice I received was, you have to be open to continuously learning. It doesn't stop at university—it is a lifelong thing.
Did you have a professor or teacher who changed your life or made a lasting impact?
There wasn't one in particular, but I could see different strengths in many. Universities are large, and you get exposed to more role models just by walking around and going to different classes. That's one thing I found unbelievable: meeting teachers from different countries and learning from that. That's when I also saw the benefit of diversity. The crux of diversity is to achieve diversity of thought. When you get people at the table who have diverse backgrounds and upbringings, you really see the benefit of that collaboration.
When you think about Ryerson alumni, what comes to mind?
When I think about them, I see them in business. I see them on TV. I hear about them winning awards. It's such a diverse alumni group because of the great schools you have here. And I think they've made a very big impact on the workforce, especially in Toronto.
What is an average day for you?
Well, my "average day" changes all the time, because I'm on a lot of different boards. My average day is doing things that are different every day, and then also doing the things I really enjoy, like supporting women entrepreneurs.
What is your favourite book?
The author I really enjoy, because she brings me back to my roots, is Joy Kogawa. She wrote stories about the internment. Her book Obasan is one that I will continually go back and read. The literal translation of "Obasan" is "old lady," but not derogatory—it's a very respectful term—and it reminds me of my grandmother. I always read it because the Canadian experience is so unique.
What is your favourite movie?
I would say the Mission: Impossible movies, because they get more unbelievable as you go on. And the last one is so incredible that you just sit there and laugh, because you kind of know what's going to happen next, but you don't know. I think they do a lot of it tongue-in-cheek, so it gets more and more absurd. I also look at Tom Cruise and say, "Why doesn't that guy age?" I mean, c'mon! It's unbelievable. But the Mission: Impossible films, because that's what I think movies are for: enjoyment and fun.
Favourite place to travel?
If it's North America, then New York, Vancouver, San Francisco, and of course, Toronto. In Europe, I really love London and Paris, and then Tokyo.
What is your favourite part of the Ryerson campus?
My favourite part of the campus used to be when I walked through the Library. Now it's the SLC, because you just never know what's going to be happening there, and the Ryerson Image Centre. But that will change when the Daphne Cockwell Health Sciences Complex is built—it's going to be fantastic. It's all about the new spaces, because they're full of students.
How do you like to relax after a long day of work?
I guess I shouldn't say doing emails, because that's what I do! I like to do word puzzles and solitaire because when I just want to take everything out of my mind, I do the WordSolve puzzles. I don't want to do anything that's too heavy.
Looking back at all of your professional and personal accomplishments, what has meant the most to you?
I think my biggest accomplishment was definitely getting an MBA. I took some courses part-time starting with microeconomics, because I thought, what is the hardest thing?
Microeconomics is so quantitative. I took that course and did really well in it, and so I did a stats course after that. I thought, okay, those two courses were the heavy-lifting for me, so then I did the rest of the MBA. I wanted to be a CPA, and I still hadn't quite nailed down this difference between debits and credits. By the time I finished the year, I was taking advanced accounting. Getting that education really unlocked it for me.
I do a lot of community service because I believe that you have to give back. I'm trying to teach my kids to do that. I've been on the boards at Ryerson, the Princess Margaret Cancer Foundation, Wellspring Cancer Foundation, CAMH, and others, so I've always done community service.
Finally, what is one thing you'd like the Ryerson community to know about you?
I'd like the Ryerson community to know that I'm really open to students, and I'm happy to interface with students if they'd like to sit down with me. My objective is to get to meet as many students as possible, because that's what our future is all about.
*
Related story:
Ryerson University names Janice Fukakusa as new chancellor