Canada under one roof
Newcomer Students' Association of Ryerson panel explores the relationship between Indigenous and newcomer Canadians
October 18, 2018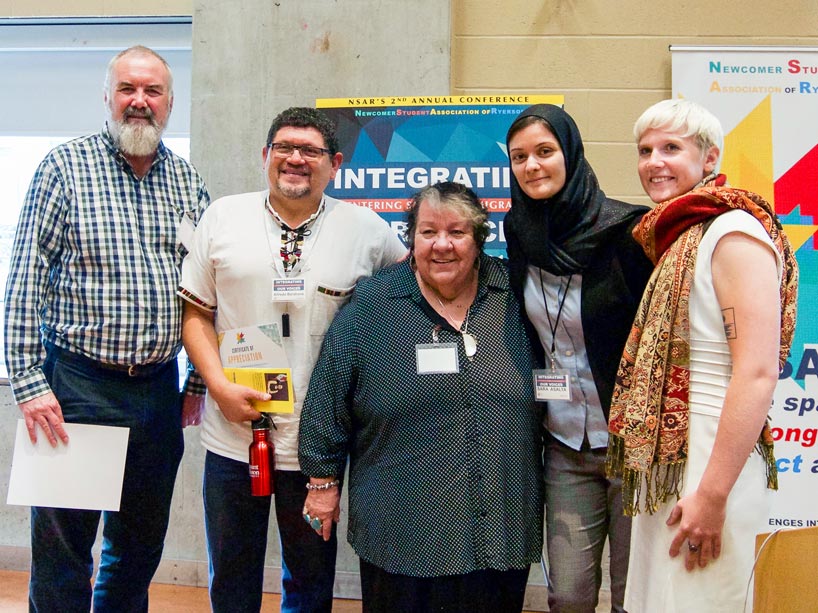 In Canada, 125 Indigenous communities are under boil-water advisories, and many are also on contaminated land. When Canada's first communities live in abject conditions, how does this impact Canada's newest?
This question was at the core of "Living Under the Same Roof," a panel discussion on October 1 that was part of the second annual Newcomer Students' Association of Ryerson, external link (NSAR) conference. Joanne Dallaire (Ryerson's campus elder), Rachel Reesor (VP Community Engagement and Outreach for NSAR, and Immigration and Settlement Studies student), and Alfredo Barahona (Blanket Exercise Global and Newcomer Coordinator, KAIROS) took part in the wide-ranging discussion. The panel was sponsored and co-organized by the Jack Layton Chair, and moderated by Ken Moffatt.

Joanne Dallaire began by praising the strength and courage of Canadian newcomers. "I have tremendous respect for anyone who could come into a country where they do not know a language; where they do not know the laws; where they do not understand the customs and religious practices of such varied people."
Emphasizing that newcomers are not responsible for the deplorable conditions on Canada's reserves, she identified a dangerous atmosphere of resentment between refugee and Indigenous communities. "When we had the big flux of immigrants come in … did I get a lot of comments on that," she remembered. "The clothes, the money, the place to live…"
Dallaire also emphasized that resentment between two oppressed communities can only serve the oppressor. "That's just a war tactic. You conquer and divide, and give to some and take away from others, pit the people against each other, and nobody says, 'What the hell is really going on here?' That's what we need to do.
"We have a lot of problems with people coming over and taking what they want. So, whether you're aware of it or not, it's kind of an invisible wall. If you're going to go into a community where there's a high Indigenous population, that's maybe something that you're going to feel. And I just want you to know that there are some people who really are furious about that—but the majority of us, as we did in the very beginning, in the very first year of Europeans taking over, we welcome, we share."
To foster relations going forward, Dallaire encouraged newcomers to educate themselves on the rich history of Canada's First Nations. "I really think that if you're coming to Canada, you need to know the history; you need to know about the land that you're walking on; and you need to know about your responsibilities. Because some of you are coming from oppression. Some of you are coming hoping for a better life, a better education."
The barriers are systemic and pervasive, and built into even seemingly benign institutions. Rachel Reesor pointed out that "multiculturalism" has often itself been a tool of colonial oppression—a "coping mechanism" of dealing with diversity. Presenting research from her master's thesis in immigration and settlement studies, Reesor observed, "Multiculturalism keeps Indigenous people and newcomers separate, because when newcomers come to Canada, they're absorbed into Canada's white, western, colonial society."
This manifests itself in many ways, from the relative dearth of information on Indigenous peoples in Canada's official citizenship guide, to the Canadian state's definition of Indigenous peoples as "visible minorities"—"only further demonstrating how they're not recognized as the first people of Canada," said Reesor.
Broad, systemic change is vital to build solidarity, but Alfredo Barahona also called for personal responsibility. "We make excuses for ourselves. We also need to be self-critical, and say, 'I'm not going to make excuses anymore.' Yes, there's only so much we can do with our time; yes, there's only so much we can do with the resources we have; but when we want, we can do something with very little. There are many examples in communities that I've worked with, which they do on a day-to-day basis, and we're not talking about mega-bucks."
He added, "I need to recognize that I need to learn everywhere I go in this land: who were the people who were here first? And I need to be in solidarity with that. It's not only learning … it's also standing in solidarity."
Dallaire concluded that true diversity—involving respect, reciprocity, and education—will strengthen the country. "The pot keeps getting stirred. The more immigrants that come in, the more blended we become, and the more enriched we all are knowing each other's stories and lives. So I ask that you enrich yourselves with knowing our story, and understanding how that impacts you, and the beautiful parts of our story."
*
The panel was part of an ongoing NSAR initiative called Living Under the Same Roof, external link, a series of events and panel discussions that focus on building solidarity between migrant and Indigenous communities.