Tattoo company fosters a new kind of art
Business with Fashion Zone roots grows with $10 million in funding
July 31, 2018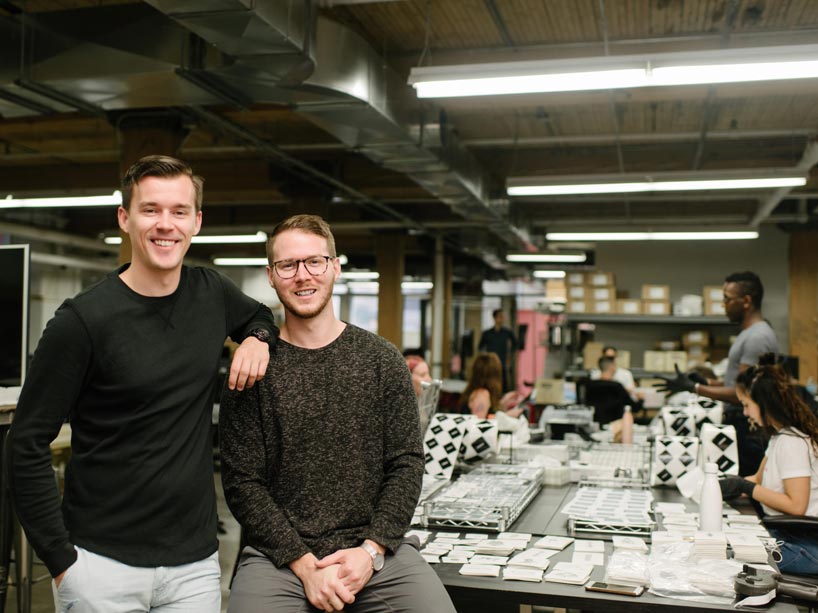 A unique tattoo business with Fashion Zone roots is riding high with US$10 million in new funding. Inkbox, external link, cofounded by Ryerson grad Braden Handley (entrepreneurship '12) with brother Tyler, specializes in artful temporary tattoos that are ingrained in the skin. Typically lasting two weeks, the tattoos are more durable than the stick-and-peel kind, but still just a two-week investment (one of their cheeky slogans is "Temporary Bad Decision").
But wait—"temporary tattoos" might not be the right terminology. "In the first two years, we never used the term 'temporary tattoos,'" says Braden Handley. "We use 'semi-permanent tattoos', which aligns well with the cosmetic industry: semi-permanent hair dye lasts for around the two-week mark as well."
"One of our goals internally is just to make the concept of temporary tattoos cool," says Tyler Handley. "The stuff you had as a kid, you think of being cheap—but ours are very different. Instead of making them kitschy and goofy, ours have more meaning behind them. We like to use the term 'authentic.' It looks like a permanent tattoo, but that's not the important part. The important part is that it's in your skin, and is a part of you for two weeks."
Inkbox began life at the Fashion Zone, external link in February 2015, where they patented a $15 tattoo kit (ink, stencil, protective globe) and launched a successful Kickstarter campaign. The business grew rapidly: at its current King Street office, it employs 60 people and ships 60,000 tattoos per month.
They attribute much of their success to being the right product at the right time. "We're really strong on social channels," says Tyler. "Our product works really well on Instagram, works really well on Facebook, it's visually appealing."
"There are also deeper trends, like rapidly shifting consumer desires and identities. There is a desire among millennials and Gen-Z-ers to rent instead of own things. You can think of those trends playing well into Inkbox: it's a tattoo that changes as you do."
"Ryerson helped me get into work mode immediately," remembers Braden. "You were taught how to be an employee. It's a lot more hands-on at Ryerson. We were given a lot of assignments that were real work assignments. We were put in internships, especially in the entrepreneurship program, where we actually just went and worked for an entrepreneur. It really helps you understand what the workplace is like, and I think we were ready out of school.
"Ryerson was great for connections," he adds. "We met a lot of people that we're still friends with who we can bounce ideas off, get feedback from, and they're doing well too."
The $10 million in funding was raised from a group of venture capitalists. With the company already established, the funding will go towards scaling up operations. "We're going to be growing a lot in the next couple of years," says Tyler, "bringing thousands of artists to create a marketplace for a completely new form of self-expression— allowing artists, illustrators, people around the world to make art that lives in others' skin."
What advice do the Inkbox founders have for aspiring entrepreneurs? Braden is blunt: "Learn to do everything yourself, and don't do what you love—do what you think you can actually be successful at."
"Yeah, people say 'chase your dreams'…" says Tyler.
"…and we don't believe in that!" says Braden.
"Chase your dreams, but your dreams have to align with your natural abilities as well," says Tyler. "Everyone has predispositions and skills."