Creating a space on campus for Canadian newcomers
Founder of Newcomer Students' Association of Ryerson honoured by RBC
August 09, 2018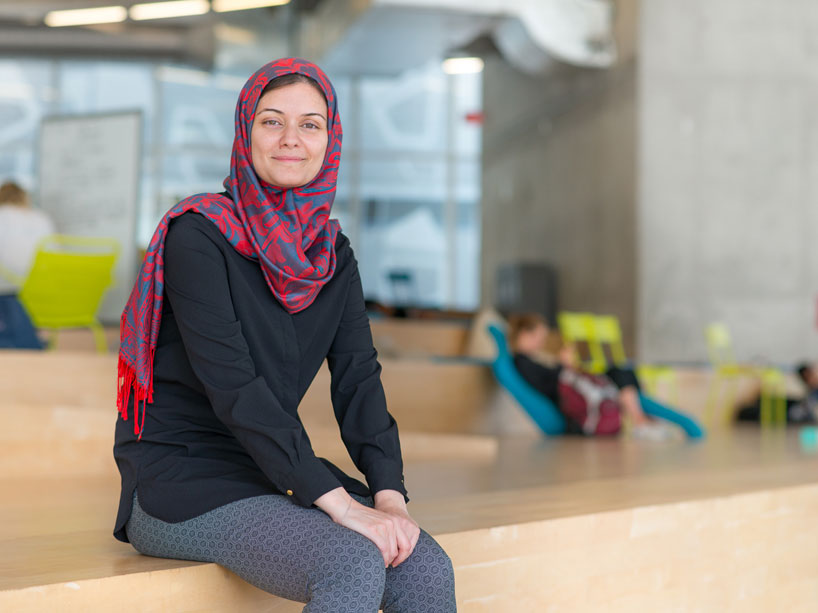 The first day of school always feels a little scary. When you're a mature student and a newcomer to Canada, that feeling can turn into isolation. Sara Asalya, whose trajectory leads from the Gaza Strip to the Chang School, knows the barriers to inclusion that newcomers face. To make the system easier to navigate, she founded the Newcomer Students' Association of Ryerson, external link (NSAR).
Recognized for her work with newcomers at Ryerson, Asalya is one of this year's honorees at the RBC Top 25 Canadian Immigrant Awards, external link, which "celebrate the outstanding accomplishments and leadership of newcomers across Canada."
"If you want to learn about resources—counselling, advising, academic policies, scholarship, grants, student groups, volunteer opportunities, Orientation Week—and you have zero knowledge about the campus, you can feel overwhelmed," says Asalya, who began taking Chang School courses in 2015, graduated in 2017, and now works on the SEAL team at the Student Learning Centre. "You need someone to mentor you and assist you through the first couple of months to get familiar with the campus and resources."
Asalya was born and raised in Jabalia, a refugee camp in Gaza, and earned a bachelor's degree in English language and literature from Islamic University. After moving to Canada in 2012, her decision to pursue education was similar to that of many newcomers: Canadian credentials make it easier to get a Canadian job.
"I had my bachelor's degree from back home, so I was looking for something hands-on—something practical that could help me with my job hunting," she says. "I was impressed with the Chang School and the amount of courses and certificates they offer. They had flexible options in-class and online, and I have two kids, so this worked very well with me."
Her interest in community engagement led her to pursue a post-graduate certificate in Community Engagement, Leadership and Development. She also wanted to channel this interest into a project that could make the university experience easier for newcomers to navigate. "For me as a newcomer to Canada, coming to a new education system, there were many challenges, including language barriers, or even speaking with an accent in a classroom," she remembers.
Founded in 2016, the NSAR was the first organization of its kind on campus, offering a space for immigrant and refugee students to build networks and share experiences. It started small: "I started out doing one-on-one meetings and focus groups with newcomers and immigrants, and many of these newcomers are women who struggle with finances, securing childcare, university—so we started this small network for mentorship. We didn't have funding or anything."
Since then, its initiatives have expanded to include an Empowering Immigrant Women Club, external link, a Welcoming Campuses, external link research initiative, a Rohingya refugee awareness, external link campaign, and Living Under the Same Roof, external link, a series of events focused on building solidarity between migrant and Indigenous communities. NSAR has also launched a scholarship for the 2018/2019 school year, which is open now, external link, with applications due by September 15.
A turning point for NSAR came in November 2017 with "Integrating Our Voices: Centring Stories of Migration," the organization's first annual conference about the experience of migrant and international students in higher-ed. "The conference we did last year was a big success that really took the organization to a different level," says Asalya. "We gained so much momentum and we were able to secure funding to offer more programming for immigrants and newcomers at Ryerson." The second annual conference will take place again at Ryerson in October.
Outside of NSAR, Asalya has worked as a case worker and peer leader for organizations ranging from Lifeline Syria to Agincourt Community Services Association, and is an organizer and facilitator for the Jack Layton Leadership School at Ryerson. She has also received the Chang School's Walter G. Pitman Award and Marilyn Booth Award for her academic excellence, leadership and outstanding contribution to the Ryerson community. She is currently pursuing a master's degree in higher education at University of Toronto.
Looking back at her own trajectory, Asalya's advice to newcomers is simply: reach out.
"That was one of the things that maybe delayed my initiatives at Ryerson: I was shy about reaching out. Just get out of your comfort zone, connect with the right resources, and ask questions. The opportunities are there—they're just waiting for us."