Unlocking the mysteries of dementia
How Ryerson researchers are contributing to the field of aging and memory
July 16, 2018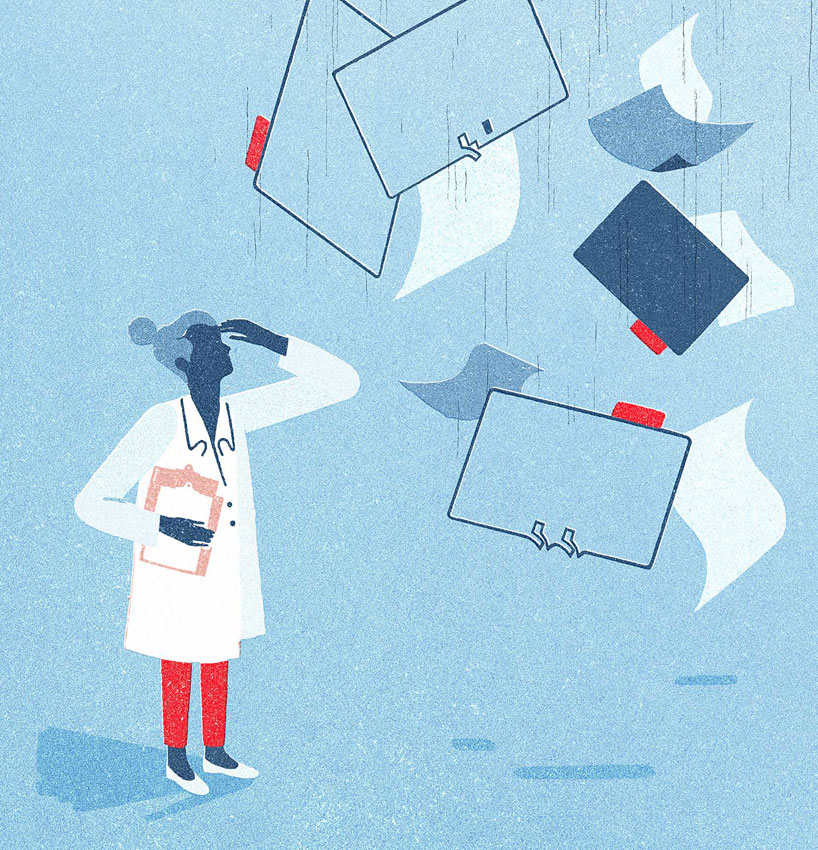 What's the secret to sharp memory in old age? How can we better understand and support people with dementia?
As the oldest of the baby boomer generation settle into their 70s, researchers at Ryerson University are making important contributions to the fast-changing field of aging and memory. From retina scans to detect Alzheimer's disease, to research on how motivation affects aging brains, to artwork inspired by data on dementia patients, great minds at Ryerson are finding innovative ways to support memory in old age, and provide solutions to an age-old disease.
A retina scan for Alzheimer's
Eliav Shaked is looking up at a portrait of an elderly man with advanced Alzheimer's disease. His pupils are unusually small, his gray-blue irises opaque, without detail. "They have an emptiness to them," says Shaked, the founder and CEO of RetiSpec, external link.
It's long been known that the eyes show signs of Alzheimer's, the most common form of dementia, with "plaques" that build up in the brain noticeable in images of the retina. But no one has yet created a test to measure the complex combinations of eye changes that could signify Alzheimer's. As other possibilities for Alzheimer's screening, such as brain imaging or lumbar punctures, remain too expensive to be commonly used or accessible, Alzheimer's is most often diagnosed based on the symptoms it causes, once it's already affecting how people recall and reason.
Researchers have found that the early biomarkers of Alzheimer's begin to manifest in the eye years before symptoms begin to show. With drugs that slow down dementia expected on the market in the next 10 or 20 years, Shaked wants doctors to have the opportunity to intervene before it's too late.
A biomedical engineer from Tel Aviv, Israel, Shaked began working on a retina scan to diagnose Alzheimer's in 2015. Six months ago, that work got a major boost, thanks to support from the Biomedical Zone, external link, an office of biotech startups in downtown Toronto that's a partnership between Ryerson University and St. Michael's Hospital.
"Things have been happening so much faster since we moved here," says Shaked. "It's been incredible." The Biomedical Zone not only provides access to doctors and patients, but also to fellow engineers and funding organizations—RetiSpec has received grants from the Ontario Brain Institute and the Ontario Centres of Excellence.
Shaked's team is currently designing a clinical study of patients they'll follow for a year, to prove the simple scan can detect some of the earliest signs of the disease.
The research hits home for Shaked. A close family friend with Alzheimer's just passed away. Shaked remembers how helpless he felt when he was told not to visit her as she wouldn't even recognize him. He'd known her for decades; she was someone he'd joked around with and deeply respected. "By your 80s, you're likely either living with Alzheimer's or taking care of someone who has Alzheimer's," he says. "It's an epidemic, and I want to be a part of the fight against it."
How motivation and interest can boost memory
Decades ago, memory was thought of like a machine—data in, data out. But research has since shown that memory is far more complicated than that. "It is very much influenced by an individual's intentions, interests and emotions," explains Julia Spaniol, director of the Memory and Decision Processes lab in the Department of Psychology at Ryerson University.
Spaniol and her graduate students are working on several projects to show how these factors influence our ability to recall information. In one, Liyana Swirsky, a master's student, is researching how motivation can help seniors with the reduction in 'memory selectivity' that comes with age—seniors are less able to tune out irrelevant information.
In the study, young adults and seniors above 60 were shown names and faces. In the first stage of the study, Swirsky asked each participant to press a button when a repeating face came up, and to ignore the names. In the second stage, she instructed participants to memorize the name-and-face pairings, but had mixed some up. Compared to the younger adults, the older adults had trouble remembering the new face-name pairings.
Then, Swirsky ran the test again, but this time, she motivated the older and younger adults with points and feedback. As a result, in the second test, seniors scored as well as the younger adults in memorizing the new name-face pairings.
The research supports similar studies elsewhere, as well as Spaniol's previous research activities, including conducting functional MRI scans that showed that older adults have greater activity in the prefrontal cortex of their brains when motivated to perform a task, compared to younger adults.
The research suggests a senior's level of engagement will highly affect their cognitive abilities—and how engaged people are might go a long way to explain the huge variation in memory performance among seniors. In other words, the key to a sharp mind in old age might not be computer brain teasers, but finding the people, topics and activities that inspire us.
Using artwork—and sensors—to understand dementia
As a geriatric rehabilitation nurse and professor at Ryerson's Daphne Cockwell School of Nursing, Kristine Newman sees the many ways that societal stigma and lack of understanding regarding dementia is harmful. It stops people from getting the care and supports they need, she explains.
Driven by her desire to combat the stigma, Newman's research shines a light on the lived experiences of people with dementia. In her current project, Newman's team has outfitted the rooms of people with dementia with motion and touch sensors, given the subjects wrist monitors that track vital signs such as heart rate, and installed hallway video (all done with consent). The research team is developing a predictive system that establishes patterns, in vital signs and movements to recognize the subtle early signs of agitation. Newman's research is supported by the Alzheimer Society Research Program and the Faculty of Community Services.
This fall, Newman's team will express the research findings in a unique way, through an exhibit of artworks—drawings, videos and written words—at the Toronto Rehab Institute. The art, inspired by the data, will reveal what it's like to feel helpless, confused, and overwhelmed by frightening stimuli. Newman hopes the project will help the research resonate with a broader audience while creating more empathy for people with dementia.
"Often research is disseminated in a journal article and inaccessible to the general public," she says. Art can reach many generations, she points out, which is important as Newman's earlier research shows young people who frequently care for older relatives with dementia don't receive enough guidance and recognition.
Newman hopes the sensor-driven project can inform 'smart' systems that identify some of the early signs of stress in a person with dementia. Systems could have automated responses, perhaps calm music could be played or a care provider could be alerted. "With advances in technology, we can promote a safe environment for people so they can be more independent."
Ryerson's research runs the gamut from early diagnosis of Alzheimer's disease to improving the lives of those in the advanced stages of the disease. Partnerships with health-care institutions and seniors in the community propels the research—turning stigma associated with dementia to understanding and hope.