Goodbye Ivan Joseph
Ryerson athletics director steps down after 10 years of unprecedented success
June 21, 2018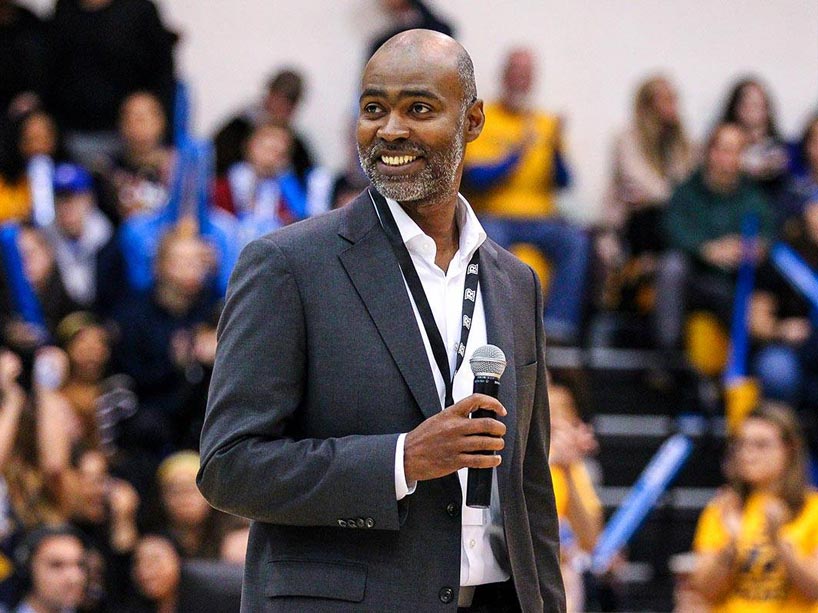 It took Ivan Joseph 18 months before he felt fully comfortable in his role as director of athletics at Ryerson. "I remember waking up in the middle of the night—it was in January 2010—and I was like, 'Yeah. I got this.'"
The moment occurred in a hotel room during a trip to IMG Academy in Bradenton, Florida. The previous day, Joseph had seen the U.S. men's national team train, and heard the school's founder talk about the future. "He laid out his vision and how it worked and how it was a 10, 15-year plan, and I said: 'Yeah… I can do this.' I felt like I was able and capable, and I knew we had good people, and I could see how we could move forward.
"I tell this to all people who start someplace new: it took 18 months before I felt comfortable. Before I had built the coalitions; before I was really able to say, 'Not only can I do this job, but I'm going to be the very best at it.'"
By any measure, he achieved his goal, shepherding Ryerson athletics through a period of enormous growth and success since 2008. Now, he is stepping down to begin a new position at Dalhousie University as vice-provost of Student Affairs. "I didn't want to go do this job somewhere else, because I don't think there's a better place to be a director of athletics. We have the best facility in the country. But I wanted to do something that has me just as scared as when I started this job, and that's the vice-provost for students. I wanted to see if what I did here, I could scale up."
The past 10 years have been a time of increased investment in Ryerson athletics: there was a successful 2009 student referendum for a new athletic facility that led to the opening of the Mattamy Athletic Centre at the former Maple Leaf Gardens. That referendum—which passed with 74.3 percent approval from the student body—was another turning point for Joseph: a sign that the students had given him a mandate. "There were a lot of us who had big dreams for what Ryerson could become, but it was the students who were deeply invested in the vision," he says. "They wanted this university to be great and they were basically saying to me 'Okay, we did our part. Now make it happen.'"
This investment has had unprecedented results, with the school winning its first OUA titles (women's and men's basketball in 2016) and the ultimate prize, a national championship (women's volleyball's 2018 U SPORTS Championship). "I wanted to be the best athletic department in the country," says Joseph. "Success is so much about your belief in yourself. I think we were able to change the narrative. We helped our students shift their personal expectations. When I talk to student-athletes now, they expect to win, but they also expect to do community service, and to put in the time to excel in their courses.
"Athletics and Recreation has a unique ability to help young people become the best version of themselves," says Joseph. "We have arrived at a point where everyone involved aspires to be more. They see their calling as something higher than just running drills or trying to win games. They want to make a difference."
Today, Joseph is proud that the athletics department is regarded as consistent with Ryerson's other innovative programming. "We have a unique academic experience: the programs that we offer here, you can't find anywhere else. Tell me where you can find a midwifery program at a university level. Sport media… radio and television… fashion… interior design… this university has those exceptional types of academic programs.
"But what we combine that with is more national team coaches of any other university in Canada: Roy Rana, world champion; Carly Clarke, world champion; Lisa Haley, Olympic gold medallist; Dustin Reid, national champion—the list goes on. If you want an NCAA mid-major experience, but in Canada, in your own backyard, Ryerson is the place to choose."
When asked for his fondest memories, Joseph remembers the referendum and the championships and the opening ceremonies, but he also remembers a less flashy moment that happened just this month.
"We had a student that came through our Spanning the Gaps program who normally wouldn't be here, who we gave an opportunity to," he says. "That student went on to become a CIS MVP and win a national championship at the women's volleyball tournament. It wasn't the international tournament so much as it was the fact that athletics did what it was supposed to do: be the hook that allowed somebody to come to the school, and it kept them engaged and connected to the community so they can go on and living meaningful lives and give back to their own communities."

Related story:
PODCAST: Making champions: How Ryerson won its first-ever national title