Shirley Cheechoo: not a survivor, but a warrior
Cree artist, educator, actress and filmmaker speaks out on the aftermath of residential schools at White Privilege Conference
May 24, 2018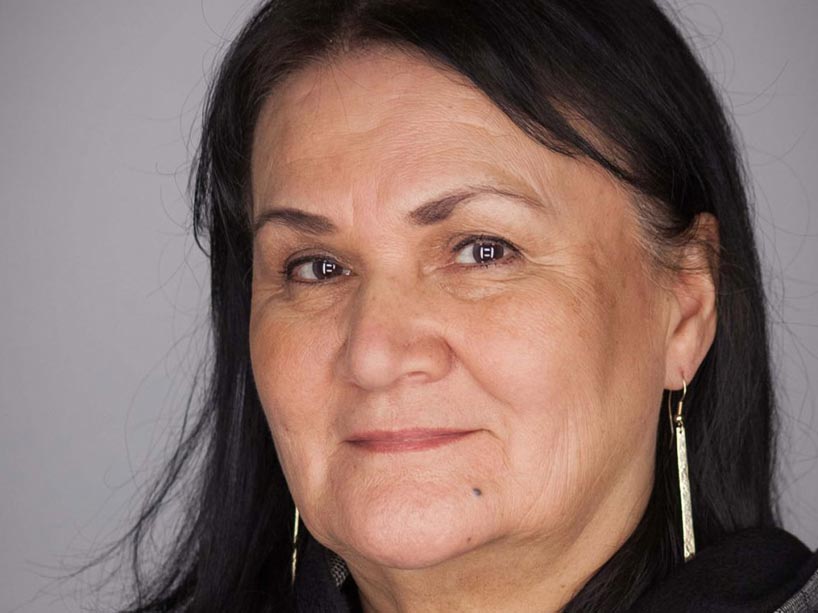 When she was nine years old, Shirley Cheechoo was taken from her parents as part of the Sixties Scoop (the large-scale removal or "scooping" of Indigenous children from their homes, communities and families of birth), becoming one of thousands of Indigenous children to endure life at Canada's residential schools. On May 10 at the White Privilege Conference Global - Toronto, the artist, actress, filmmaker, and educator conjured a vivid image of the community where she lived before the scoop—and the pain that reverberated after.
"I was taken away from my parents," said Cheechoo during an emotional keynote address. "Taken from a community where the Cree language was free-flowing in the air, and gave us life. The animals came to us, and we ate healthy food, and everybody trusted each other. The children ran in the fields without fear of being lost or taken by a stranger.
"Education in our community was the land, the elders, and our parents. The whole community was our teacher: everyone was responsible for teaching the children and the young people how to live a respectful and valuable life."
This world was lost, giving way to the violence, abuse, and psychological trauma endured by so many of her generation at residential schools. "I let go of my father's hand, to show him that I have to be brave, to learn to be a white man. Ouch—my skin is burning from this white liquid being poured on my body. I do not make a noise because my mother told me, 'Do not cry. Be strong.' … They told us if we ran away our parents would die."
The erasure of Indigenous culture and the separation of families left Cheechoo's community shattered. "I didn't fit in anywhere," she said. "My community didn't want me because, as they said, I thought I was too good for them because I was educated. The white communities didn't want me either because I was an Indian—a dirty, stupid, lazy, drunken Indian whore, is what I was called. … I hung out with crowds that didn't judge me. It was my choice to allow drugs and alcohol to drag me down."
"I know so many from my school that could not handle the pain," she continued. "I know so many who took their lives, as their parents who were supposed to help and protect them had broken wings, and could not surround their children with hugs when they needed it. They were damaged too by the residential school system."
An incident of violence led Cheechoo to change her life, quitting alcohol and drugs cold-turkey and devoting herself to creative expression. "My grandfather once told me: 'Forget, but never forget about it. … Self is not something already made. It is through your choice of actions you create your best self.'
"'I have to turn my life around'—that is the choice I made to myself. I must embrace the weight I carry from the past, and stop being a victim of it. I am not saying to forget, but to let go, and move forward."
Her subsequent career as a creator and educator has been distinguished and multifaceted. She became the first First Nations woman to write, produce, direct and act in a Canadian feature film. She played major roles in the CBC series Spirit Bay and The Rez. She has directed eight films and written three plays, including Path With No Moccasins. She cofounded the Kasheese Studios art gallery to promote Indigenous artists, and founded the Weengushk Film Institute, external link and De-Ba-Jeh-Mu-Jig Theatre Group. She is currently serving as the first female and first Aboriginal chancellor of Brock University.
Today, she is driven by her responsibilities as a role model and teacher. "How many more years are we going to leave the children and the youth in the hands of unemployment? How many more people will have to fall into the trap that steals and butchers lives, dreams, and hopes of our next generation to come? We must learn to defeat the system and fix the problem now, and we must do it together. The third world country is right here in our back yards."
During the keynote address, she called on Indigenous communities to support young people's achievements. "One of the biggest problems with success in our community is that people in our community try to stop you because you are successful. We have to start recognizing when people in our communities are successful and start supporting these people. Our young people would see this sincere gesture, and it empowers them to work harder toward success."
She also called for retirement of the phrase "residential schools survivors," and for a more complex understanding of what it means to have been through this system.
"We have not survived," she said. "We live with this every day of our lives. In some cases we thrive. But we fight within, because something always triggers what we have been put through as a child. We should be identified as residential school warriors."
*
Keynotes and other speeches from the White Privilege Conference Global are available to view through Ryecast. Shirley Cheechoo's speech begins at 41:50 at ryecast.ryerson.ca/80/Watch/12576.aspx.

Related stories:
What is white privilege?
Getting comfortable with the uncomfortable