A day in the life of campus
Opened in 1948 to teach practical, career-ready skills, 70 years later Ryerson University has grown and evolved, and its versatile spirit continues to shine
May 29, 2018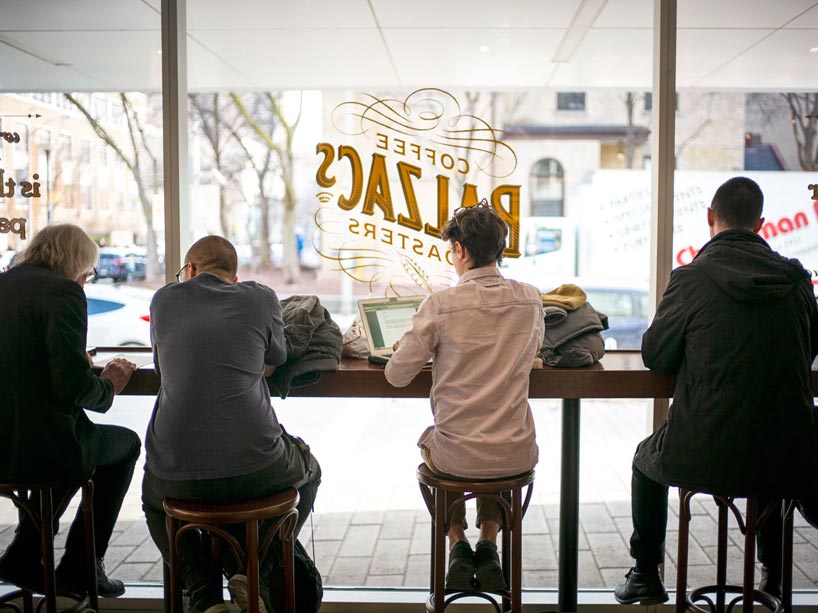 At 6:50 a.m., the busiest intersection in Toronto is still asleep, and the Ryerson campus is mostly empty. Walk along Gould Street and you might see a couple of residents from Pitman Hall looking for a bagel, or some early-bird students trying to get a head start on the Library printers.
When Balzac's opens at 7, there's one person waiting to get a coffee. By 7:10 there are two, by 7:20 there are five, and by 8 the café is almost full. By then, the daily mix of business people, tourists, street preachers, and colourful characters have congregated around Yonge and Dundas. Ryerson wakes when Toronto wakes. Over the next few pages, spend a day on campus—find out what's happening, and how it became possible. Few universities in Canada are as densely and seamlessly woven into a downtown core as Ryerson. As Toronto has grown and evolved, so has the university.
In 1852, when the Normal School opened to train Ontario teachers, downtown Toronto was still mostly rural. In 1948, when the vacated buildings were reopened as the Ryerson Institute of Technology, not much had changed. One of Ryerson's first student societies was an equestrian club, which required only a quick trip to Sunnybrook for practice. "In those days, you didn't have to go very far to get to the country," says Ronald Stagg, Ryerson History professor.
Ryerson's mascot was always a ram, but back then it was a real animal. "They had, I think, four live rams," says Stagg. "It was quite a thing, because other schools liked to steal the ram. There was quite a competition: they would take it and decorate it. But it became... not acceptable." Today, our foam-and-felt friend Eggy handles mascot duties; the skulls of those original rams are filed away in Ryerson's Archives & Special Collections.
Emerging after the Second World War and with many veterans amongst its students, Ryerson offered a practical education in the new industries that had appeared during the war, from aircraft and automotive manufacture to electronics repair. The school was the brainchild of Howard Kerr, the first principal, who dreamed of an "MIT of the north" but whose idea was resented by more established universities.
Kerr was sensitive enough to this skepticism to introduce a dress code in 1954 (shirt, tie and jacket for men; dress and blouse for women). "He was very worried that Ryerson would not be well-received, so he wanted to show that these were really the kind of students you would want to hire for your business," says Stagg. As a principal, Kerr was regarded with a mix of respect, fear and appreciation. "Probably more of the 'respect' and 'fear' than the 'appreciation,'" says Stagg. "He was very good at supporting students...on the other hand, he would not tolerate any hijinks of any kind."
The dress code would be phased out, and much more would change over the next 70 years. Courses devoted to jewelry repair, barbering and cooking disappeared; Ryerson would become a polytechnical institute, then a university granting degrees. One thing that hasn't changed is Kerr's vision of a school that would be adaptable to the times.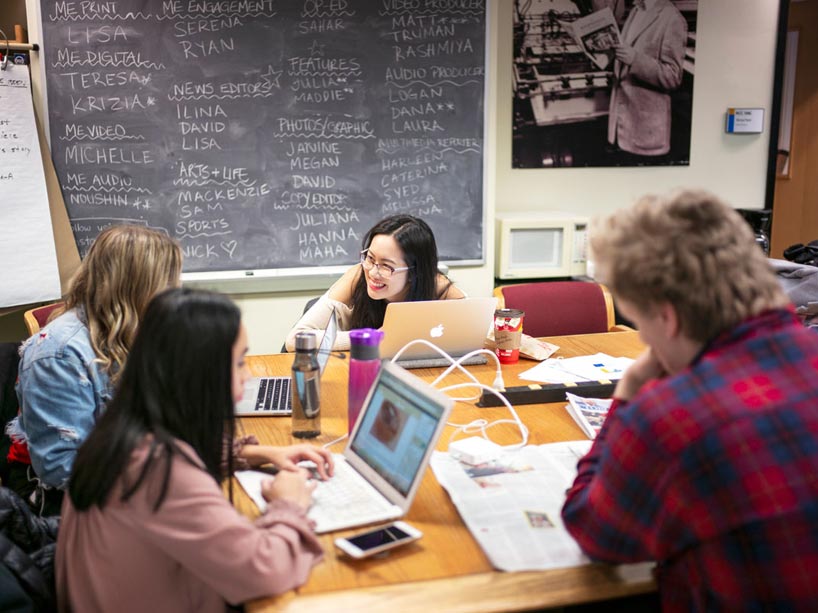 Adaptability is crucial to the Ryerson School of Journalism. Founded in 1950, Ryerson's journalism program is one of the school's oldest, and one of the most respected in the country. But in a constantly changing industry, it can never become static. Professor Asmaa Malik, who teaches digital skills to graduate students says, "The tools themselves are not really worth anything unless you're doing something with them."
The next generation of journalists will have to tell the stories that the media has traditionally neglected. 2015's Truth and Reconciliation Commission report asked journalism schools to educate students on Indigenous culture and history. Malik's digital journalism class partnered with Journalists for Human Rights to create a response: Indigenous Land, Urban Stories, a multimedia project that profiled Indigenous artists, artisans, educators, parents, chefs and activists in Canadian cities.
"It was challenging," says Malik. "The students had a lot of hesitation. I think there was a lot of concern about telling Indigenous stories when you're not Indigenous. 'Will I understand? Will I unintentionally offend? How will I find sources?' It was a great project in the end, but there was some anxiety."
Modern journalism means a nuanced understanding of the role of the media itself. 2017 grad Kyle Edwards is now a staff reporter at Maclean's, where he regularly reports on Indigenous affairs. He is Anishinaabe from Lake Manitoba First Nation. "I knew there were very important issues that weren't being covered well," says Edwards. "Even growing up, I remembered hearing about all these negative things in the news. I didn't appreciate the coverage, and neither did many of my family. I always knew that was an issue in Canadian journalism."
In a time when dominant cultural narratives are being challenged, journalists must also ask who and what their journalism serves. "Not only have you experienced racism growing up as an Indigenous person in Canada, now you have to write about it and be fair to the people who are essentially being racist in front of you," says Edwards. "I've interviewed people who have no problem saying racial slurs in front of me while I'm interviewing them...It can be really challenging to find that quote-unquote 'balance' in journalism."
Students must also interrogate their own relationship with their subjects. "We don't want to be story-takers—we want to be story-makers," says Malik. "Be humane; be respectful. I think students had to take a step back from, 'I'll just call this person and write this story.' That was the hard part: finding people to talk to outside of your net-works. It takes more than just one phone call—it's about building a relationship."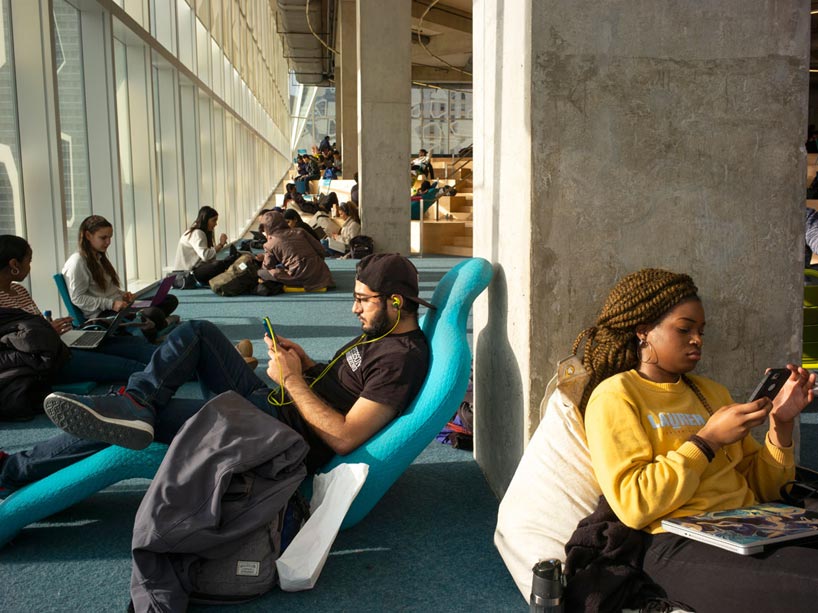 By noon, the once-empty Gould Street is dense with activity. In 2010, this street between Victoria and Bond was closed to traffic—walk along it at the right time of year and you might find yourself in the Ryerson Farmers' Market, or watching skaters on Lake Devo. You might take a detour into the Ryerson Image Centre (RIC), the public gallery that houses one of Canada's biggest collections of photography (the Black Star Collection) and The New York Times Photo Archive.
Ryerson's impact on the city stretches beyond the campus. Walk north to College Street and you'll find the Mattamy Athletic Centre—longtime home of the Toronto Maple Leafs (when it was known as Maple Leaf Gardens), reopened in 2012 as a state-of-the-art athletics/recreation facility and community hub. Walk back down Yonge Street and find the Student Learning Centre (SLC), part of the "library of the 21st century," housing everything from the Isaac Olowolafe Jr. Digital Media Experience Lab to the School of Performance.
Travelling west on Dundas, the Ted Rogers School of Management (TRSM) looms over Bay Street; the building opened in 2006 along with the new MBA program and became Canada's largest undergraduate business school.
TRSM is also home to Enactus Ryerson, the student society dedicated to harnessing entrepreneurship for social good. Its influence has spread all the way to Nunavut through Growing North, a food-security initiative designed to generate sustainable food sources in remote, underserved areas. In 2015, Growing North built a $250,000 greenhouse in Naujaat, Nunavut, which has local employees and a student co-op program. Now an independent non-profit, Growing North will build a new greenhouse in collaboration with the community of Arviat this summer.
It's 2:20 p.m. at iBEST (the Institute for Biomedical Engineering and Science Technology), a 22,000-square-foot lab located at St. Michael's Hospital. Eno Hysi, biomedical science PhD candidate, is there developing the technology that earned him a Vanier Canada Graduate Scholarship. "My project arises from a very simple problem: how early after cancer treatments commence can you tell that the treatment is working?" says Hysi.
Cancer treatment usually involves radiation, chemotherapy, or a combination; the best clinical tools to monitor treatment are MRI and CT scans. Treatments can last any- where from 12 to 32 weeks, and an MRI can only be performed infrequently—typically at the beginning and middle of treatment, and before surgery. Hysi seeks to measure the effectiveness of cancer therapies just hours after treatment in an inexpensive, non- invasive way through photoacoustic imaging—using short laser bursts to irradiate tissue and produce detectable ultrasound waves to study tumour blood vessels.
"In layman's terms, the analogy is of thunder and lightning," says Hysi. "The lightning is the laser. The thunder is ultrasound. When it's a rainy day, you first see the lightning, and that basically causes an expansion of the clouds, and then you hear the sound a short time after."
Launched in 2016 as a partnership between Ryerson and St. Michael's Hospital, iBEST develops health-care solutions and supports biomedical startups. It represents the kind of inter-institutional collaboration that has become Ryerson's forte, combining the university's engineering, science and entrepreneurial strengths with the hospital's biomedical research and clinical expertise. For his part, Hysi represents the kind of Ryerson student who only became possible in 2003, when the university began admitting its first doctoral students.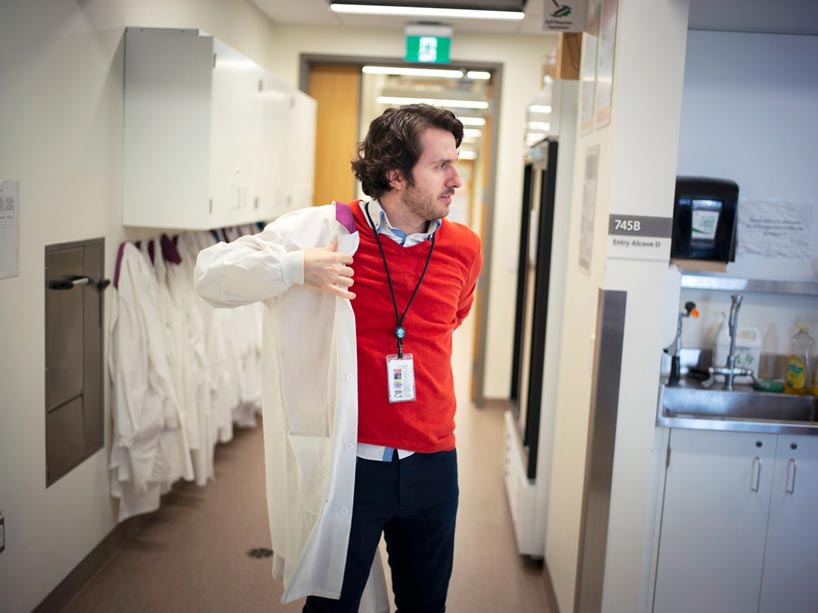 Ryerson's ambitions have expanded with the size of its campus. When the George Vari Engineering and Computer Centre opened on Church Street in 2004, it heralded the university as an engineering force. The annual Norman Esch Engineering, Innovation and Entrepreneurship Awards offer a financial boost to Ryerson engineering and architectural science students with inventions, technologies and startups. Since 2009, the awards have given $2 million to support student entrepreneurs, furthering research, development and commercialization of more than 200 student-run businesses.
One of this year's winners is Headache Sciences Inc., a technology that could change the way headaches are diagnosed, through an objective technology that can diagnose migraine sufferers with 93 percent accuracy. A mature student, CEO Wes Leewis chose to develop the business through the master of engineering innovation and entrepreneurship program after a long career as president and founder of various tech companies. "As a seasoned engineer, I want Canada to be successful, and I want young people to be successful," he says. "The tools now available to engineers significantly reduce development cycles and project risks. I think the opportunities for young people are unbounded, and I think it's the responsibility of my generation to help them."
Ryerson University is at the forefront of health-care education innovation. At the Daphne Cockwell School of Nursing, Jasna Schwind teaches "humanness-of-care" using various creative self-expression approaches, such as mindfulness, metaphoric reflection, storytelling, drawing and reflective dialogue. Schwind describes the state of nursing curricula of two decades ago, when she first started focusing on creative teaching approaches, as a camera on a tripod: "In nursing curricula we did a great job of pulling out the legs of knowledge and skill, but the leg of caring was often left to chance. Today, holistic nursing education and practice are more balanced and integrated."
A key component of Schwind's teaching philosophy is to "start with ourselves." To that end, she guides students to discover who they are as "instruments-of-care."
Schwind believes that mindfully engaging in meaningful creative activities, and reflecting on these individually and with peers, not only supports professional practice, but also builds stronger communities. "It's a way of being," she says.
When the DMZ launched in 2010, it was not yet the flagship of an entire zone learning ecosystem. In under a decade, Ryerson's model of entrepreneurial education has grown to encompass incubators for student-led businesses in fashion, design fabrication, clean energy, and a half-dozen other realms. The DMZ was just one floor at 10 Dundas St. E. when it started, but the energy was already there.
It's 6:15 p.m. at the Fashion Zone, and Shahad Mahdi (Retail Management '17) is wrapping up for the day. The Fashion Zone provides an interdisciplinary and collaborative space for entrepreneurs in an industry that is so often outsourced. Mahdi's startup, Black Orchid, offers clothing and accessories that combine Islamic culture with modern design: tops, pouches, phone cases, and other items featuring colourful, stylish depictions of Muslim women.
"The brand has really grown on social media," says Mahdi. "I've met artists on social media and through networking events, and we've collaborated on creating the images of women I'm trying to represent."
At 70, Ryerson is experiencing a period of extraordinary growth, but it occurs in a time of global unease. As it looks ahead, the university's goal is nothing less than to make a better world. Black Orchid was conceived in 2015 and incubated under the shadow of Donald Trump. "After that, people wanted more than ever to see Muslim women represented," says Mahdi. "I've gotten a lot of positive responses from Muslim women in the U.S. specifically. I've also experienced hate—people throwing ignorant comments about the images I put out there. But usually my audience responds to that, and it creates a dialogue to educate people."