What is white privilege?
At Soup and Substance panel, intellectuals and activists discuss manifestation of white supremacy
March 13, 2018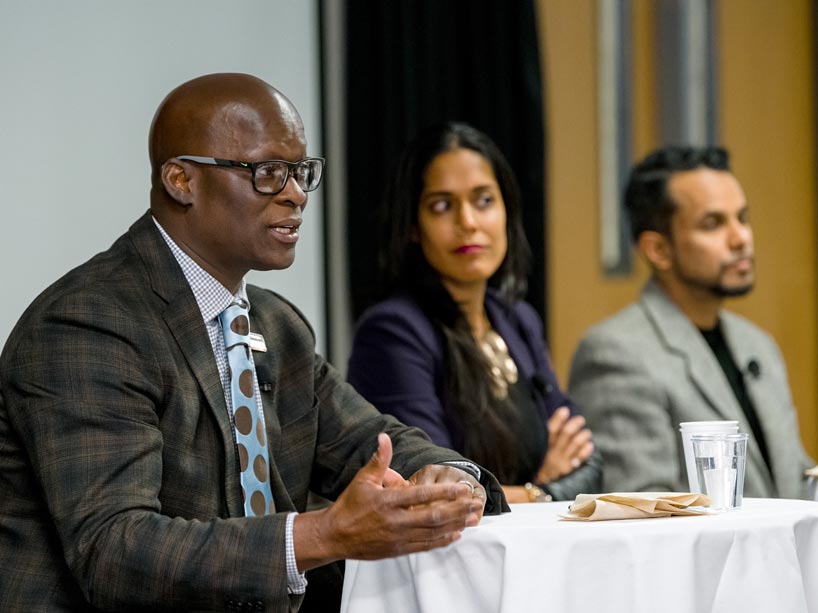 What is the definition of "white privilege"? When the question was raised on March 12 at a panel discussion as part of the Office of the Vice-President, Equity and Community Inclusion's Soup and Substance series, Eddie Moore (founder of the White Privilege Conference) offered a nutshell description: "It's an unearned perk you receive simply because of your skin colour." But the panellists all agreed that this only tells part of the story.
Titled "Are Canadians Too Polite: Addressing Global Perspectives on White Privilege and Oppression in Canada and Beyond," the panel brought together four thinkers and activists for a discussion moderated by Denise O'Neil Green (vice-president, equity and community inclusion), inspired by the upcoming White Privilege Conference Global (to be hosted at Ryerson from May 9-12).
Ritu Bhasin (keynote speaker at the White Privilege Conference and president of bci Associates) called white privilege the "manifestation of white supremacy," and shared a story she heard from a Black mother in New Orleans who never let her three sons leave the house without wearing collared shirts. "If you can leave your house on a daily basis without having to think about what you're wearing and how it ties back to your safety, that's privilege."
Jeewan Chanicka (institute leader and superintendent of equity, anti-racism and anti-oppression with the Toronto District School Board) noted that "privilege plays out in the context of the systems and structures that govern us. … The people who colonized this part of Turtle Island had particular beliefs about the people and the land that they colonized." These beliefs included that Indigenous people were uncivilized, women were unequal, and Black people existed for the economic benefit of the powerful.
"Those people who colonized the land created the legislation that we follow today," said Chanicka. "Those beliefs permeate everything. Those structures uphold those beliefs. Indigenous people, Black people, people of colour, marginalized populations—when they succeed in systems that uphold privilege … they succeed in spite of the system."
Rinaldo Walcott (writer, director of the Women and Gender Studies Institute at the University of Toronto) acknowledged the need to address structural racism by "combating the accreted histories of colonialism, of transatlantic slavery, of land theft, and of ongoing forms of colonization that continue to force people to move around the globe." But he also pointed out that "those structures are enforced by people.
"The face of white privilege is often the person you meet at the front desk. It's the policeman you meet on the street. It's the teacher in your classroom. It's the professor in your lecture hall. It's the administrator at your university. It's the CEO at whatever corporation, and so on. The question for me is: how do you begin to make sense of how individuals and structures work to reproduce a world where some of us are fundamentally shut out."
White supremacy manifests itself in other ways. Some are obvious and scary: Eddie Moore noted that his advocacy has made him a target. "My biggest concern is life. What I've learned doing this conference is: if you're really good at this work, people will put your life in danger. That's been the greatest threat as a father of a seven-year-old and a six-month-old."
Other manifestations are subtler: Jeewan Chanicka spoke of "the burden of the oppressed"—that the oppressed have to prove that oppression exists, and then "we have to worry about your feelings because we are convincing you that we are suffering at the hand of the oppression, and then we have to come up with the solutions for it."
The conversation took place in the shadow of Doug Ford, who Rinaldo Walcott called "the perfect example of the ways in which one can benefit from white privilege. You think about his background, you think about his emergence. What is there that should make him become the leader of a major political party in this country? What skills does he have? What kind of intellectual background? … All of the kinds of things that would be necessary to hold that kind of position if the person were Indigenous, Black, or a person of colour, go missing."
Chanicka noted that we all carry a certain level of privilege, but added, "Your privilege does not make you a bad person, but recognizing that privilege exists is an important thing." He also interrogated the concept of "allyship," quoting Toronto-based activist Desmond Cole: "He was talking about the white people who were marching with the freedom movement around civil rights who were getting sprayed with hoses and bitten by dogs and killed, and he said, 'Those people weren't allies—they were family.'"
The White Privilege Conference Global takes place at Ryerson from May 9-12, and registration is open online. For more information on Soup and Substance events, visit The Office of the Vice President, Equity and Community Inclusion.