Rams capture first national title in Ryerson history
Women's volleyball team wins gold medal at U SPORTS national championships
March 20, 2018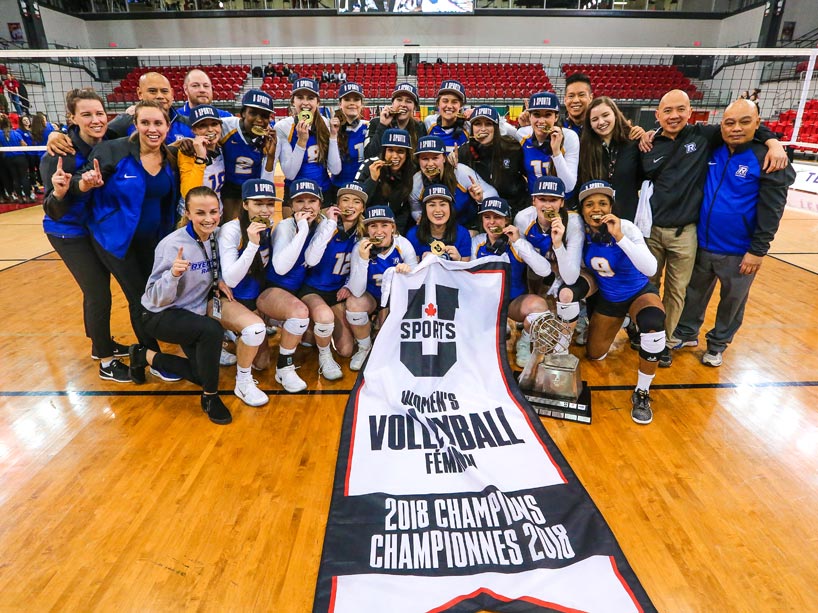 In the most dramatic of fashions, the Ryerson Rams have captured Ryerson University's first ever U SPORTS national championship after a 3-1 (25-22, 29-31, 25-19, 25-21) win over the Alberta Pandas in the 2018 gold medal game.
The national gold medal marked the first of its kind for both the program and the university.
The Rams opened the first set with a strong, 25-22 win. A prolonged second set saw the Pandas come out on top, and there was no turning back from there for Ryerson.
Middle blocker and team captain Theanna Vernon had a career-best 13 blocks on the game. Vernon was named MVP of the tournament, proving to be a valuable asset to her Rams during Ryerson's sweep at nationals, as well as during the regular season.
"I just wanted to play to win, and I had all my team to support me," Vernon says. "That was the best. The MVP title - it is what it is. The banner, the championship - that's what I really wanted and I'm really happy we pulled through to get it."
Lauren Veltman was also named to the U SPORTS tournament All-Star team, registering a career high of 20 kills and 24 points in the game. Janelle Albert led the game with 28 digs, establishing a new career high as well.
U SPORTS Coach of the Year Dustin Reid has been crucial to the team's success this season and found himself practically speechless after the win.
"This is a special group," says Reid. "[Alberta] really pushed us beyond where we've been before, we were struggling with our own game. We didn't let that affect our belief in winning the next rally in three sets and try and win the match. I'm really really proud of that. What can you say? It's history!"
An undefeated season, OUA banner, and Ryerson University's first national banner - the 2017-18 season was packed with accomplishments for the Rams, who fought their way to the top of the country.
"This is the first national championship for Ryerson," states Vernon. "I'm ecstatic right now. I'm so proud to be a Ryerson Ram and I'm so happy that we were able to do this for them. This is just as much ours as it is for them."
For more information, please visit the Ryerson Rams website, external link.