Hot Docs donates 25 years of festival history to Ryerson
University Library and Archives to house film catalogues and ephemera for students and researchers
March 06, 2018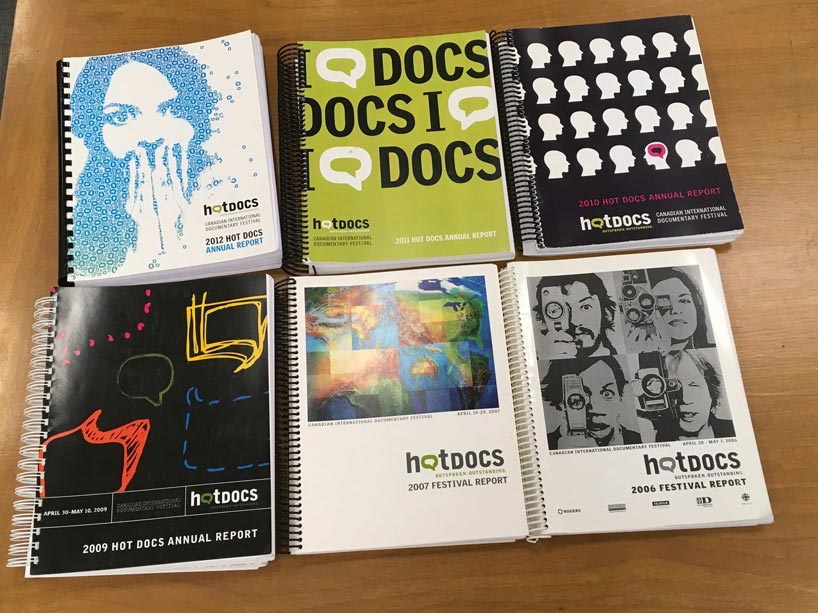 To mark its 25th Festival anniversary this spring, Hot Docs, external link has made a significant donation to the Ryerson University Library and Archives. The gift includes decades-worth of assets from past Hot Docs Festivals and year-round activities that will be housed in the Library's Special Collections, providing students the opportunity to reference the materials for their studies, and contributing to Ryerson University's comprehensive collection of archival material in media arts.
"Documentary film offers a unique, first-hand perspective into understanding the lives and experiences of others, and as such it's important to study the art form to learn effective ways of telling these vital stories," said Brett Hendrie, executive director of Hot Docs. "With 25 years of history, it was imperative for us to make Hot Docs' archival records available to students, as they provide a window into new creative and media landscapes used in documentary filmmaking."
Ryerson University is home to a number of media programs as well as the Documentary Media Research Centre, making it a natural repository for Hot Docs' extensive archival collection. Included in the donation are: copies of Festival and Hot Docs Cinema publications, such as annual reports, program guides, screening schedules, Hot Docs Forum catalogues and other industry guides; marketing materials including posters, handbills and creative properties; promotional film stills and EPKs from many of the thousands of films that have screened at the Festival; media clippings and publicity reports; and 70 DVDs from the KinoSmith Hot Docs Collection among other items.
"We are very pleased to receive the Hot Docs archival materials," says Special Collections Librarian Alison Skyrme. "The collection will be of exceptional research value for film students, and offers a tremendous resource for all those who want to study and understand the creative industries in Canada."
"There couldn't be a better fit between an academic institution and a film organization," says Marc Glassman, adjunct professor, Ryerson University. "With its unique master of fine arts in documentary media program, Ryerson is the perfect place to house a collection of documentary DVDs, film catalogues and ephemera from Hot Docs, the most successful film festival of its kind in North America."
Ryerson University's Special Collections holds many rare, fragile, audiovisual and other non-book items, as well as materials that relate to specific research fields. It was established to help support learning and teaching needs, and facilitate the scholarly, research and creative activities of the Ryerson community by acquiring and preserving photography, film and cultural history objects.
Hot Docs, North America's largest documentary festival, conference and market, will present its 25th annual event from April 26-May 6, 2018.