Ryerson moves one step closer to law school
Law Society of Ontario latest to endorse Ryerson University's proposed law school
February 23, 2018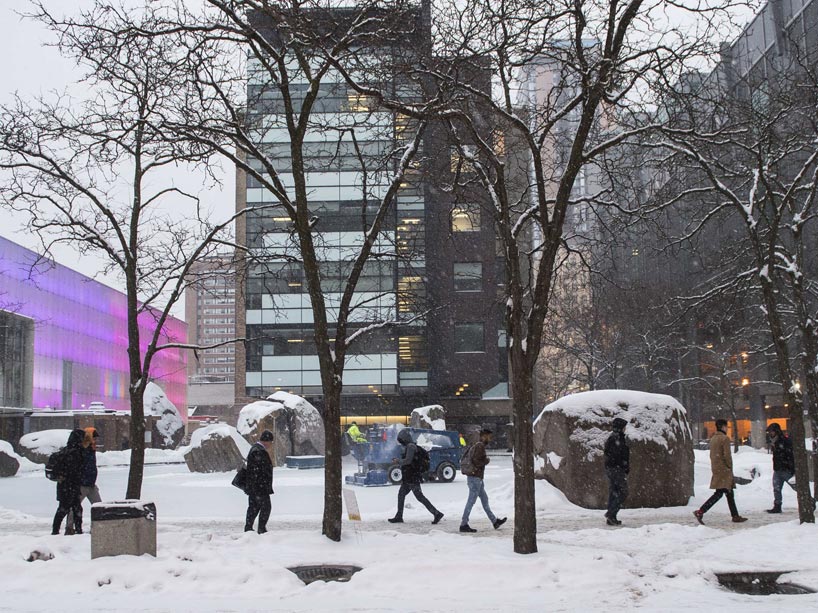 Ryerson University is another major step closer to its goal of launching a law school. This week, the Law Society of Ontario, the provincial regulator of lawyers and paralegals, formally accepted the recommendation of its Professional Development and Competence Committee that Ryerson's proposed common law degree program fulfills the national requirement that law school programs must meet and that individuals who hold the Ryerson common law degree should be permitted to apply for admission to the Law Society of Ontario.
In 2017, the law school proposal received approval from the Ontario Universities Council on Quality Assurance (OUCQA) and the Federation of Law Societies of Canada (FLSC), which co-ordinates the country's 14 provincial and territorial law societies.
Anver Saloojee, assistant vice-president, international, and dean of record for the proposed program, has been shepherding the proposal through the complex approval process for new law programs with assistance from a committee of dedicated Ryerson legal scholars across the university. "This latest milestone is a wonderful acknowledgement of the work done by all members of the committee in devising the proposal. To receive Law Society of Ontario approval as well as approval from the OUCQA and FLSC is testimony to Ryerson's place at the forefront of educational innovation in Ontario. We can all take pride in this achievement knowing full well there is much more hard work ahead of us," says Saloojee.
Internal approvals
Now that all three bodies have given Ryerson the green light on its law school proposal, the approval process will turn toward Ryerson's internal community.
This spring, both the Ryerson Senate and Board of Governors will vote on developing the law school and a Faculty of Law to house the new program. Then, subject to that approval, Ryerson will welcome its first class of law students in 2020.
Incoming class of 2020
When the first Ryerson law school students arrive, they'll receive a leading-edge, future-focused legal education – one that examines contemporary issues, such as technology, equity, diversity and inclusion, and access to justice and social innovation. For example, mandatory courses will be offered in social innovation and the law, Indigenous law in Canada, legal innovation and the business of law, as well as in the perspectives of learning in a diverse community.
Ryerson law students will also complete professional placements and participate in short, intensive learning experiences at the start of each term. Finally, courses will be co-taught by faculty and law practitioners, thereby providing students with various viewpoints on the legal system.
"The aim," says Saloojee, "is to graduate students who have a solid grounding in law and are immediately ready for practice."