How to make winter biking more appealing
Research study identifies ways to bridge the seasonal gap in cycling rates
February 08, 2018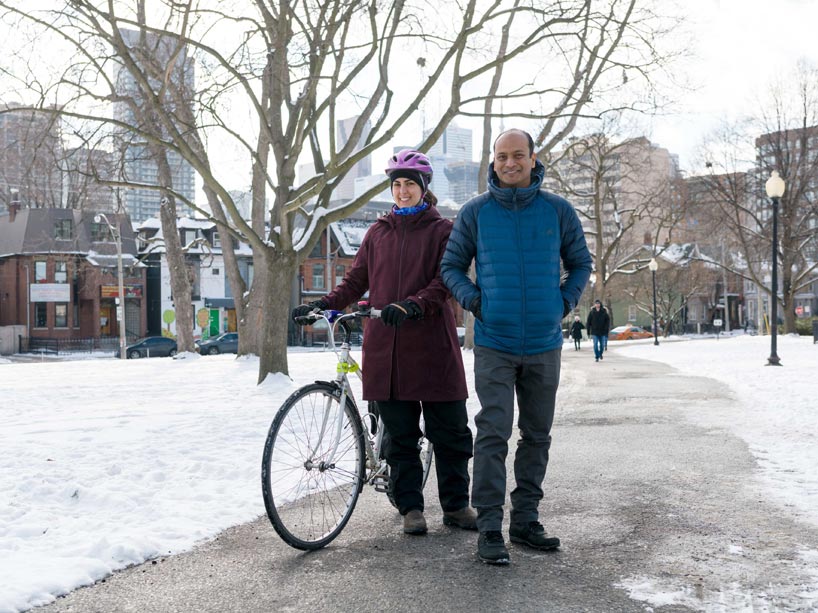 When Jack Frost hits the streets of Toronto, many believe cyclists put away their bikes. But the widespread perception that "no one bikes in winter" isn't true, say two Ryerson University researchers.

Tamara Nahal, Urban and Regional Planning (master's) '17, dedicated her thesis to studying the factors that contribute to winter cycling. The work was co-authored by School of Urban and Regional Planning professor Raktim Mitra, co-director of Ryerson's TransForm Laboratory of Transportation and Land Use Planning. The lab explores how urban transportation systems and the built environment affect travel behaviour and health.

The benefits of cycling are well-known, from reduced traffic congestion and carbon pollution to improved personal health and well-being. Cycling rates in many North American cities and regions, however, decline significantly during the winter. This situation, in turn, makes it difficult for municipalities to gain ground with policies and programs that encourage walking and cycling.

Combining information from two transportation surveys, including a pared-down version of StudentMoveTO,, external link a 2015 travel-behaviour study supported by Toronto's four universities, and a 2016 commute survey involving Ryerson faculty and staff, Nahal focused on cyclists who commute to Ryerson. In particular, she was curious if the propensity to cycle throughout the year (including winter), in comparison to cycling only in fall and spring, was influenced by three factors: availability of bicycle infrastructure; the neighbourhood environment; and socio-demographic characteristics.

Of the current cyclists in the researchers' study, 27 per cent reported cycling during the winter. Whereas women and transit pass holders were less likely to commute by bicycle during the coldest months, students were more likely than faculty and staff members to be all-season cyclists.

Respondents were also more likely to cycle during the winter if they lived in an older, more stable neighbourhood and if on-street bicycle infrastructure (e.g., cycle tracks and docking stations) was located within 500 metres of the cyclist's shortest route to Ryerson. Those results, Nahal says, point to the need for improved bicycle infrastructure in Toronto.

"Bike lanes provide a lot of bang for the buck," she says. "People are interested in winter cycling. But they are more likely to do so when they have dedicated infrastructure to ride on, like the protected cycle tracks on Sherbourne Street or Bloor Street, and those lanes must be maintained during the winter."

Additionally, says Mitra, the findings indicate that municipal, grassroots and university-based programming could help specific demographic groups overcome physical and social barriers to winter cycling. Those groups include women, who may be more averse to the potential risks of winter cycling, says Mitra.

"We want to address the gender gap and to place emphasis on women's perceptions of winter cycling," he says. "Our findings will strengthen cycling advocacy in the city and the broader region for better infrastructure and programming. There are ways to reduce the seasonal gap in cycling rates."

Last month, Mitra presented the research during the annual meeting of the Transportation Research Board in Washington, D.C. Nahal also presented the work last summer in Barcelona at the International Conference on Transport and Health, and while there, she won the high-scoring abstract award in the undergraduate/master's category. Today, she works at SvN, an architectural and planning firm in Toronto.