Decolonizing the classroom is more than just a checklist
Ryerson educators discuss the need for true collaboration and respect during panel discussion
January 30, 2018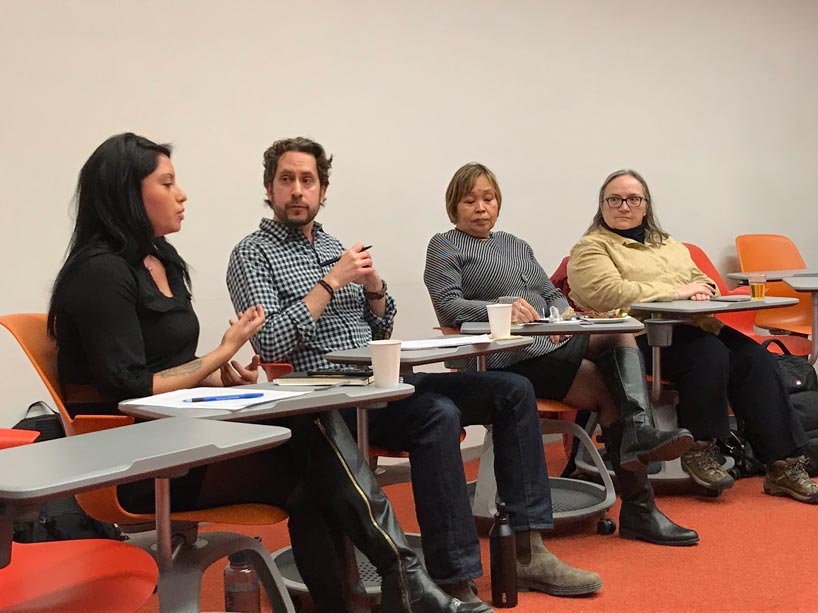 On January 25, a panel of Ryerson educators—two Indigenous, two non-Indigenous—shared their experiences and perspectives at "Decolonizing the Classroom," in a session hosted by the Faculty of Community Services at the SLC. By the end of the event, two facts were clear: a decolonized classroom would require true collaboration between Indigenous and non-Indigenous educators; and a truly decolonized classroom is still a long way away.
"In my community, and in a lot of Indigenous communities that I've worked with, education is currently seen as a negative entity where everybody is going to end up the same at the end—a product," said Nicole Ineesh-Nash, a graduate from Ryerson's master's of arts in Early Childhood Studies and project co-ordinator for the Inclusive Early Childhood Service System, external link.
Ineese-Nash, of Cree and Ojibwe heritage, is a band member of Constance Lake First Nation. In her childhood, she struggled to overcome barriers to accepting her community and identity, and her early experiences in the child welfare system inspired her to pursue a career as a child protection worker.
At the beginning, her post-secondary career was rocky: "I was seeking this knowledge that I could not get, and the knowledge was a cultural understanding of Indigenous child-rearing, family values, and community values. This is what I was seeking that I couldn't necessarily get through my degree." That changed in her second year, when she joined professor Judy Finlay on a learning experience in a northern Indigenous community. "That experience really woke me up in terms of seeing myself as an Indigenous person again."
Now graduated, Ineese-Nash regards her education with mixed emotions: "I recognize that my place within this institution is that I've had this colonial education—but through this education, I've also gotten to know more about my community, more about myself, more about the cultural practices that my family has practiced for generations."
Ineese-Nash advised education institutions to broaden past a Eurocentric form of teaching, saying, "colonialism perpetuates this normalization of the system that we've all just accepted as being the singular truth, when actually there are multiple truths." She also warned against complacency: "We can use this word [decolonization], and now we're 'innocent.' We've washed our hands clean of it, because we've done this one thing to check a box to say we've decolonized, when that's further perpetuating the problem. Decolonization isn't an end-point we get to—it's a process we have to keep engaging in."
Monica McKay, director of the Office of Aboriginal Initiatives, was born into a family of residential school survivors. Her father was taken from his community at age four and didn't return until age 18, but the community committed to re-teaching Indigenous language and culture to survivors. "I was raised with language," said McKay of the Nisg'a Nation. "I was raised with as strong a culture as we could have, and with traditions intact, mostly because the language was never lost. I grew up on the land, and my identity is formed not only by the language and history, but a relationship with the land.
"If we were going to move beyond the pain, the hurt, and everything that followed from residential schools … if we were going to have meaningful lives again, we'd need to find a place and space where people could bring their whole selves."
McKay advised that decolonization means collaboration, and that collaboration means listening and building trust. "Collaboration is creating relationships, not coming with a piece of paper and saying, 'Could you do this?' Say, 'I'm interested in supporting the work that you do—supporting the work of the community. What might that look like?'"
"Our students talk about the need to belong, and finding spaces to belong, are safe and see themselves reflected. … Our students defined success as including seeing Indigenous people in every part of the university. They want to see themselves reflected in the curriculum. They want the opportunities of other learners who have internships and placement opportunities where they're not having to say who they are and where they have support."
Curtis Maloley, educational developer at the Learning & Teaching Office, described his own experiences coordinating Indigenous learning events, and the lessons he has learned along the way. "In order for us as educators to decolonize curriculum, the key thing is that we have to decolonize our relationships with people," said Maloley.
"Often we 'consult.' 'I'd like to do this thing, and I'm going to consult with you to make sure it's okay that I do it.' What I've been learning through the work I've been doing with my colleagues is what it really means to collaborate: working together in a mutual relationship to get things done."
Maloley spoke to a fear among settler-educators over how to incorporate Indigenous perspectives into the curriculum. "The fear is usually around appropriation or misrepresentation. I think that fear really speaks to the lack of relationships that we have with Indigenous colleagues and communities that would help to foster the trust and confidence in identifying and addressing colonialism in our institutional and pedagogical practices. That sense of fear comes from the lack of trust and the lack of relationships.
"Often we talk about the four R's: Respect, Relationship, Reciprocity, and Responsibility. When you don't have interaction with Indigenous communities, it's very hard to understand what those four R's mean."
The panel often stressed that decolonization is a lifelong learning process. School of Social Work professor Susan Preston described several moments from her teaching career and how easy it is to slip into complacency and not always being mindful of and resisting how colonizing the classroom can be. She spoke of moments when she was reminded that she was not being mindful, not resisting. One of those took place early in her career when an Indigenous student spoke to her after class.
"He said, 'Could you stop talking about colonization, and instead talk about colonizing? It may seem like nothing to you, but when you talk about colonization, it's easy to talk about something that happened in the past, and it's important to recognize that this is something that's happening every day, to every Indigenous person.' It may seem like a small thing … but it was a really pivotal moment for me," said Preston.
Another occurred when another Indigenous student objected to the classroom set-up—rows of desks facing the lecturer at the front—and asked if she could re-arrange the set-up. "I came to the classroom and there were no desks," said Preston. "The desks had all been pushed aside. We were sitting in a circle, and it was a very, very different experience. … The majority of students in the class were white students, and many students were really freaking out in that space. How could they take notes? Where were they supposed to put their coffee?
"What these students were experiencing was a place of discomfort, a place of not being sure what to do, and a learning environment that doesn't really fit with their experiences and history. And it's what that Indigenous student lives with every single day in this institution.
"I need to think about my classroom and what kind of space that is. What is it like for Indigenous students when they walk into this university—walk into any educational institution—and they see a white woman in front of the class? What is it like to walk into that space with the four walls and the desks and the chairs? What kind of images does that conjure up for them? And what can we do differently about these things?"