Building a foundation for reconciliation
Ryerson consultation on Indigenous learning unveiled at community celebration
January 29, 2018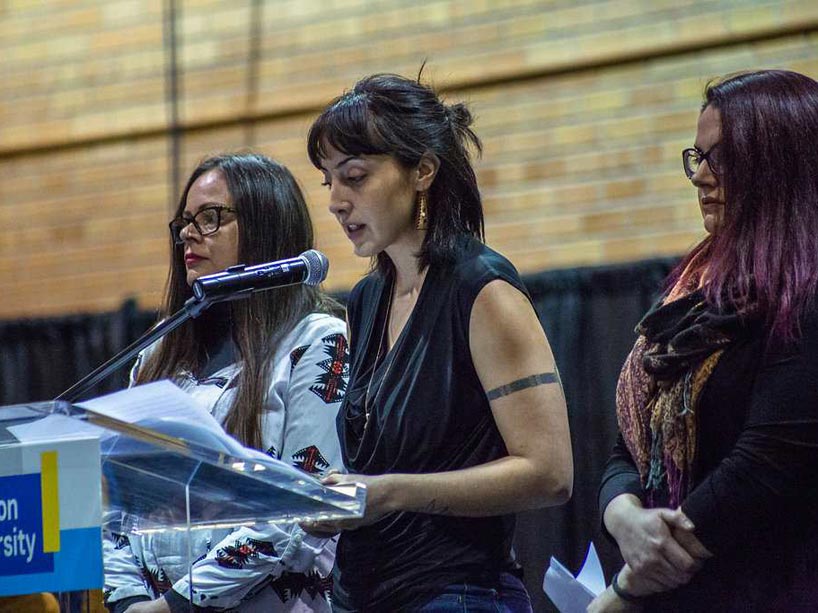 With the goal of fostering reconciliation and of making Ryerson University a leader in Indigenous education, the university celebrated the presentation of its (PDF file) community consultation report in response to the 2015 Truth and Reconciliation Commission of Canada (TRC) on January 26.
More than 200 people gathered in the Kerr Hall Upper Gym as Vice-President, Equity and Community Inclusion Denise O'Neil Green and Elder Joanne Dallaire presented the community consultation report.
Titled "Truth and Reconciliation at Ryerson University: Building a New Foundation for Generations to Come," the report is a response to the TRC's Calls to Action to address the harm caused by residential schools and foster the conditions for reconciliation. The report builds on Ryerson's ongoing commitment to a campus environment that embraces and supports Indigenous learners, faculty and staff.
"Ryerson has reached a milestone today," said Green at the event. "I'm very grateful to our students in their willingness to participate, do truth-telling, and ask those very tough questions so we can create a future that is truly inclusive for Indigenous Peoples."
"In order for reconciliation to truly work, we must first reconcile the truth within us," said Joanne Dallaire. "This is necessary in order to acknowledge the veil of denial, intolerance, anger, and hurt. Our world is moving quickly to reveal all hidden wrongs, and forcing us to look and to see. May we all have courage to move forward with a good heart—with eyes wide open."
The report was completed through comprehensive consultation and dialogue with the Ryerson community. Themes that emerged during consultations included:
● Develop and implement a strategic vision to Indigenize Ryerson University.
● Improve and expand support for Indigenous learners (enhance Ryerson Aboriginal Student Services, address barriers for Indigenous Peoples to attend post-secondary education, increasing funding for their education, and ensure student retention).
● Indigenize teaching and learning practices (incorporate Indigenous knowledges and content, develop Indigenous focused programs, provide training to faculty to bring Indigenous knowledge/methodologies into the curriculum).
● Increase Indigenous staff and faculty, and recognize other ways of knowing for faculty and students.
● Deepen engagement and establish partnerships with the local community, Indigenous communities, and other post-secondary institutions.
● Increase the Indigenous visibility at Ryerson and honour the Indigenous history and cultures through symbolic gestures, such as offering a formal statement of apology and expressions of reconciliation.
Green recalled that each talking circle opened with a smudge ceremony led by Dallaire to establish a positive space for dialogue. "In these talking circles, our Indigenous and non-Indigenous students, faculty, staff, and community partners shared their experiences, feelings of frustration, barriers, suggestions, recommendations, and aspirations for Ryerson to be a future leader in Aboriginal education. Some heard for the first time experiences of residential school survivors."
In his response to the report, Ryerson president Mohamed Lachemi committed to seven initial steps on the path to reconciliation:
● Double the number of Indigenous faculty at Ryerson.
● Increase the number of Indigenous staff.
● Create more pathways for Indigenous students to study at Ryerson.
● Provide more award and scholarship funding for Indigenous students.
● Provide resources for faculty to Indigenize the curriculum.
● Designate outdoor space for Indigenous ceremonies.
● Commit to raise external funding to create a Ryerson Chair in Reconciliation.
"Ryerson knows that education is the key to reconciliation, and today we must make a profound and enduring commitment to this generation of Indigenous people and those to come," said Lachemi. The president also noted that Ryerson community members must take personal action: "We must change Ryerson's culture. Every one of us—each student, each faculty member and instructor, each member of staff must make their own commitment to reconciliation."
Michael Benarroch, provost and vice-president, academic, committed to creating new tenure-track and staff positions to support the hiring of Indigenous faculty/staff members. He also promised financial support for the expansion of Indigenous cultural awareness throughout campus; a series of Indigenous language courses; and an entry category for Indigenous students, with targets.
"We recognize that in order to achieve this goal, the process of consultation and engagement with multiple stakeholder groups must be ongoing," said Benarroch. "We must empower our community to be able to implement these goals by providing the resources and the support necessary to take the next step."
The ceremony also saw the presentation of a plaque to be installed next to the statue of Egerton Ryerson on Gould Street, which adds context for his role in the creation of the residential school system. The plaque was unveiled by Ryerson social work graduate Danielle Sinclair and current students Sarah Dennis and Phyllis McKenna.
In addition, the Star Blanket was wrapped around the president and provost to symbolize the responsibility and leadership they provide in responding to the report. The event also included an address and peace song from Monica McKay, director of Aboriginal Initiatives; traditional song and drumming performances; and a community feast.
To learn more about Aboriginal news at Ryerson, please visit https://www.torontomu.ca/aboriginal-news/.