Ted Rogers MBA ranks top 25 internationally: Bloomberg
The 10-year-old program also ranks fourth in Canada, with best return on investment
December 12, 2017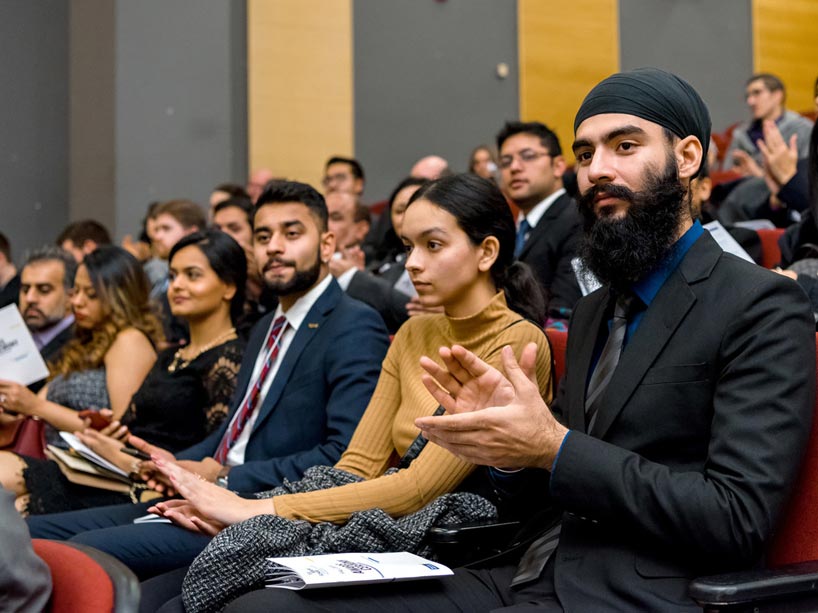 The Ted Rogers MBA ranks as a top 25 international MBA program and top five in Canada, Bloomberg Businessweek announced this week, external link.
The Bloomberg Businessweek Best Business Schools 2017 ranking is based on surveys of recruiters, alumni, and students, as well as recent graduates' success at landing jobs and securing high starting wages. The international ranking is a survey of non-US schools.
The Ted Rogers MBA program – housed at Ryerson University's Ted Rogers School of Management - is renowned for its innovative approach to the MBA, its diversity and inclusion, its central location in the heart of Toronto's business district, its connections to industry and some of highest return on investment among top domestic and international MBA programs. The Ted Rogers School of Management created the MBA program in 2006 to provide real-world business experience to a small cohort of students.
"From the beginning the Ted Rogers MBA benefitted from strong leadership, a commitment to excellence, and a focus on students' careers. When I arrived at TRSM in 2011, I could see that our MBA programs had great potential, that our results were deserving of an international rank among the best MBA programs in the world," said Kim Bates, director, Ted Rogers MBA programs.
"As a startup program, we were able to configure our programs to reflect the new century and differentiate from our established competitors. Our career results are excellent, program delivery and commitment of faculty and staff are exceptional, and we have had support from our academic leadership to admit only high-quality students.
"Dr. Dale Carl has led our students to great success in Canadian and international competitions. We have also had excellent support through our careers team and network of executives in residence," said Bates. "Our faculty and staff create a unique and transformative learning experience that enables students to build a positive career trajectory. They are superb ambassadors for what the Ted Rogers MBA can do."
This is the first time that the Ted Rogers MBA has featured on the Bloomberg Businessweek Best Business School Rankings but not the first time the school has cracked other top-ranking reports. The Ted Rogers MBA has also featured in the Canadian Business Top 10 Canadian MBA programs for four straight years and top 100 MBA program from the Economist in 2015. This year, the program also ranked in the Bloomberg survey's global top 10 for salary and job placement and was the highest rated Canadian MBA in these areas.
The Ted Rogers MBA delivers all this at a cost that is around one-third that of Canadian programs also featured in the survey, meaning the program delivers by far the best return-on-investment of any leading MBA program in the country.
Applications are currently being accepted to start in the MBA program as early as May 2018. Learn about the Ted Rogers MBA Global and MBA Management of Technology and Innovation.