Putting families first
By emphasizing holistic care and support, the Gerrard Resource Centre helps children and their parents thrive
December 12, 2017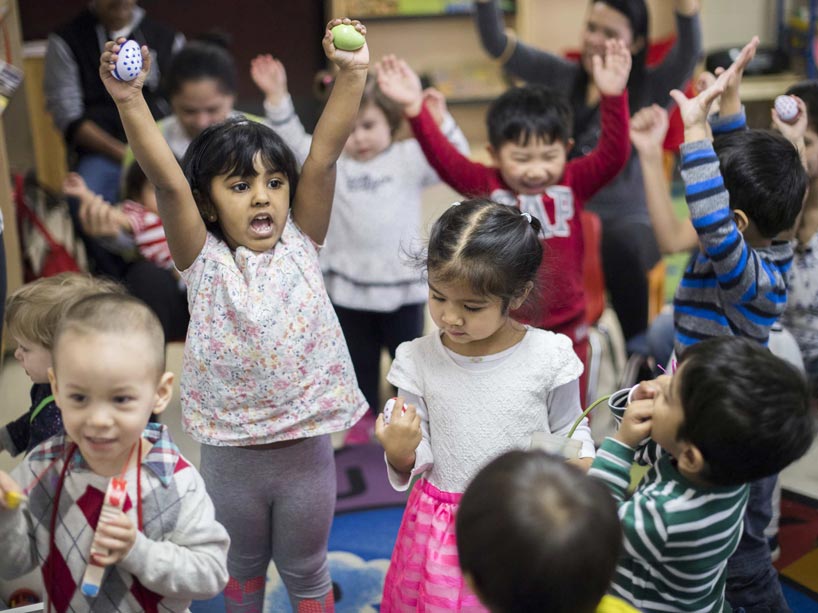 For parents, it's a vital ally and resource for promoting their child and family's well-being. For children, it's a stimulating and nurturing environment in which to play, learn and grow. And for Ryerson students, it's a living lab for studying child and family development. The Gerrard Resource Centre (GRC) is all of this and represents a model in Canada of providing family support that is respon­sive, progressive and inclusive.
The GRC is both a family support program and a School of Early Childhood Studies outreach program. For its first function, it provides direct no- or low-cost services to families in downtown east Toronto, including a drop-in centre, emergency short-term care, a toy library, information on local community resources and supports, and guidance on special needs services.
The GRC is the only Canadian family support program affiliated with a university that oper­ates according to the Guiding Principles of Family Support. Set by the Canadian Association of Family Resource programs, the principles emphasize helping families connect with each other, access community resources and develop parenting skills. The centre also advocates for policies, services and systems that support families' abilities to raise healthy children.
"The value of our model is that we believe – no matter what a family is going through – there is strength within the family. Our role is to provide enriched programming for children and a circle of support to help families stay strong," says centre manager Catherine Moher.
Moher, who holds an MA in Early Childhood Studies and a BAA in Early Childhood Education from Ryerson, has been leading the GRC since 1982, when it first opened as a collaborative endeavour between early childhood education faculty members at Ryerson, George Brown College, Seneca College and the University of Toronto. Over the years, the GRC's operations have continually evolved in step with shifting government agendas and social atti­tudes toward services that support families and chil­dren.
Today, the centre is a dynamic and vital force in Toronto's family support scene. Funded primarily by the City of Toronto and also East York East Toronto Family Resources, the United Way, research grants and personal donations, the GRC not only provides services to parents and children, but facilitates student research, shapes early childhood education training, collaborates with community partners and advocates for the best interests of Toronto families.
About 750 families with children up to age 12 use GRC services each year. Many use its drop-in centre at its two sites: St. Simon's-the-Apostle Church on 525 Bloor St. E., which is open Monday to Friday from 9 a.m. to 1 p.m., and 40 Gould St. at Ryerson University, which operates on Thursdays from 6 p.m. to 8 p.m. The Bloor Street location also provides emer­gency short-term childcare when a family has a com­mitment or their regular childcare falls through.
At each site, the environment is warm and welcoming, with a broad range of age-appropriate learning mate­rials that foster children's curiosity and creativity and promote social engagement with other children and adults. Families can access information on childcare and community resources as well as toys, books and parenting literature. Moher runs the GRC with six highly trained and experienced ECE professionals, and with the support of a regular rotation of place­ment students from a variety of FCS programs.
Another distinguishing feature of the GRC is its consultation services regarding children with dis­abilities such as autism, speech delays or behavioural challenges. The centre collaborates with parents, caregivers and early childhood professionals to assess children's development, develop strategies for both ECEs and parents, and make program modifi­cations that help childcare programs better support children with special needs.
"We provide families and teachers with an objec­tive eye on what a child with exceptionalities needs in order to thrive," Moher says.
Research
The GRC also conducts practical ECE research, which is reflected in how it interacts with Ryerson's School of Early Childhood Studies. The centre recently assisted professor Kathryn Underwood with her information-gathering efforts as she pre­pared a policy brief to guide the municipal govern­ment in creating an integrated system of services for children and families. Currently, the centre is collaborating with professor Aurelia Di Santo on two projects. One, funded by the Social Sciences and Humanities Research Council, is exploring barriers and approaches to teaching young chil­dren about their rights in educational settings. The other involves developing a guidebook focus­ing on rights-based activities for preschool and kindergarten children. Di Santo is interviewing children and staff at the GRC about their under­standing of children's rights and is piloting the activities in the drop-in centre.
"The gaps in this area are huge – we're currently not teaching children about their rights," Di Santo says. "This project will assist educators with helping children realize they have a voice and ensuring they know how to self-advocate."
Even ECS graduates are welcome to conduct research at the GRC. Such was the case last summer when Olivia Caravaggio (2014) and Natalie Cummins (2014), both currently Master of Environmental Studies students at York University, approached Moher with an idea to introduce GRC drop-in fam­ilies to play-based programming relating to nature and environmentalism, a topic that, up to that point, the centre hadn't explored much due to the lack of nearby green space. One morning a week in July and August 2016, Caravaggio and Cummins walked with the families to Riverdale Park and led two hours of educational games, stories, songs and projects relating to biodiversity, energy and environmental allowed families free time to explore the park.
"This was a perfect way for us to learn about what works and what doesn't in terms of teaching families about the Earth and sustainability, while also cre­ating an opportunity for families to experience and enjoy the outdoors," Cummins says.
Advancing best practices
The GRC has also helped advance early child­hood education best practices by shaping the edu­cation of practitioners. The centre was instrumental in establishing Ryerson's Family Supports certif­icate program – now a continuing education course series called Family Supports and Community Engagement – which offers training in key elements of family support work. As well, the centre provides placement opportunities not only for students from ECS, but also from nursing, social work and nutri­tion. Moher says, in addition to providing valuable practical experience, these interprofessional place­ments enable students to learn about the perspec­tives and approaches of other disciplines and the interconnection between them.
Among those who have greatly benefited from the GRC's diverse range of programming and skilled and caring workers is the Proulx family. Four-year-old Liam has spent every morning at the GRC since he was six months old. Usually accompanied by his mother, Kerrie, or his grandfather, Liam enjoys story time and singing songs, as well as the many play areas, which feature a broad selection of toys, ride-on vehicles and tricycles, a playhouse and a reading corner. He especially looks forward to the table activities, which regularly feature new manip­ulatives such as sand, water, playdough or blocks.
"Where the GRC stands out compared to other centres is that its ideas are more innovative, particu­larly because they have students who are current on early childhood research, and so they are constantly trying out new activities. Liam never gets bored there," Proulx says.
Proulx says the GRC's innovative programming is complemented by knowledgeable, attentive staff who show genuine interest in her son's development and in helping everyone engage with each other.
"What I appreciate is the attention, nurturing and care he gets from the staff. They also do a good job of building connections between all the kids and fam­ilies," Proulx says. "Being at the GRC has helped Liam prepare for kindergarten by building his confi­dence and social skills."
"The value of our model is that we believe – no matter what a family is going through – there is strength within the family. Our role is to provide enriched programming for children and a circle of support to help families stay strong."
This story was first published in Imprints, a publication of the Faculty of Community Services.