Student research hits the world stage
Ryerson graduates commended at international Undergraduate Awards in Dublin
November 24, 2017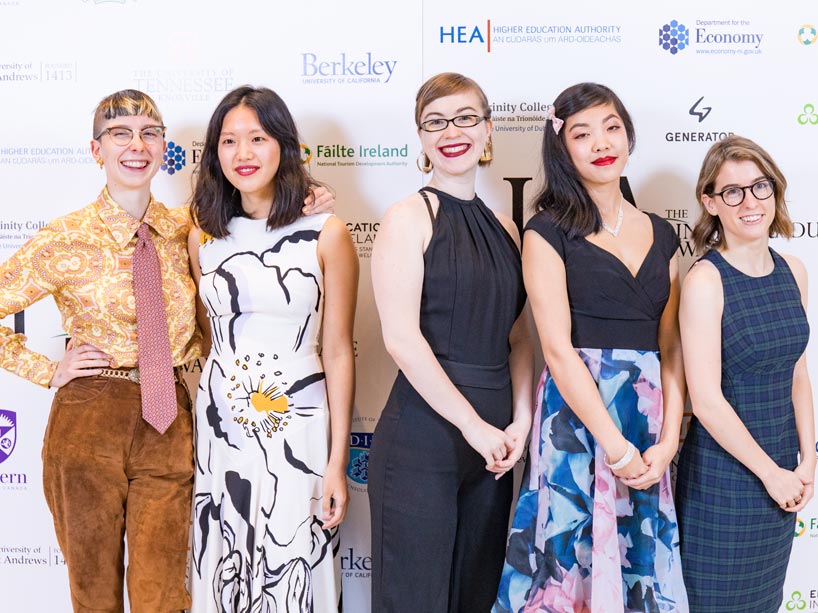 Ryerson students are producing award-winning research that can compete on the international stage: five recent graduates were commended recently at the Undergraduate Awards, external link, the world's largest academic awards program.
Taking place in Dublin, Ireland from November 7-9, the multidisciplinary conference brought creative thinkers from around the world to share research, network, and receive commendation. This year's awards received 6,572 submissions from 299 institutions in 47 countries, with the top 10 percent selected for commendation.
One of Ryerson recipients was Morla Phan (Biology '17), who studied life sciences and worked on breast cancer research with professor John Marshall. For her undergraduate thesis project, she studied ways to identify biomarkers for breast cancer in human blood plasma using high-performance liquid chromatography—mass spectrometry.
In layman's terms: for every biological process in your body, there are products, and when you get sick, your body undergoes certain immune responses. With that logic, when someone has breast cancer, they would create biomarkers that would be present in the blood, because the bloodstream circulates everything in your body. "The idea is that if we can find a biomarker that is specific only to breast cancer, then we can use blood tests for earlier detection to determine whether a person has breast cancer," said Phan.
Currently, the best way to detect breast cancer is through a mammogram, but this process has disadvantages. Most people only start getting routine mammograms around the age of 50, and the mammogram image also requires interpretation. "Sometimes the image can be fuzzy, or depending on where a woman is in her menstrual cycle, the tissue density can change, which can alter how you can see whether a tumour is there or not," said Phan. "With a blood test, if we find a biomarker, we can just measure whether this biomarker exists, and then use that as an objective data point to determine whether someone has breast cancer."
The main research challenge was finding a method to accurately detect these biomarkers. The solution was liquid chromatography (separating the proteins individually so they can be monitored one-by-one)—mass spectrometry (analyzing each protein's unique mass and charge).
A key point is that scientists cannot simply compare the protein profile of someone with breast cancer to a healthy body. "The best way to do it is to actually compare different diseases—for example, breast cancer, ovarian cancer, prostate cancer, Alzheimer's, and multiple sclerosis," said Phan. "Then we can write off biomarkers that come out as a general immune response that happen when your body is sick and trying to fight something. Through that, we can find a biomarker that is physically unique only to breast cancer, and that's the one we'll use to detect whether someone has breast cancer or not."
Now graduated from Ryerson, Phan is currently pursuing her master's in biomedical science at the University of Guelph, where she is researching canine cancer. She describes the Undergraduate Awards experience as both gratifying and "kind of surreal. I have a tendency to sort-of downplay my accomplishments, so when I saw I was in the top 10 percent of 6,500 submissions, it was both really exciting and also unbelievable."
Four other Ryerson students were commended for their papers: Beth Dobson (Performance Production), for "Caverns of Curiosity: Creating, Interpreting, and Preserving the Cave parks of the United States National Park Service"; Abi Hodson (Fashion Design), for "Tearing the Fabric of Binary Gender: Reweaving Bodies and Land"; Lorielle Giffin (Criminology), for "Aboriginal Youth and the YCJA: The Insufficiency of Diversionary Practices in Combatting Over-Representation in Corrections"; and Kelly Oh (Fashion Communication), for "Sexuality and Gender in Fashion: A Historical Materialist Analysis."